Positive Impact of National Championship has Broad Reach
Winning a second National Championship does more than raise the profile and reputation of the South Carolina women's basketball program as well as the Athletics Department as a whole. Head coach Dawn Staley's program not only impacts the campus, city of Columbia and state of South Carolina communities, but there is a broader reach and impact felt on social media, economics, and national television.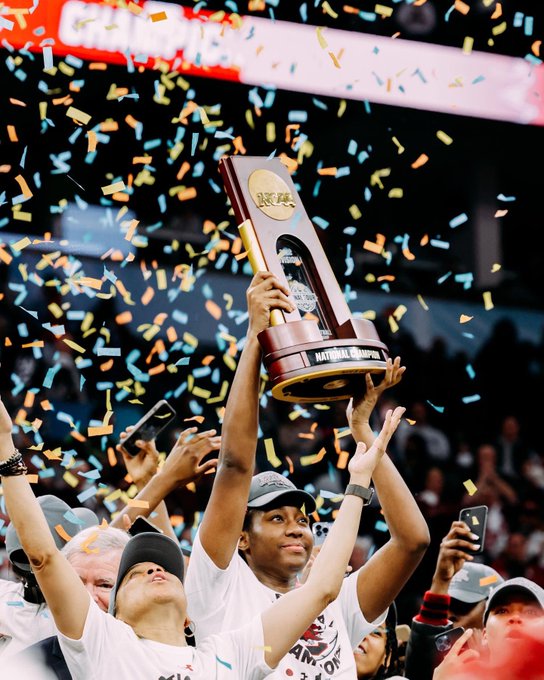 With two National Championships, four Final Fours, six SEC Championships, and Six SEC Tournament Championships since 2014, University President Harris Pastides referred to the program as a dynasty, and not just for the accomplishments on the court, but for how they have impacted the local community.
"Our dynasty is about unity, community, integrity, sportsmanship, mutual respect, worth, and women!" Pastides said at the fan reception the day after the championship game. "I will tell you that our coach and this team, every member of the team and all the coaches, have done more to advance the status of women in athletics and in our nation than has ever been done before."
Following South Carolina's 64-49 NCAA Tournament Championship win over UConn on April 3, the rabid Gamecock fan base bought championship merchandise in record numbers from the school's official e-commerce partner, Fanatics. In the first hour after the victory, South Carolina became the best-selling NCAA Women's Basketball Champion of all time. Read that again. More than $163,000 worth of hats and t-shirts were sold in the first hour! And it did not stop there. Local merchandisers in Columbia have been busy keeping items on the shelves as well.
"The engagement and excitement from Gamecock fans since clinching the title has been incredible," said Derek Eiler, Executive Vice President of Fanatics College. "South Carolina broke the record for women's National Championship sales in just the first hour after clinch, and in the first five days of the Hot Market we've already more than doubled the previous high for this event. It is a testament to the support from the fan base plus the collaboration and preparation with Athletics to be able to deliver these record breaking numbers." 
Only a year removed from playing in "the bubble" during the COVID-impacted tournament last year, which may also be remembered for some of the inequities still shown women's sports at the national level, the 2022 National Championship game captured the attention of more than just fans in South Carolina and Connecticut. It was the most-watched women's title game in nearly two decades, peaking at 5.91 million viewers, which was up 30% from 2019, proving once again that providing the resources and investing in women's sports will offer great returns.
"When you rock this building out, you put energy into our players to play their very best, each and every time they step on the floor."
– Dawn Staley
This year's National Championship Game (2.58 rating) is the fourth highest rated women's basketball Final Four game in history, trailing only 2002, 2004 and 1999.  The 2017 National Championship Game won by South Carolina was 12th in women's basketball Final Four history (2.3 rating / 3.827 million viewers).
South Carolina women's basketball fans are no strangers to making an investment in their team. The Gamecocks have led the nation in attendance for eight consecutive seasons, making the 18,000-seat Colonial Life Arena a difficult venue for opposing teams. They also travel well to opposing venues, no matter how far.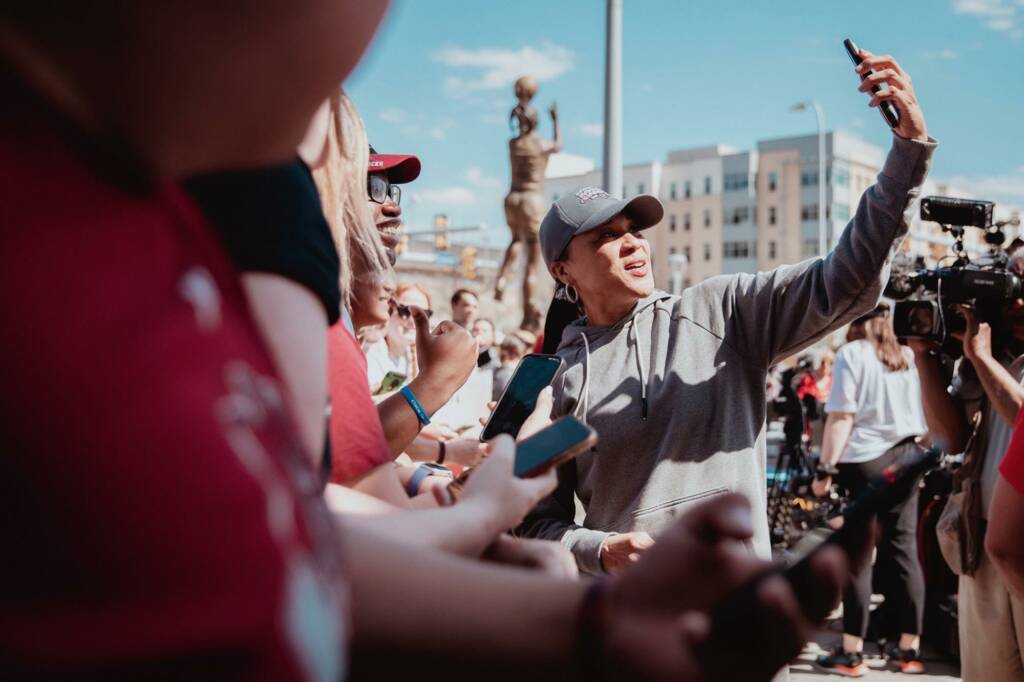 "Every national champion in every sport has a common thing," Staley told fans at the team's return reception last Monday. "You create a home court advantage, and on the road, that is unmatched. When you rock this building out, you put energy into our players to play their very best, each and every time they step on the floor."
Much of our world lives on social media these days, and for South Carolina, life is good on that front.
Brandwatch software estimates that the 81,000 social media mentions of South Carolina's victory were seen by more than five hundred million people. Viral social media posts about South Carolina's win from former President Barack Obama, NBA legend Earvin "Magic" Johnson, WNBA star Sue Bird, NFL All-Pro JJ Watt, singer and South Carolina alum Darius Rucker, tennis legend Billie Jean King, as well as many other basketball stars such as Dwayne Wade and Carmelo Anthony increased South Carolina's visibility astronomically among all their followers. Barack Obama's congratulatory tweet alone had 135,423,357 impressions. The South Carolina women's basketball official Twitter account was the most mentioned tweeter with tweets totaling to 146,459,592 impressions.
It can make your head spin, but in short, that is a lot of eyeballs on something great for the University of South Carolina.
Through the assistance of University Communications and Public Relations and the SEC, billboards were placed in Minneapolis and Columbia prior to the Final Four and congratulatory messages after the National Championship, which also included New Orleans (site of the 2022 men's Final Four).
For the student-athletes themselves, winning a National Championship certainly has a personal impact. It is a dream come true and a lesson in how diverse backgrounds can come together to sacrifice, endure, and overcome to be great. Whether it's Aliyah Boston coming from the Virgin Islands to become the consensus National Player of the Year, Brea Beal living a childhood dream she posted about on social media many years ago, and sacrificing personal glory to be an elite defender, Destiny Littleton overcoming a difficult childhood and thriving after a second chance, or a group of elite freshmen who learned about patience, the 2021-2022 Gamecocks were 16 individuals who came together as one to do something special.