Freshmen Making Big Impact for Track & Field
Sometimes it takes a while for freshmen student-athletes to make an impact for their teams as they adjust to college life and the higher level of competition. Sometimes it doesn't. Five South Carolina track and field rookies have earned SEC Freshman of the Week honors this year, highlighting an outstanding group of young Gamecocks that paint a bright future for the program.
"The demands are huge in terms of the level of competition," said Karim Abdel Wahab, assistant coach for sprints and hurdles. "They could be in a high school meet and maybe not go all out, and still win the competition because they are really talented. At the SEC level, you can't do it like that. They have a really good awareness of how intense this thing is and how fast this thing goes. We're working on their adjustments, and that can be an emotional and psychological adjustment to competition as well as the physical and tactical aspects of their training."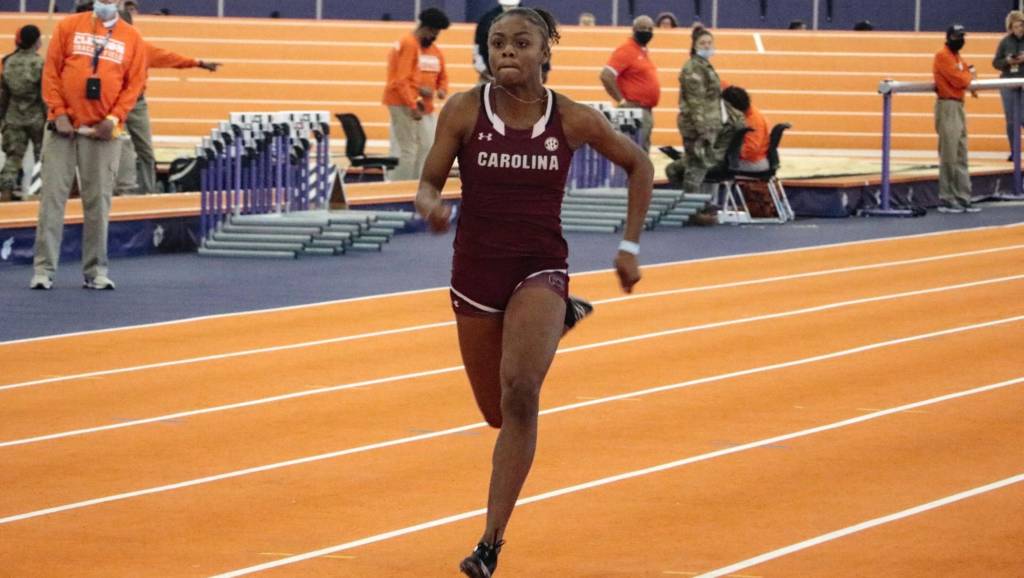 Jayla Jamison
"The biggest challenge is having enough confidence that they are good enough," said Kevin Brown, assistant coach for sprints, relays and pole vault. "A lot of things that we talk about are not necessarily the physical aspects. It's the mental aspects for them to believe in themselves enough to say that they're good enough. They've progressed very well."
While they were all outstanding athletes before they arrived, some of the student-athletes weren't sure they'd make an impact right away, while others were confident.
"I really didn't know," said sprinter Tierra Frasier, who earned the SEC Freshman of the Week award on March 29 after grabbing two top-five finishes in the 100 meters and 200 meters at Weems Baskin Invitational hosted by the Gamecocks. "Since I got here, my running has gotten better. They (coaches) make me better as a person and as an athlete, especially (assistant) coach Karim (Abdel Wahab). He tries his best in everything to make sure everything is good for us."
"I did. I believe in myself and have high hopes," said freshman sprinter Aaliyah Pyatt. "I had goals that I wanted to achieve, and they came true."
"We were excited about having the talent to begin with, and we were hoping they would develop with us to have an impact on the team," Wahab said. "They're developing really well. We have Aaliyah Pyatt in the 400, and she was the number one U.S. women's sprinter under 20 in the indoor 400 this season. She's No. 4 in the world. She was our anchor at the NCAA championships in the 4×400 relay, so that was a great addition to our team. Aaliyah was awesome. Tierra Frasier ran the fastest time in the world in the indoor 200 for under 20. Jayla Jamison ran 7.30 in the sixty meters, and she was number five in the whole world and one of the top in the U.S., under-20. So, we have three (female) freshmen athletes that are highly ranked, and ranked between one and five, for under-20."
On the men's side, sprinter Anthony Greenhow, Jr., took home an SEC Freshman of the Week nod in January after matching his personal best time of 20.89 to win the Carolina Challenge 200 meters, equaling his No. 7 time in the NCAA and No. 3 time in the SEC, while distance runner Anass Essayi took home the weekly award on April 12 after winning the 1,500 meters at the Joe Walker Invitational.
"This is what I was made to do. I was born to fly!"
– Carson Lenser
For pole vaulter Carson Lenser, who earned the SEC Freshman of the Week award on March 22 after opening his outdoor collegiate career with an astounding clearance of 5.11m/16-9.25 at the Tiger Track Classic, confidence was a key part for success.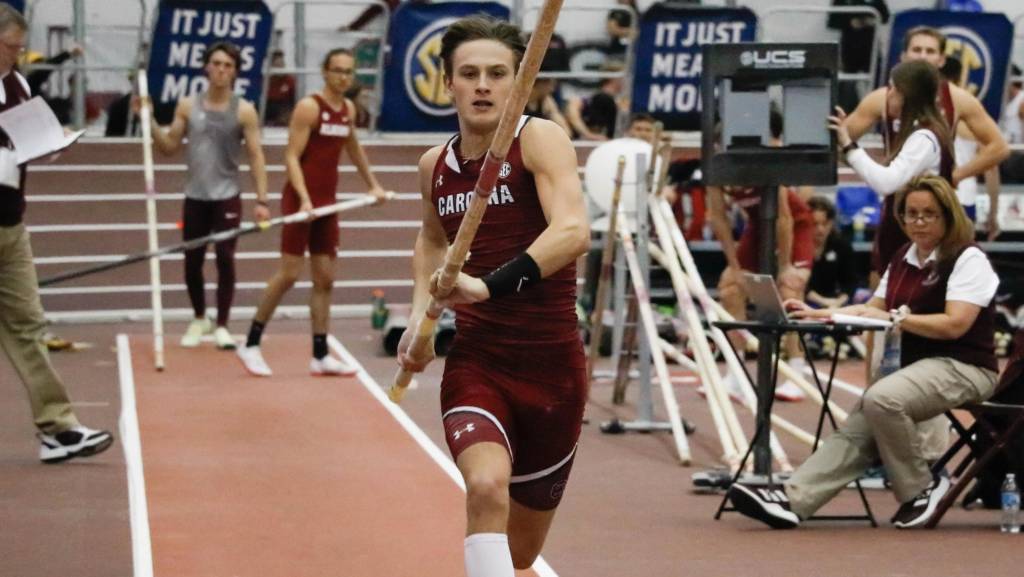 Carson Lenser
"I'm not intimidated by anyone," Lenser said. "I know I have what it takes to be the greatest and I have all the ability and coaching it takes. They are the ones intimidated by me, and they know what is coming. I will be the champion."
"Carson was a 17-foot pole vaulter coming out of high school, which is phenomenal," Brown said. "Anthony Greenhow ran extremely fast in the 100 and 200, so I expected him to be competitive in the SEC. These two guys were top guys coming out of high school, so I did expect them to make an impact as freshmen."
Competing in track and field in the SEC means you are competing against some of the best athletes in the world for each event and includes many Olympic and World Championship competitors. Competing at such a high level isn't easy, and each had to learn how to adjust on and off the track.
"In high school, I've always been part of a championship team," Lenser said. "On top of that I also did club track. I was always around an environment of hardworking athletes, and I trained with multiple Olympians. The difference for when it comes to challenges in college is being able to do it on my own because I don't have all those people that pushed me through high school. In college, they're going to tell you what to do to succeed, but at the end of the day, you have to make the decision on your own. So, staying focused and being dedicated when there are times you wake up and don't want to go workout or go to class because you are so tired, you have to stay mentally active and want to do better. That's the hardest part."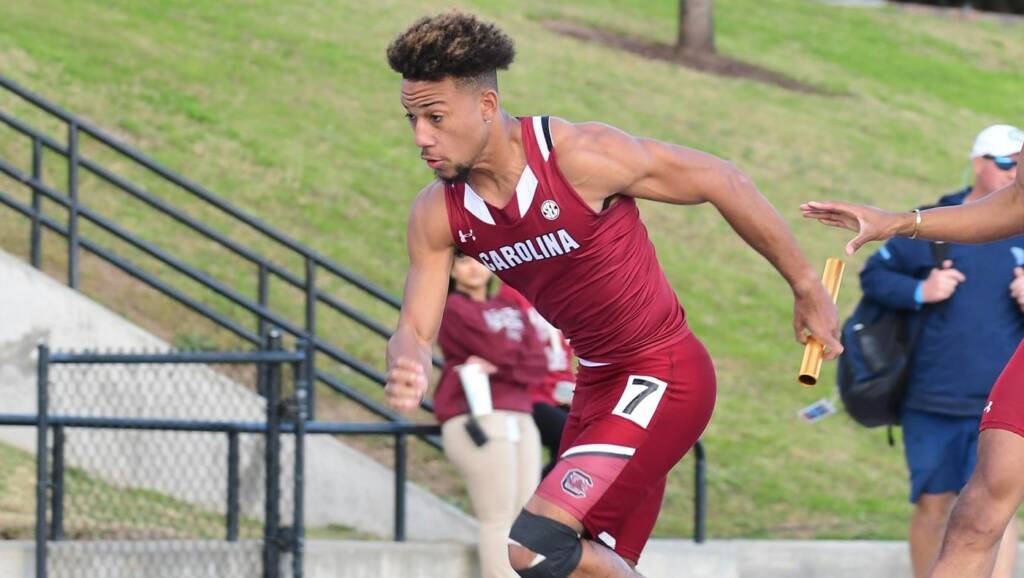 Anthony Greenhow, Jr.
"College is a big transition," said Jamison, who earned SEC Freshman of the Week honors after running a top-10 NCAA time in her collegiate 200-meter debut. "I've been hurt for a while, so trying to get back right and not be hurt has been a challenge. Competition-wise, it's great. That's one of the reasons I graduated high school early. I want to get my times down and run faster. I kind of wanted more success, but everything happens for a reason. God has His own plans."
"The biggest adjustment is that I have to go and get a good night's sleep at night and prepare myself for a track meet because the girls at this level are serious!" Frasier said. "I know if they're that serious, then I have to be. In high school, it was pretty easy until you got to State. Here, nothing is easy."
"The competition in college track is a lot different than it is in high school track," Pyatt said. "It's very intimidating, but you learn to adjust to the competition as you get further into the season. The biggest challenge is the mental aspect. I talk a lot with my therapist and get advice from the upper classmen. My coaches have helped by pushing me and building up my confidence in my workouts and doing things at home, such as meditating."
Each of the Gamecocks fell in love with their sports early in life, and while it requires a lot of work, there is still a level of joy in their efforts.
"What I like about what I do is that it inspires others and inspires me to go where I want to go in life," Jamison said. "I've been doing this since I was four years old. My mom brought me out to my former coach, and one day he decided to make me run, and I've been running ever since."
"I like the adrenaline" Frasier said of her events. "I get that rush, and I just want to go faster. I started competing when I was in the fifth grade. It was all for fun then."
"People think I'm crazy for this, but I like the pain," Pyatt said. "I like the pain of the 400. For some reason it's very satisfying because I know that I'm pushing myself. I just block everything out and focus on my race. People are cheering for me, but I don't hear them. I just focus on my race. I do this sport because I love it and I have fun. If I don't have fun, then there's no point in doing a sport."
"It takes everything I struggle with outside of track, and I can just lay it aside and I can do my event," Lenser said. "It's what God gave me. This is His talent and I use it. This is a platform He gave me to promote Him. I can be myself. I can put on a show for people. I love to perform. This is what I was made to do. I was born to fly!"