Beyond Sports Internships Offer Outstanding Opportunities for Student-Athletes
Gamecock student-athletes have been placed as interns this summer in a wide variety of careers.
South Carolina student-athletes are getting a jump start on their lives after college with internships in their field of study through Athletics Department's Beyond Sports Professional Development and Summer Internship program. Seventeen Gamecock student-athletes have been placed as interns this summer in a wide variety of careers.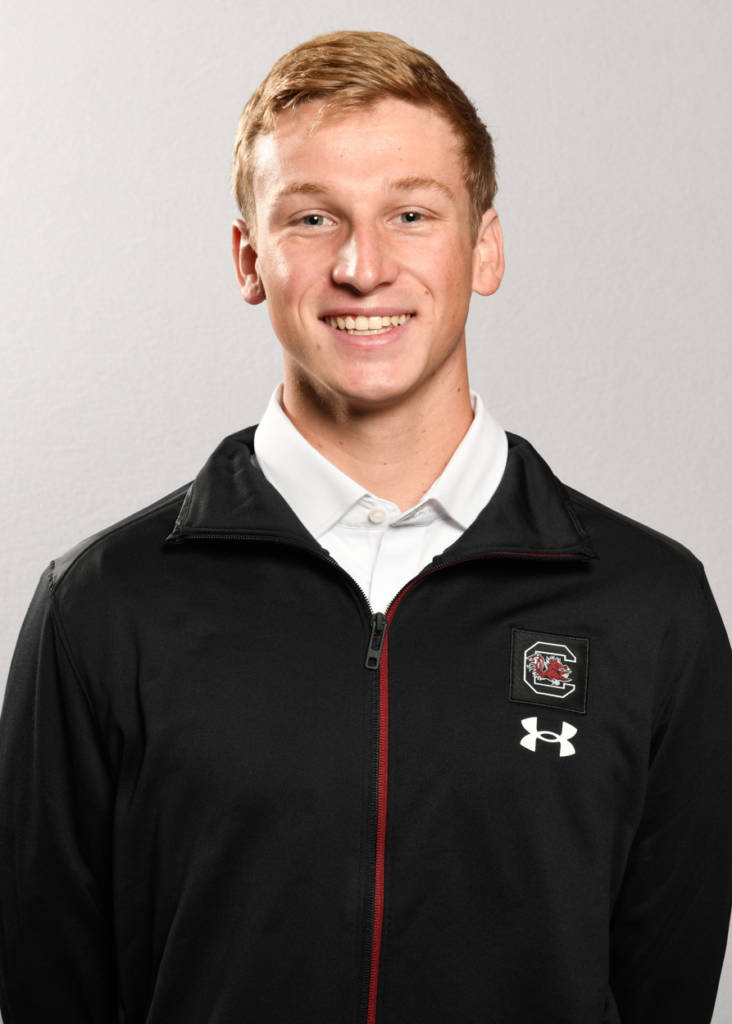 Jackson Davis
"I'm a design intern," said Kelsey Worthington, a member of the track and field team who recently earned her degree in visual communications and is interning at Rhodes Branding. "We do a lot of branding efforts for K-through-12 schools. I've learned a lot about framing. I'm learning a lot about the research behind it and how you can effectively build a brand. It's not about making something that looks pretty. It's about making something that says something and communicates something to the consumer."
"I'll be doing logistics and anything that has to do with that and distribution," said Jackson Davis, a rising junior from the swim team, who is studying operations and supply chain management and interning with Nephron Pharmaceuticals in West Columbia. "I think this is a good opportunity for me to get out in a real workplace environment. With everything that went on last year and in 2020 with the pandemic, this gives me a lot of opportunity for growth."
"I'm excited," said Hanna Barton, a rising senior on the swim team, who is studying broadcast journalism and is interning with Gamecock Central. "I'm going to be doing anything they need me to do with Gamecock sports, whether it's writing, Zoom interviews, social media, covering recruiting with football, baseball, and any other sport the want me to look into."
The Gamecocks stressed the importance of out-of-classroom learning and the need for real-world experience for their future.
"It's been really informative already, and I'm getting a chance to grow my skills."
– Kelsey Worthington
"My career aspiration is to be a strength and conditioning coach at the division one level," said Skylar Allen, a rising senior exercise science major from the beach volleyball team, who is interning with South Carolina's strength and conditioning department. "Through this internship, I am working with Billy Anderson (Director of Sports Performance) and Katelyn Woolfolk (Assistant Strength and Conditioning Coach). I just work alongside them, observe, help them set things up, ask lots of questions, and help out anyway that I can around the weight room. I'm meeting a lot of people, and this will help with my general knowledge of strength and conditioning. This has given me a lot of insight about what my career might look like."
"It varies day to day. We sit down as a team and discuss changes in treatment in plans for the new patients, and we look at their scans," said Gabby Brown, a rising senior on the volleyball team, who is studying biology and neuroscience and is interning under neurologist Dr. Souvik Sen at Prisma Health. "It's pretty cool because I hadn't been taught how to read scans. Sometimes we talk about rare cases or new treatments, so there are always new opportunities to learn because the neurology team values research and continued education. We get to see a lot of patients and run tests for things like strokes. We also do a lot of reading."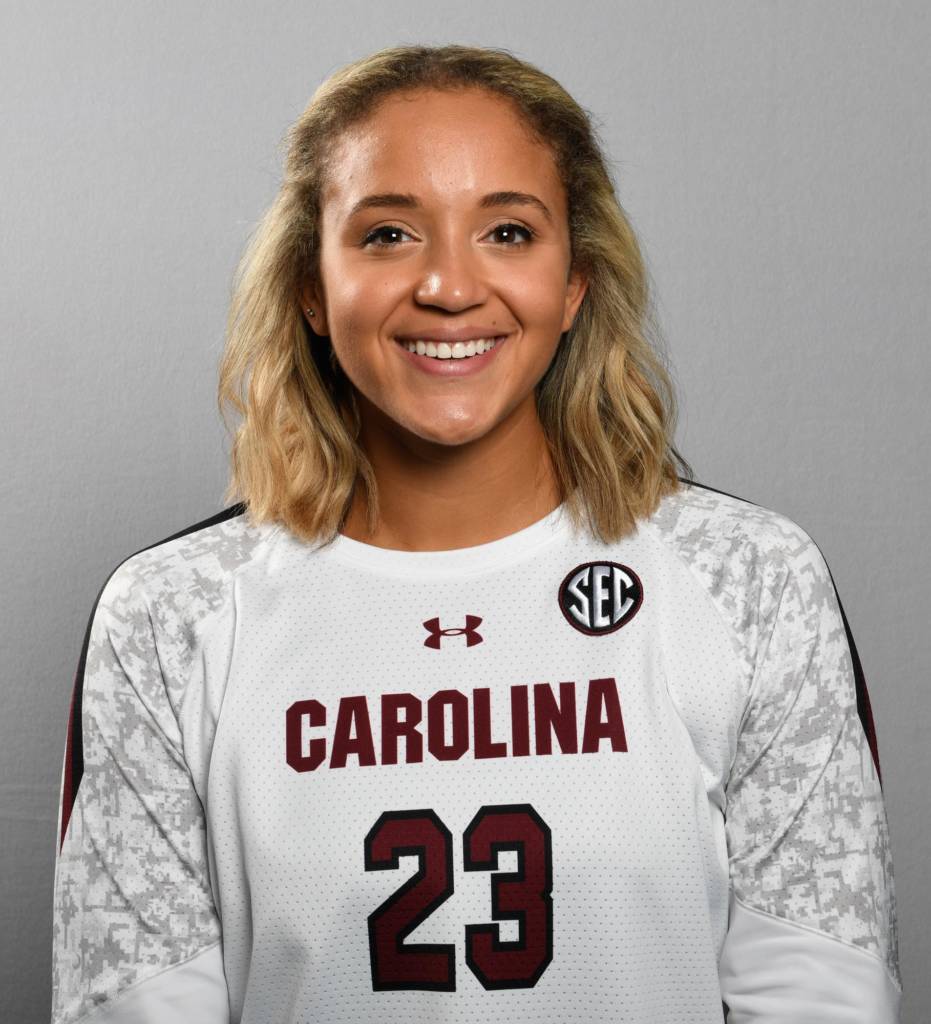 Gabby Brown
"I'm looking to go into the world of sports media after graduation and sports broadcasting in particular," Barton said. "This internship is a great way to gain experience because this is where sports media is headed. It's online based, and it is its own platform. This will allow me to work closely with Gamecock Athletics, which is awesome because, being a student-athlete, I'm very passionate about that. This will be a great opportunity to gain experience and meet people within the industry."
"I definitely want to get some exposure in some real-life situations," Davis said. "Nephron Pharmaceuticals is a very big and fast-moving company, so I think it will be a challenging experience, but at the same time, very rewarding in that I'll see things work in a logistics department in real time."
"It's been really informative already, and I'm getting a chance to grow my skills," Worthington said.
The opportunity to network is also a huge benefit from the internships, and Beyond Sports serves to facilitate the Gamecocks for the future after their playing days are done.
"I'm making a lot of connections through this," said Jackson Hall, a freshman on the football team who is studying criminology and interning with judiciary branch of the South Carolina Senate. "It's going to build my resume, and I'll meet a lot of important people. I feel like if I'm able to get an internship in every summer, I'll be able to get job pretty fast coming out of college."
"I'm excited to meet people and getting to know what they were thinking when they were my age, and whether they had any idea that this is where they'd end up," Davis said. "I'm very grateful for the opportunity. I had no idea that this was a thing before I came to school. Getting my name out there is huge."
"I wanted to see if this something I wanted to do every day and would enjoy it," Brown said. "After my first day, I was so excited to call my mom and told her I know this is what I want to do. I love this! I'm still having fun. I'm getting so much out of it."
"Beyond Sports gave me a few different opportunities for internships, working with local TV news stations, local baseball teams, and businesses as well," Barton said. "They were open to helping me find an internship that I thought I would get the most out of and really enjoy."
"It's going to help me tremendously," Allen said. "I've met so many people in the strength and conditioning profession through this internship. Without Beyond Sports, I don't know how I would have done it. It gives you so many opportunities to learn how to become professional in our career choices."