As a former South Carolina student-athlete, Dr. Patricia Kranz is accustomed to long days. Instead of long hours at the pool, the former Gamecocks diver is enjoying long days as an optometrist at the Wm. Jennings Bryan Dorn V.A. Medical Center in Columbia.
"We work four, ten-hour days here," said Kranz, who competed for the Gamecocks from 2012-2015. "We see patients from 7 a.m. until about 4:30 or 5 p.m. I don't stop moving from the time I get there until I hit the door to leave. It's really busy.
"The veterans are just a special group of people to me. I immediately fell in love with them when I did a rotation at a V.A. in Florida. I really loved the well-rounded care that was possible to be given at the V.A. It's a hospital-based program where I have access to surgeons, primary care, and the emergency room if I need it. I can just really treat patients to the best of my abilities and get them anything they need."
Kranz majored in exercise science with a minor in medical humanities at South Carolina, and later attended graduate school at Alabama-Birmingham's School of Optometry and then did her residency at the Dorn V.A. Medical Center where she now works full time.
"I was very excited to keep going with the V.A. here," Kranz said. "I really love the V.A. I'm originally from Florida and had applied a lot of places there, but when they offered me a position here, it worked out perfectly. I couldn't have asked for a smoother transition into the workforce.
"Most regular hospitals don't always have an optometrist or ophthalmology section. They usually just have trauma-based settings. The V.A. here in Columbia is one of the biggest in the South and offers just a little bit more for our veterans and gives a little bit more opportunity to have the care that they need versus a regular hospital or eye care setting."
In her position working with veterans, she sees a wide variety of patients.
"The majority of those we see are older, retired veterans who are done with their tours and seeking routine care," Kranz said. "There is also a pretty significant population where we are managing eye traumas from their tours. We see a lot of veterans who might have longstanding complications from explosions and other traumas.
"We're considered the primary care provider for the eyes, so we see routine patients when they need glasses, specialty contacts, or vision correction if they've had some kind of trauma to their eyes. We also see a lot of disease through diabetes, glaucoma, macular degeneration, and a lot of trauma. We have an on-call system for patients that come through the emergency room. We also have a specialty clinic to service more of the blind veterans for patients that have advanced disease or had significant inflammation or infection that have caused them to essentially become blind. We have a specialty low-vision clinic where we have magnifying devices and other kinds of digital instruments to help them see better with the vision that they have. It's very rewarding."
"Being a student-athlete and being an athlete my whole life solidified the time management skills and the confidence needed to pursue a career in the medical field."
Dr. Patricia Kranz
She also works outside of the V.A. hospital in a clinical setting.
"I do still work a couple of times a month in the private sector," Kranz said. "I work at an Eyemart on a Saturday or when I'm off, and I like to see kids and the regular population, too. I work just a few days a month doing that where I'm helping people see better for the first time, which is a rewarding experience. It keeps me well-rounded. I feel like I'm doing everything I've been trained for."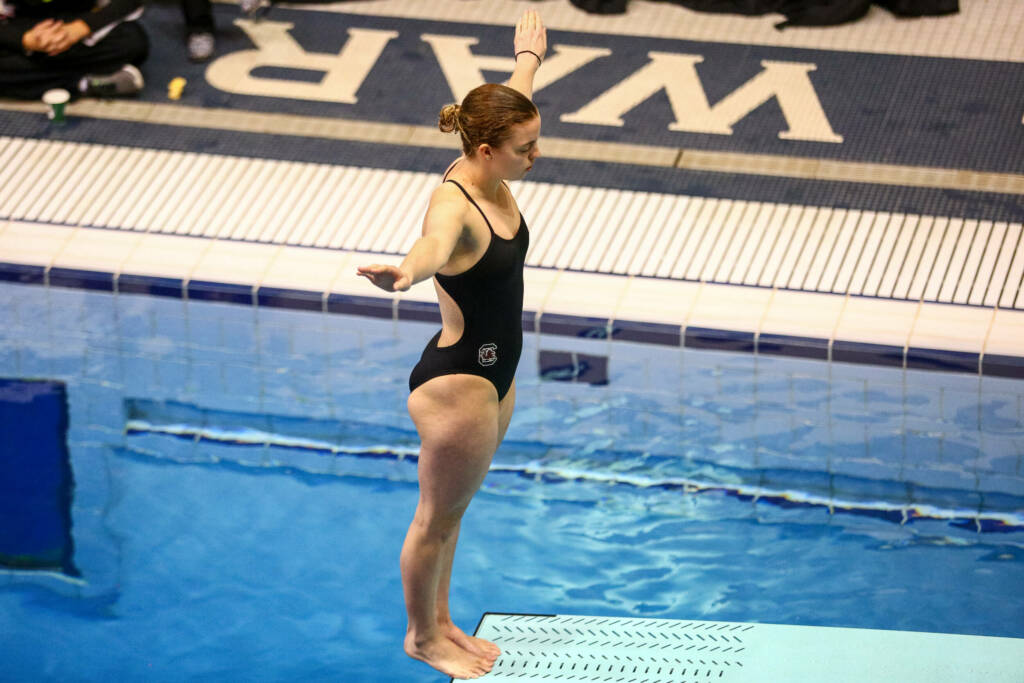 As a student-athlete, Kranz had numerous first place finishes in her career with the Gamecocks. She took the bronze medal in the one-meter dive event as a sophomore at 2013 SEC Championships and earned Second Team All-SEC honors as a senior in 2015 when she took home the bronze in the three-meter event. She was a First Team CSCAA Scholar All-American as a senior and was also named to the SEC Academic Honor Roll all four years of her career.
"Being a student-athlete and being an athlete my whole life solidified the time management skills and the confidence needed to pursue a career in the medical field," Kranz said. "We were constantly balancing athletics and getting an education. They were both very important to me. I was trained well. My work ethic was better cut out for grad school and residency. I knew if I could make it through being a student-athlete, I could make it through graduate school.
"It definitely prepared for me for what real life brought to me. I was able to balance everything. I knew if I really wanted something, I was going to have to really work at it. That's something that was instilled in us every day. Whether it was our coaches, our strength coaches, or the staff at the Dodie (Academic Enrichment Center), I had such a well-rounded experience at South Carolina. It really did train me and helped guide me in the transition on to real life."
Looking back, Kranz has fond memories of her days as a Gamecock, and she is also thrilled with where she has landed.
"I was close with my teammates, and we did everything together," Kran said. "Traveling to meets were some my favorite memories and going to football games was great.
"Where I am now, the setting at the V.A. really maximizes all the time and training I put in. I feel like I'm really practicing to the full scope of my ability."