New National Championship License Plates Available
COLUMBIA, S.C. – South Carolina women's basketball fans can show off their two-time National Championship pride every time they get in their cars, thanks to
the South Carolina Department of Motor Vehicles, through a bill amendment proposed by Senator Mia McLeod, in conjunction with My Carolina Alumni Association. The license plate design, which features both the 2017 and 2022 National Championship logos, was revealed at a University event last week and is available now at SCDMVonline.com.
"This tag represents far more than two national championships," McLeod said. "It serves as a reminder of the continuity of a successful championship program that has brought recognition and honor to both the University of South Carolina and this state. It represents the fruits of the labor of gifted, hardworking athletes who have been impacted by Coach Dawn Staley's vision, tenacity, talent and brilliance. What Coach Dawn Staley has built – what she stands for – has become an inspiration to young women locally, nationwide, and dare I say, globally."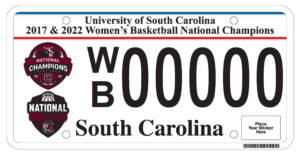 The University of South Carolina 2017 and 2022 Women's Basketball National Champions license plate is sponsored by My Carolina Alumni Association. The cost for the plate is $70 every two years in addition to the regular registration fees set by the Department of Motor Vehicles. A portion of the fees collected for the plates will be distributed to UofSC for scholarships.
Fans who currently have the 2017 National Championship license plate who want to get the new design with the same number should submit the MV-97 Request to Remake Form and $6 to the Blythewood address on the form.
Fans with a current South Carolina license plate can use this link to exchange that plate for a new 2017 and 2022 National Championship plate.
In April, South Carolina capped an historic season with its second National Championship in the last five NCAA Tournaments. The Gamecocks were ranked No. 1 in both the Associated Press and USA Today/WBCA Coaches Polls every week of the season as Staley tested her team with the toughest schedule in the country. The Gamecocks responded with a program-record 14 wins against nationally ranked opponents among their program-record 35 total wins on the season. South Carolina claimed its sixth SEC Regular-Season Championship with a 15-1 league record. Aliyah Boston, Zia Cooke and Destanni Henderson all earned All-America status with Boston going on to sweep the National Player of the Year awards, including Naismith Defensive Player of the Year.
Continue to check GamecocksOnline.com and the team's social media accounts (@GamecockWBB) for the most up-to-date information on the women's basketball season.