Six Student-Athletes Named to the CSC Men's Soccer Academic All-District Team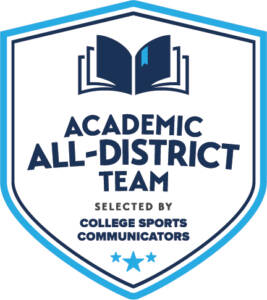 AUSTIN, Texas – Six South Carolina men's soccer players were named to the 2022 Academic All-District® Men's Soccer Team as selected by College Sports Communicators. The award recognizes the nation's top student-athletes for their combined performances on the field and in the classroom.
Parker League, Brian Banahan, and Logan Frost each earned their second All-District honor, while Henry Weigand, Peter Clement, and Adam Luckhurst each earned their first selection. It's the second consecutive season the Gamecocks have had six players earn the honor. Carolina has now had a player earn All-District honors in 14 of the last 16 seasons.
All six players now advance to the CSC Academic All-America® ballot. First-, second- and third-team Academic All-America® honorees will be announced December 6.
Banahan carried a 3.73 GPA and will graduate in December with a degree in management. A forward from Lexington, Kentucky, he played in 11 matches this season, starting five times. His lone goal of the season came in a win over in-state rival Winthrop. For his career, he has been named to the Conference-USA Academic Honor Roll each of the last three seasons.
An operations and supply chain major, Clement holds a 3.63 GPA. A junior midfielder from Gelsted, Denmark, he started and played in 13 matches on the year. Clement notched a pair of assists in a win over Queens and tallied a goal at Costal Carolina.
A senior from Birmingham, Alabama, Frost maintains a 3.64 GPA while majoring in management. He played in all 17 matches this season, earning nine starts. He finished the season second on the team in both goals and assists, with two each. He notched the game-winner at home against USC Upstate. He was named to the  Conference-USA Academic Honor Roll the last three years.
League maintains a perfect 4.0 GPA while majoring in international business. The senior from Huntsville, Alabama played and started in all 17 matches this season. He notched a goal and two assists for the season, which included tallying a goal and assist in the win over Winthrop. He is a three-time Conference-USA Academic Honor Roll honoree, earning the Academic Medal each of the last three seasons.
Luckhurst carries a 3.67 GPA while majoring in finance. A junior from Santa Barbara, California, he led the team with five goals and four assists this season. Luckhurst played in all 17 matches, earning the start 12 times. He scored a pair of game-winners, coming against Winthrop and Queens. Against Queens, Luckhurst notched a goal and two assists, becoming the first Gamecock since 2018 to achieve the mark.
Weigand holds a 4.0 while perusing a master's degree in business administration, after earning a bachelor's degree in finance with a 3.97 GPA. A senior defender from Hamburg, Germany, he played in nine matches this season and earned the start in the final two matches of the year. He recorded his first point at Carolina in the Sun Belt Conference tournament against No. 2 Kentucky.
For more information about CSC Academic All-District® and Academic All-America® Teams program, visit AcademicAllAmerica.com.