Gamecocks NCAA Tournament Overall No. 1 Again
COLUMBIA, S.C. – For the second time in as many seasons, South Carolina women's basketball earned the NCAA Tournament's No. 1 overall seed. Making their 10th straight appearance at the event, the Gamecocks are the No. 1 seed in the Greeneville 1 Region.  They will host first- and second-round games at Colonial Life Arena this weekend.
In the First Round No. 1/1 South Carolina will play No. 16 Norfolk State (26-6) on Friday, Mar. 17. No. 8 South Florida (26-6) and No. 9 Marquette (21-10) will also square off at Colonial Life Arena on Friday. The winner of those two games will meet on Sun., Mar. 19.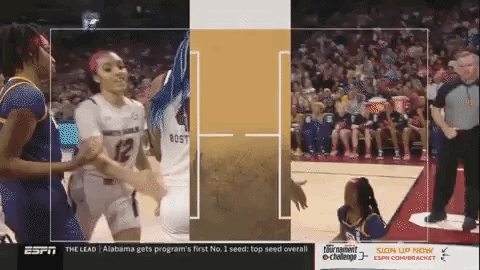 South Carolina has been ranked No. 1 in both polls for the entire season, and their 37-straight weeks atop the Associated Press Poll is the second-longest run in the history of that poll. If the Gamecocks are No. 1 in the final AP Poll out tomorrow, they will become just the third program to hold the spot wire-to-wire in back-to-back seasons, joining UConn and Louisiana Tech with that achievement.
The Gamecocks won their seventh SEC Regular-Season Championship and seventh SEC Tournament crown this season, sweeping both titles in the same season for the fifth time in the last nine campaigns. South Carolina has held the top spot in the NET rankings the entire season behind the most road wins in the country (13), including three against top-20 opponents, and the most wins against NET top-100 teams (25).
This is the 19th all-time NCAA Tournament bid for the Gamecocks, who have won two National Championships (2017, 2022) and played in two other Final Fours in the last seven tournaments. South Carolina has played in a total of 12 Sweet 16s and advanced to the Elite Eight six times. The Gamecocks are 40-16 all-time in the event, including a 32-8 mark under head coach Dawn Staley.
This marks the Gamecocks' seventh regional No. 1 seed all-time after earning the position in 2014, 2015, 2016, 2017, 2021 and 2022. South Carolina advanced to the Final Four as a No. 1 seed in 2015, 2017, 2021 and 2022.
𝐼𝓉'𝓈 𝒪𝒻𝒻𝒾𝒸𝒾𝒶𝓁…

Back-to back No. 1 seeds. We're goin' dancin!! 💃 pic.twitter.com/CQZwggF6ZK

— South Carolina Women's Basketball (@GamecockWBB) March 13, 2023
Ticket booklets for the first- and second-round games are available now at three different price points– Lower Level Reserved $55, Upper Level Reserved $45, General Admission $35. Booklets can be purchased online at: https://am.ticketmaster.com/gamecocks/virtual-venue/V0IyM0FTQg== or by calling the Gamecock Ticket Office at 800-472-3267.
Single-session tickets first- or second-round games will go on sale on Mon., March 13, at 10 a.m. ET at https://www.ticketmaster.com/university-of-south-carolina-gamecocks-womens-tickets/artist/849555. First-round tickets are $30 each (includes both games), and second-round game tickets are $20 each.
Every individual two (2) years of age or older must have a game ticket for admission. Children younger than two (2) years of age do not need a ticket provided that they sit on the lap of a ticketed adult.
–– www.GamecocksOnline.com ––