Beach Volleyball Welcomes Home Alumnae for First Reunion, Prepares to Host Gamecock Grand Slam
COLUMBIA, S.C. – South Carolina beach volleyball returns home for its second tournament of the spring down on Wheeler Beach, hosting the Gamecock Grand Slam Saturday and Sunday. The team faces Houston Christian and Arizona State at 10 a.m. and 4 p.m., respectively, on March 25 and Tampa and No. 11 Georgia State at 10 and 4 on Sunday. South Carolina enters the weekend with an 11-7 overall record and moved up to No. 16 in the weekly coaches poll after taking down No. 5 Loyola Marymount last weekend in Gulf Shores, Ala.
It will be a special weekend for the program as a whole, as over 30 former players and their families return to Columbia to celebrate the 10th season of the program and reunite for the first Alumnae Weekend.
This spring, attendance at home matches at Wheeler Beach is again free and open to the general public. Please continue to follow the athletics department's clear bag policy. Fan entrance is only permitted on the north side of the facility through the main gate and only participating teams and game-day personnel are permitted on the sand surface. Please note that due to other home events on campus, fans are encouraged to park in the garage at 1300 Heyward St., pictured below.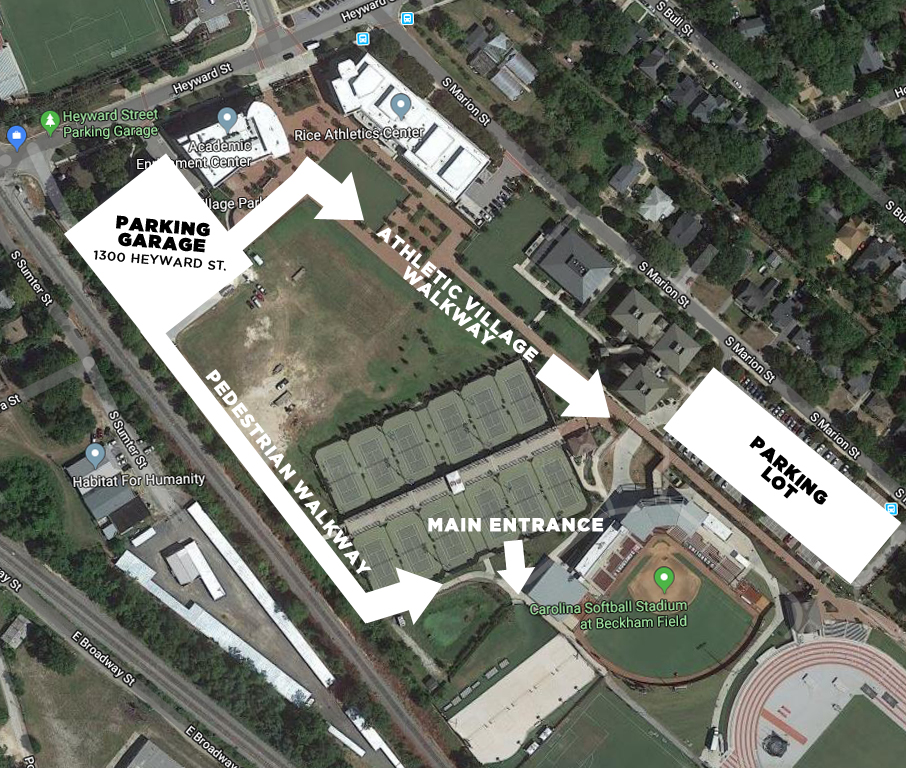 SCOUTING THE WEEKEND FIELD
Houston Christian
South Carolina leads the all-time series, 3-0 ( Since 2019). In the last meeting, the Gamecocks won, 4-1 (March 21, 2021).
This is the first meeting between the two teams that won't be at a neutral location.
Houston Christian, formerly Houston Baptist, finished the 2022 season with a 14-22 overall record and return both members of its two winningest pairs from last spring.
Arizona State
South Carolina leads the all-time series, 2-1 ( Since 2015). In the last meeting, the Gamecocks won, 3-2 (March 31, 2019).

 

The Sun Devils are one of three PAC-12 schools on the schedule this spring. The Gamecocks have a combined record of 5-7 against PAC-12 schools in program history.
Arizona State finished with a 17-15 record in 2022, the second-most wins in a season in program history, and return four of its top five individuals based on wins from last spring.
Tampa
South Carolina won the first and only previous meeting between the two sides, winning 5-0 on Feb. 23, 2019.
The Spartans faced 11 nationally ranked opponents in 2022 and return three individuals who won 15 or more matches last spring.
Tampa finished 17-15 in 2022 and placed third in the AVCA Small College Championship.
#11 Georgia State
Georgia State leads the all-time series, 9-7 ( Since 2014). In the last meeting, the Panthers won, 3-2 (April 15, 2022).

 

The Panthers had perhaps the best season in program history in 2022 and return six starters from their NCAA tournament run, including the Ferary sisters and their 37-2 season record as a pair.
Georgia State finished the 2022 season ranked 7th nationally, falling in the quarterfinal round of the NCAA tournament, with a 28-13 overall record.
CRUNCH TIME NUMBERS
With the sport of beach volleyball as competitive as ever, a point here or there can make all the difference in a team's postseason aspirations. So far this season, South Carolina is 20-19 in deuce sets (sets decided by the minimum of two points) and holds a 12-10 record in matches that go three sets.
NIFTY 50 FOR GAMECOCK DUO
With a sweep of Southeastern Louisiana on March 5, junior Hannah Mackenhausen moved her to 50 career wins, making her the 11th member of the program to reach the career milestone. On the way to her 50 wins, Mackenhausen carried a .685 win percentage. Senior Skylar Allen joined the 50-win club thanks to a sweep of Stephen F. Austin on March 10, recording a career win percentage of .595 on the way to 50. Allen made it to 50 wins the hard way – she was making her 71st start in the No. 1 position when she recorded her 50th career win.
ROSTER DEPTH PUT TO THE TEST EARLY
The Gamecocks have put their roster to the test this spring, with injuries to three day-one starters forcing some unforsee lineup changes. Through 18 duals, South Carolina have used 17 different pairs. The combination of Skylar Allen and Simone Priebe on court one is the only pairing that have played every dual together. Individually, 17 Gamecocks have at least one start so far and 10 of them have played in multiple flights of the lineup.
VETERAN STAFF ENTERS YEAR 10
With South Carolina reaching its 10th season of competition, Head coach Moritz Moritz and assistant coach RJ Abella have been together since day one.. Across all of collegiate beach volleyball, the duo is currently tied only with UCLA (Stein Metzger and Jenny Johnson Jordan) in terms of longest tenure together as a staff. Along with NCAA tournament berths in 2017 and 2018, the coaches have also enjoyed six 20-win seasons and a .621 win percentage through the first nine seasons.
SOPHOMORE CORP ASKED TO TAKE NEXT STEP
Year two will be an important one for three South Carolina sophomores, two of which already are contributing in the starting lineup. Kennedy Westendorff earned a spot in the team's lineup at the CCSA conference tournament last April, coming in at the fifth flight, and started her 2023 season all the way up in the second pairing with Kaeli Crews.
Lauren Wilcock already made a good first impression, her 24 wins in 2022 matched the program record for a freshman. Despite missing a week of action due to injury, she holds a 9-4 record already this spring.
A darkhorse sophomore to keep an eye on this spring is Chase Teal. She earned the start in the fives against No. 2 Florida State in week one, then made the lineup in each of the five duals down at LSU. Teal went 2-0 with Jillian Gleason to start the tournament, then moved up to the number three position with Allison Coens due to injuries and picked up two more wins on day two. Just nine starts into her career, the versatile defender already has wins in the first, third, fourth and fifth positions.
ALLEN CLAIMS IMPRESSIVE RECORD
Skylar Allen already owns a place in program history as its first all-american, but the senior is nearing some notable milestones going into her fourth spring. She is the first Gamecock to win 20 games in a single season at No. 1 and the third Gamecock to ever reach 30 career wins in the No. 1 position of the lineup. In her sweep of UAB on March 17, Allen passed Shannon Williams (45 wins from 2016-19) for the career record for wins on the top court. Of the five women with 20 or more wins at No. 1, Allen's career win percentage of .575 is the highest. Overall, Allen stands at 56 career wins, becoming the 12th Gamecock in program history to reach 50 after sweeping Stephen F. Austin on March 10.
GAMECOCKS IN THE NATIONAL RANKS
The team earned its first-ever ranking by the AVCA on March 6, 2017, and have not left the polls since. The Gamecocks peaked at No. 8 in the polls in 2018 and check in at No. 16 in the March 21 poll, marking 64 weekly rankings in a row in the coaches poll. As the team has maintained its poll position, so has its scheduling; over the last five completed seasons (2017, '18, '19, '21 and '22), South Carolina averages around 15 duals played against ranked opponents per season and have faced nine ranked teams through its first 18 duals.
TRANSFERS BOLSTER GAMECOCK ROSTER
South Carolina returns six players who started in at least half of the team's duals from 2022, but did lose a pair of 20-game winners with Jordan Smith and Abby Carroll along with Whitley Ballard (12-11 at No. 1) and Alyssa Keller (13-5). To fill the gaps in the roster, the staff brought in three transfers who figure to push for starting spots from day one. Graduate transfers Simone Priebe (Pepperdine) and Allison Coens (LSU) competed for four and three seasons, respectively, for their previous teams and junior Rebeca Olariu (College of Charleston) made 53 career starts in her first two seasons as a college athlete – 25 of those starts coming at the number one position for the Cougars. 
Priebe totaled 66 career wins and a total winning percentage of .712 at Pepperdine, topped off by career year in 2022 with a 26-7 record in the number two pairing and a spot on the All-WCC first team and Top Flight honors from the AVCA. Coens won a personal-best 23 matches as a freshman at LSU in 2019, including 15 against ranked opponents, and comes to South Carolina with a career record of 32-13. Olariu held her own as a freshman in 2021, winning 12 matches in the top pairing for Charleston and won 14 matches in 2022 while moving all around the lineup.
WHITESIDES HITS THE BEACH
Fans of South Carolina volleyball will recognize a familiar face in the sand this spring, as junior Riley Whitesides joined the roster in January. Whitesides proved to be a versatile athlete on the hardwood, totaling 775 kills and 497 digs through her first three seasons indoors. Most recently, she ranked second on the team in kills, averaging 2.65 per set, and became only the second member of the program over the last 20 seasons with a serve reception percentage north of .960 with 700 or more total receptions. 
The last Gamecock to compete as both an indoor and beach volleyball player was Jess Vastine (2017-21), who finished with a career record of 52-41. Whitesides made the travel team for each of the first two roadtrips; at LSU she went 3-0 on the exhibition court before earning her first career start in the weekend finale vs. Southeastern Louisiana. Teaming with Hailey Cabeceiras, Whitesides earned her first win with a 21-7, 21-14 sweep on court five.
PRESEASON NOTABLES
The preseason CCSA all-conference team was announced on Wednesday, Feb. 22, with a pair of Gamecocks making the squad. Simone Priebe and Kaeli Crews represented the 10-member team, with freshman Jolie Cranford also on the conference's Watch List.

 

This spring, the Gamecocks will face eight of the 16 teams from the 2022 NCAA tournament field.
The team spent three weekends competing in pairs tournaments during the fall semester, starting at home on Oct. 8 with an all-day pairs tournament on Wheeler Beach. The Gamecocks hosted UNCW, College of Charleston and Coastal Carolina and finished the day with a 28-4 record in matches. The next competition was the Collegiate Beach Bash Oct. 28-29, with a field of over 75 pairs and 10 teams. The larger field didn't slow down the team's success, South Carolina finished the two-day tournament with a 39-15 record – the win total and win percentage led all teams in attendance.
The team split up for the final weekend of the fall, as the AVCA hosted the first-ever Collegiate Pairs National Championship Nov. 4-6, also in Huntsville. The Gamecocks received two bids for the tournament, sending Skylar Allen and Simone Priebe in one pair and Kaeli Crews and Hannah Mackenhausen in the other. Allen and Priebe finished 11th overall in the field of 64 pairs, Crews and Mackenhausen placed 50th.
2022 SEASON NOTABLES
The Gamecocks finished the 2022 season with a 20-12 overall record and finished 5th in the Coastal Collegiate Sports Association. It was the team's sixth 20-win season in program history. Counting only completed seasons, the six have come all in a row, starting back in 2016. During this run, the program's record stands at 125-73 (.628).
Head coach Moritz Moritz earned his 150th career win vs. College of Charleston on April 9, 2022.
Carolina finished the season ranked #19 in the final AVCA Collegiate Rankings. The squad reached as high as 14th in the middle of March and never fell out of the Top 20.
Marquee Carolina victories came against No. 11 Florida Atlantic, No. 15 Pepperdine, No. 20 Florida Gulf Coast and No. 20 Tulane.
Carolina was led by freshman Lauren Wilcock, sophomore Hannah Mackenhausen, junior Kaeli Crews and senior Jordan Smith. All four posted 20+ wins during the season and had winning records against ranked opponents.
Wilcock's team-high 24 wins as an individual put her just three behind Macie Tendrich's single-season program record of 27 victories.
Wilcock made the CCSA's five-woman All-Freshman team, making her just the third Gamecock in program history to make the list. On the CCSA's All-Academic team, four more individuals were honored: Skylar Allen, Whitley Ballard, Kaeli Crews and Jordan Smith. It's the most individuals ever to make the cut for South Carolina.
Jordan Smith won her 50th career match on April 15, defeating Coastal Carolina. She is the ninth Gamecock in program history to reach 50 wins and passed Macie Tendrich's record for fastest road to 50 wins. Tendrich previously reached it in 68 games, Smith needed only 65.
ALL-TIME RECORDS
South Carolina holds a 165-101 (.620) all-time program record, dating back to 2014.
The Gamecocks joined the CCSA for volleyball in 2016, and have an all-time conference record of 46-36 (.561).
In matches at Wheeler Beach, Carolina is 71-25 (.739).
Moritz Moritz is in his tenth season as head coach of the Gamecocks, spanning the entire young history of the program. He earned his 100th career win vs. Texas A&M-Kingsville on April 6, 2019.