Gamecock Athletics launches Forever Garnet
Take your fandom to the next level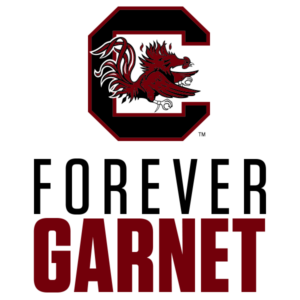 The University of South Carolina Athletics Department has developed a new fan experience program for Gamecock fans, called "Forever Garnet" that will allow users to earn rewards and show their passion for the Garnet and Black.
The Forever Garnet program is made up of three pillars: Forever Garnet Memories, Forever Garnet Rewards and Forever Garnet Concessions.
The Forever Garnet program can be accessed through an App, available on iPhone and Android, and through an online portal.
"With the launch of Forever Garnet, our fans will now have a chance to show their passion for the Gamecocks in a new and creative way. This is a way for us to say 'thank you' to our great fans by being able to create memories and earn rewards by attending home Gamecock athletics events."
Athletics Director Ray Tanner
Forever Garnet Memories
The first pillar of Forever Garnet is Forever Garnet Memories. These will provide Gamecock fans with new ways to make memories with us. Forever Garnet Memories will currently consist of four components: Auctions, Game Day Experiences, Williams-Brice Stadium Tours and Williams-Brice Stadium Photos. Williams-Brice Stadium Photos will allow fans to book times to take holiday and graduation photos inside Williams-Brice Stadium.
Forever Garnet Rewards
The second pillar is Forever Garnet Rewards. This new rewards program will award fans for attending home athletic events with Forever Garnet Points. Forever Garnet Points are different than Gamecock Club Priority Points. Forever Garnet Points can be used on prizes, sweepstakes or auctions within the Forever Garnet App. All Gamecock Club members will receive an automatic 2,000 points upon enrolling in the program.
Forever Garnet Concessions
The third pillar is Forever Garnet Concessions. This pillar is currently tailored towards Gamecock Club members. Gamecock Club members will be able to receive a 10% discount at our primary concession stands at Williams-Brice Stadium, Colonial Life Arena (during Athletics' events) and Founders Park by using their Forever Garnet ID inside the Forever Garnet App, certain exclusions apply. Over the next year, we will also roll out more components of Forever Garnet Concessions for all fans.
A Forever Garnet profile has been created for all Gamecock Club members. To ensure Gamecock Club members can access all of the benefits of Forever Garnet, upon download of the app, they should click forget password and enter their email address tied to their Gamecock Club account to reset their password.
In addition to the Forever Garnet App, a dedicated website has been created for fans to learn more about Forever Garnet. Forever Garnet will continue to evolve over the next year and fans will be able to keep up with updates within the Forever Garnet App and on our Forever Garnet Website, GamecocksOnline.com/ForeverGarnet.