Men's Soccer to Retire Charlie Arndt's Jersey
COLUMBIA, S.C. – The University of South Carolina men's soccer program announced today (Sept. 5) that former All-American and 1988 national Goalkeeper of the Year Charlie Arndt will have his jersey retired in a ceremony at their match against Georgia State on September 22. Kickoff against the Panthers is set for 7 p.m.
Arndt's No. 1 jersey will join former Gamecock great Clint Mathis, who had his jersey retired in 2019.
"I am incredibly honored that the University of South Carolina will be retiring my jersey, but recognition must be shared with my teammates and coaches," Arndt said of the honor. "The lessons of work ethic, perseverance, and challenge navigation that I gained from my time at South Carolina, both on and off the field, have guided me throughout my career. As I have taken on leadership roles in my professional career and as a volunteer goalkeeper coach, I have found the greatest joy in passing along those lessons to the next generation."
A native of Silver Springs, Maryland, Arndt joined the Gamecocks in 1985 after he was named a consensus All-American as a senior at John F. Kennedy High School. As a freshman, he played in three matches behind 1985 national Goalkeeper of the Year Warren Lipka. Following Lipka's graduation, Arndt immediately stepped into the starter's role and held it for the next three seasons.
From 1986-88, he started 61 of the team's 65 matches, as the Gamecocks made the NCAA Tournament all four seasons he was on the team, including the 1988 College Cup Semifinals. Arndt holds the South Carolina program record for career goals against average at 0.70. He ranks second with 24 solo shutouts, fourth in save percentage (81.7%), fifth in minutes played (5,286), and eighth in total saves (183).
Taking over the starting goalie duties in 1986, Arndt led the Gamecocks to a 17-5 record, including an overtime win over rival Clemson. He started the first 18 matches of the season, finishing the season with a 1.05 GAA, with 61 saves, and four shutouts.
Prior to his junior season, Arndt served as an alternate for the South team at the 1987 Olympic Festival in Durham, North Carolina. He went on to start all 21 games in goal for the Gamecocks, leading them to the program's second-best season ever with a 16-2-3 record. Carolina advanced to the second round of the NCAA Tournament for the second time in program history. Arndt set a program record that still stands today with a 0.42 GAA. The team finished the season with 14 total shutouts, seven solo and seven combined, second most by a squad in program history. His 87.0 save percentage still ranks third all-time, and his seven solo shutouts rank eighth.
In his final season at Carolina, Arndt started all 22 matches, leading them to a 14-4-4 record and their first College Cup appearance. He was named the National Soccer Coaches Association of America (NSCAA) Goalkeeper of the Year and was a Second Team NSCAA All-American. His 0.54 GAA ranks second all-time, trailing only his own record from the 1987 season. His 13 solo shutouts are tied for the most all-time in a season, while his 83.6 save percentage ranks sixth. Arndt was also a standout in the classroom, as he was named to the 1988 ISAA/NSCAA Academic All-American First Team. Following the season, he was selected in the second round, ninth overall, in the 1989 Major Indoor Soccer League college draft by the Cleveland Crunch.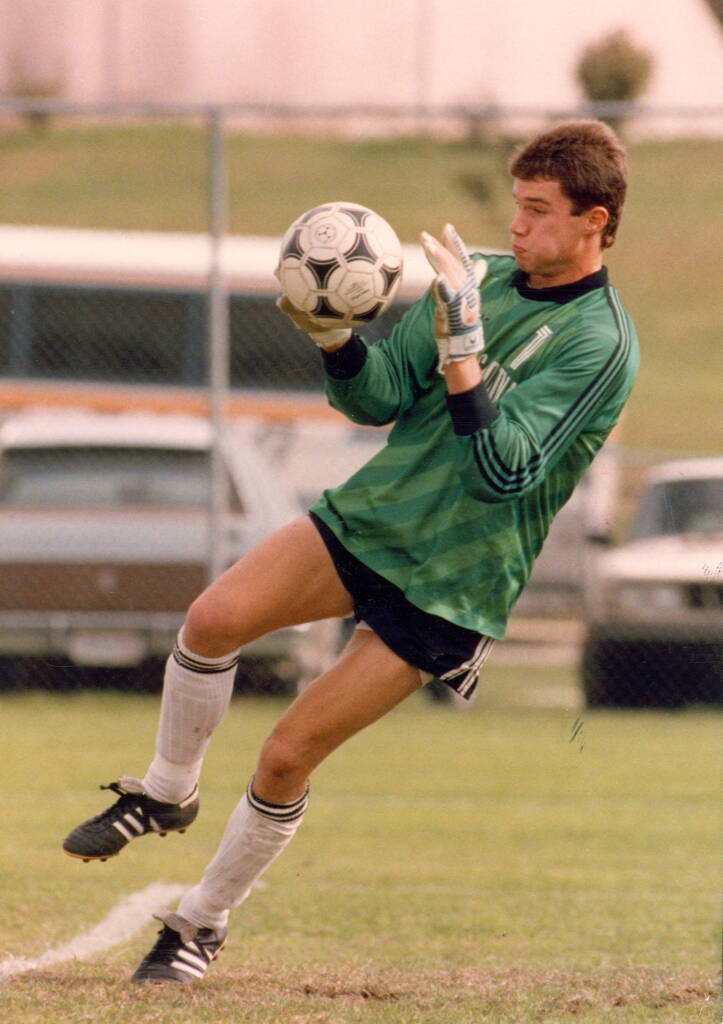 Retired jerseys are selected by a committee of representatives from the South Carolina Athletics Department, University Board of Trustees, and the USC Lettermen's Association.
Factors for jersey retirement include post-season national and conference recognitions, school record holders, impact on team accomplishments and either graduating from South Carolina or leaving the school in good academic standing.
The current athletics department policy states that the school retire jerseys not numbers. Athletics department records indicate the current policy has been in place since at least 2007. Numbers retired prior to then will continue to be in a retired state. Current and future student-athletes can wear numbers that were affiliated with jersey retirements after 2007.
For the latest on men's soccer, visit GamecocksOnline.com or follow the team's social media accounts on Twitter @GamecockMSoccer, Facebook /GamecockMSoccer, and Instagram @GamecockMSoccer.