CELEBRATING 50 YEARS OF TITLE IX
Maria Hickman & Ray Tanner
History at South Carolina
1960s:
The Women's Recreation Association (WRA) is established to stimulate participation of women in recreational activities and intramurals. Students can compete on behalf of their dorm or sorority. (1967)
USC hosts the South Carolina Association of Recreation for College Women's Sports Day (SCARFCW). Nine schools compete in basketball, volleyball, tennis, swimming, and table tennis. Physical Education professors Violet Meade and Helen Timmermans serve as sponsors for the event. (1967)
Women's sports programs transition from the Physical Education Department to Student Affairs. (1969)
June 23, 1972: Title IX of the Educational Amendments of 1972 enacted by Congress and signed into law by President Richard Nixon
December 1972: The University of South Carolina joins the Association for Intercollegiate Athletics for Women (AIAW).
1973:
The Board of Trustees requests that an ad hoc committee be formed to study funding for the women's sports programs.
University of South Carolina president Thomas F. Jones appoints Harold B. Hagan, administrative assistant to athletic director, to oversee women's sports on an interim basis.
The ad hoc committee submits its recommendations in a report to Jones.
January 5, 1974: University president Jones shares the findings of the report with the Board of Trustees. The board votes to place the women's athletic program's seven sports under the Department of Athletics.
Women's basketball (Head Coach Pam Backhaus), gymnastics (Head Coach Helen Timmermans), golf*, softball (Head Coach Pam Backhaus), swimming & diving (Head Coach Alan Gentry), tennis (Head Coach Kitty Parrott), and volleyball (Head Coach Vicki Hamilton) are added. Physical education instructors and graduate students serve as coaches.
USC Alumna and physical education professor Helen M. Timmermans is named the first Associate Director of Athletics for Women.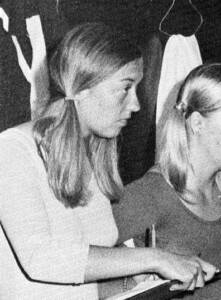 February 4, 1974: Women's basketball plays in the Carolina Coliseum for the first time.
1975-1976: First athletics scholarships are awarded to women.
Basketball – Charlene Dubose, Denise Nanney, and Martha Suber
Gymnastics – Laura Kostyshyn, Patti Morris, and Denise Nolan
Softball – Lauren Hughes, Nona Kerr, and Jean Robbins
Swimming – Nancy Grimm, Tina Hasselberg, and Lyn Smith
Tennis – Cindy Kincaid, Sue Smith, and Sue Stoll
Volleyball – Lee Branch, Annette Gibson, and Cheryl Grindle
1977: Full-time coaches and personnel are hired to work with the women's program.
July 21, 1978: Deadline for colleges to comply with Title IX's athletics requirements.
1980: Women's golf is permanently added as a varsity sport. Bobby Foster is named the head coach.
1982: Gamecock women's teams compete in NCAA Tournaments for the first time. Basketball, softball, swimming and diving and tennis all make NCAA post-season play.
1987: Women's cross country is added as a varsity sport. Jeff Wentworth is named the head coach.
1989: Women's indoor and outdoor track & field are added as varsity sports. Charlie Strong is named the head coach.
1995: Women's soccer is added as a varsity sport. Sue Kelly is named the head coach.
1996: Equestrian is added as a varsity sport. Janet Brown is named the inaugural head coach.
2013: Beach volleyball is added as a varsity sport. Moritz Moritz is named the head coach.
* Women's golf was originally added to the athletics department in January of 1974, but the sport was dropped and added again in 1980.
The Women of South Carolina Fund
Funds generated will support enhancing the experience of female student-athletes, particularly those whose efforts and successes have not yet found the media spotlight.
This initiative will directly impact the student-athletes through:
Program support – providing resources and facility enhancements for all women's sports programs to ensure continued success
Program development – providing team-building opportunities and chances to travel/compete internationally
Career development – providing professional networking through our student-athlete mentor program
Leadership training – creating opportunities for student-athletes to continue to grow as leaders in sport, business and society
Endowed scholarships – ensuring financial aid for worthy student-athlete
Defined by Us
To celebrate the 50th Anniversary of the passage of Title IX, South Carolina Athletics partnered with University of South Carolina seniors Lindy Kavulic and Skyelar Winn on this series, which will highlight the stories of Gamecock women's sports and student-athletes.
Education
Title IX Legislation Signed on June 23, 1972 by President Nixon
No person in the United States shall, on the basis of sex, be excluded from participation in, be denied the benefits of, or be subjected to discrimination under any education program or activity receiving Federal financial assistance.
Resources to Learn More About Title IX
Watch
Read