Hall of Fame Inductee Landon Powell to be Celebrity Starter
Sept. 4, 2014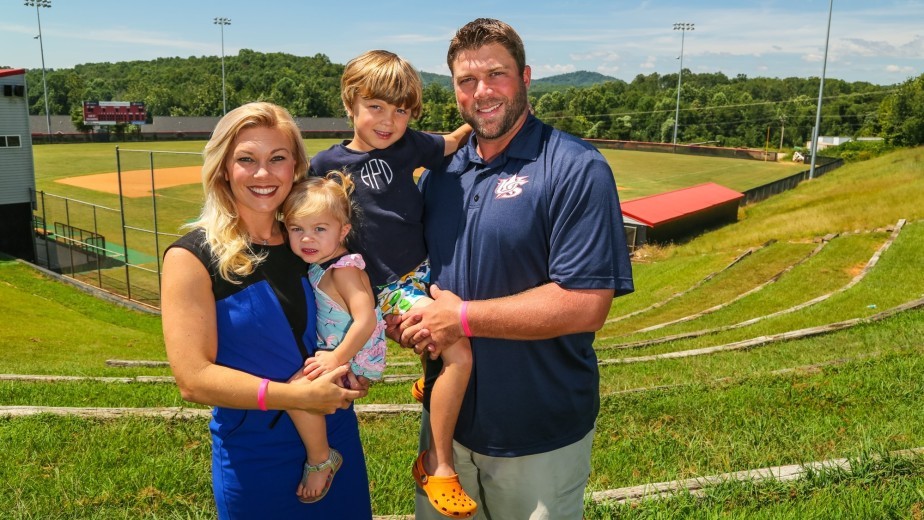 Landon Powell spent a lot of time behind home plate, and now he's coming home for the weekend. Powell is one of seven Gamecock greats being inducted into the University of South Carolina Association of Lettermen's Hall of Fame this week. He will also have the honor of serving as the celebrity starter to lead the "Game-Cocks" cheer prior to Saturday night's football game at Williams-Brice Stadium against East Carolina.
"South Carolina holds a special place in my heart," Powell said. "Of all the things I've achieved in my career and in my personal life, getting inducted into the hall of fame is probably at the top of the list. I'm really excited, but I am a little nervous about being the starter. You could put a baseball bat in my hand in front of 90,000 people, and tell me to hit a pitch and I'd be fine. Give me a microphone and tell me to lead a cheer is a little different, but I've been to plenty of games, so I know the routine pretty well."
The former major leaguer and two-time All-SEC catcher for the South Carolina baseball team recently began a new chapter in his life by accepting his first job as a head coach at North Greenville University after spending last year as an interim volunteer assistant with Furman University.



"Beating Clemson out there, and playing for a national championship are up there, but there are so many great moments."

Landon Powell



"North Greenville is a Christian school that shares a lot of the same values I share in my life and in my faith," Powell said. "It's an opportunity to not only coach baseball, but also an opportunity to impact some kids' lives on a bigger level. I just want to follow in Coach (Ray) Tanner's footsteps and do the kids a great service like he did for me. I'm excited to do all the things you have to do as a coach, whether it's field work, working with the admissions office, study halls and order equipment. It's fun."
Powell played for Tanner from 2001-2004, earning All-America honors as a senior and helping the Gamecocks reach the College World Series three times. He ranks fifth in school history for career home runs (44), second in doubles (61), and fourth in both RBI (193) and base hits (265). Being a part of a winning program creates a long list of memories of his days wearing the garnet and black.
"Going to the College World Series three years in a row was pretty cool," Powell said. "Beating Clemson out there, and playing for a national championship are up there, but there are so many great moments. Whether it's winning the SEC Championship at Georgia and dog-piling on their field or hitting a walk-off against Florida, there are just all kinds of memories. I was very fortunate to be a part of it. I would never have been able to do any of it without all of my teammates and the coaches."
After an outstanding college career, he was a first round pick and the 24th overall selection in the 2004 Major League Baseball draft by the Oakland Athletics. Powell became part of history after catching Dallas Braden's perfect game over the Tampa Bay Devil Rays in 2010.
"Catching a perfect game is obviously something I'll never forget," Powell said. "My first major league home run was a pretty cool one. I had a torn hamstring at the time and I could barely move. I had to limp around the bases, Kirk Gibson-style."
Not everything at this point in his life was easy. A pair of knee surgeries and being diagnosed in 2009 with autoimmune hepatitis, a liver disease, made it even more of a challenge to compete as an elite athlete. He retired from baseball shortly after the passing of his five month old daughter, Izzy, from a rare autoimmune disease in January of 2013. Through it all, Powell relied on his Christian faith to carry him through.
"Luckily I've had some good coaches and some good mentors who taught me to be tough and deal with adversity," Powell said. "Life on earth is only temporary and there's a lot of brokenness here. I just have to keep my eye on the prize and know that I've got eternity in heaven with God, and I can just keep doing the same thing he wants me to do here on earth."
As he comes back to Columbia, Powell says he learned from Coach Tanner about dealing with highs and lows.
"Coach Tanner told us one time when we were going through a losing streak that the peaks are going to be so much better when you make it through the valleys," Powell said. "For us, we went through a valley, which was a really low point, but now we're on the other side of that. It gives you perspective, and we're thankful for the things we do have. For my wife (Allyson) and me, losing our daughter, it makes us cherish our two kids that much more and really value our time with them. Right now, life is going well."
Read more about Landon Powell in a recent article in The State newspaper.