Catching Up with Jackie Bradley, Jr.
Feb. 1, 2016
If all goes as planned, Boston Red Sox fans will find out what South Carolina baseball fans have known for quite some time; Jackie Bradley, Jr., is a special player. With spring training beginning this month, Bradley is slated to be the starting centerfielder for the Red Sox after a promising 2015 campaign according to an off-season interview with Boston manager John Farrell. Those comments notwithstanding, the former Gamecock is staying hungry and humble, knowing that things can change quickly in the business of professional baseball.
"I just try to continue to work, stay healthy and let the chips fall where they may," Bradley said. "Talk is talk. You can say that I'm the guy, but things can change in a heartbeat.
"My number one goal is to stay healthy. When you stay healthy, you give yourself a chance to perform at a high level."
Making It in the Majors
Bradley was a key figure in South Carolina's back-to-back College World Series championships in 2010 and 2011 and was voted as the Most Outstanding Player in the Gamecocks' first national championship. He was a supplemental first round pick of the Red Sox in the 2011 amateur draft and was called up to the Major League club for the first time two years later. Defense has never been an issue and the 25-year-old Bradley has become known as a run-saver. Consistency at the plate caused him to make a few trips back to Triple-A Pawtucket after his initial call-up, but it all began to click in the second half of 2015.
"Timing," Bradley said of his offensive resurgence. "It was time to show something. It's just one of those things where you just keep working, and things are going to go your way when you put the work in. Continuously, I just put the work in, and I got some help and encouragement from coaches. So things just started going my way."
Bradley's offensive output exploded on August 9 of last year when he went 2-for-3 with a home run, a triple and five RBI in a game at Detroit. That started a modest six-game hit streak in which he batted .519 (14-for-27) with five doubles, two triples, three home runs and 13 RBI, highlighted by a 5-for-6, seven RBI night with two home runs and three doubles in a game against Seattle on August 15.
"I've always had great confidence in Jackie," said South Carolina Athletics Director and former head baseball coach Ray Tanner. "The key for him was to be in the lineup every day. It's hard to be a successful hitter in Major League Baseball, and it's probably twice as hard when you are playing on an irregular basis. The fact that he was in there was a key. He started going the other way and hitting the ball to the opposite field. I know he spent a lot of time with his hitting coaches."
"Absolutely, that's vital," Bradley said of getting the chance to play every day. "Some guys need to have that rhythm. It's like forming patterns. It's definitely a lot easier on you when you know what to expect the next day."
For the month of August, he hit .354 with nine doubles, three triples, five home runs and 23 RBI. While there were some ups and downs in September, Bradley finished the season batting .249 with 10 home runs and 43 RBI. He was also among the major league leaders in outfield assists, and said he never lost confidence.
"There is not enough people I could name who played a key role in trying to help me get better," Bradley said. "Those guys stick behind you. That's what teammates are for. We have to see each other for a long part of the year, so you have to be able to develop those bonds and those relationships."
Getting to play with my teammates that I had all three years of my career here was amazing.

Jackie Bradley, Jr.
New Surroundings
There are certainly plenty of pros and cons in the life of a Major League Baseball player. Being a part of a historic franchise is something he is very appreciative.
"There are a lot of pros (to playing in Boston)," Bradley said. "I'd say the best part is the unique field (Fenway Park). It's one of the oldest in the country. There is a lot of history there. It's a landmark.
"They have really good seafood in Boston. They also have an Italian district on the north end, and it's very, very good."
Bradley's MLB debut came in 2013, when he opened the season as the starting left fielder at Yankee Stadium.
"I had family and friends there for the first game, so it was very special to me," Bradley recalled. "It was enjoyable because I had the chance to get immersed right into the Red Sox and Yankees rivalry. That's pretty special for a 22 year-old kid.
"A rivalry is what the fans make it. I don't think the players really buy into the hype that the fans make it to be. All players have a ton of respect for all of the other players just because you know what other players had to do or go through to get to where they are today. It's more of a mutual respect for each other. It's fun though, and it's exciting that you can have strong fan bases that can be that competitive."
Players are involved in a lot of charity events on their off days during the season, and he enjoys some leisure time when playing on the road, counting Seattle as one of his favorite cities he has had a chance to visit.
Although his wife, Erin, disagrees, Bradley contends that he is still more recognizable when visiting South Carolina than when he is out in Boston. That may change soon.
"I get spotted, but then again there will be people who are big Boston fans, and I'll just walk right by them, and they don't even know it," Bradley said. "I don't think that would happen here (in Columbia). I don't think (getting recognized) gets old. I always think it's weird that someone wants my autograph. I don't think I am anything special, so sure I'll give autographs. When you're out eating, and you want to spend time with family, it's tough. I feel like if you're just respectful to people, they will be respectful to you as well."
Gamecock Memories and Connections
Bradley was back in Columbia recently to take in a pair of South Carolina men's and women's basketball games. Needless to say, he has plenty of good memories of his days in a Gamecock uniform.
"Getting to play with my teammates that I had all three years of my career here was amazing," Bradley said. "Just forming the bonds that we had each and every year, and staying in contact with most of those guys now is a testament to the people that we were. We didn't just play baseball together. We were all very close.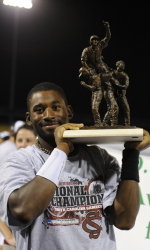 "To win the national championship together two years in a row, and being the first in school history is very special. To win at Rosenblatt Stadium the final year of that stadium and to open up TD Ameritrade Park for the first year, was unbelievable and special."
Even when he's "on the job," Bradley has plenty of opportunities to catch up with former teammates and other generations of Gamecock alumni who are playing Major League Baseball, including Christian Walker, Michael Roth, Justin Smoak, Steve Tolleson, and Steve Pearce to name a few.
As Bradley looks to pick up where he left off with the 2016 baseball season approaching, his number one goal is to stay healthy. Meanwhile, his former college coach is confident that Bradley has what it takes to get it done at the highest level.
"The thing that is so important for Jackie is that he was always so level," Tanner said. "He had the professional approach even when he was in college. He was very even-keeled. He could take the good days with the bad and kept things in perspective. He had confidence in himself. What he did in August and September last year was reflective of that. He's always ready to play.
"Defense was never a question for him. I think he has opened some eyes that he can be an offensive force as well. I'm excited about his prospects for the 2016 season."
Jackie and Erin are expecting their first child in June.