Recovery Leads to Inspiration for Former Gamecock Equestrian
Feb. 16, 2016
A life-threatening accident changed Victoria Middleton's life, and now the former South Carolina equestrian is looking to make a difference in the lives of others through a change in her career. Middleton suffered brain injuries and was in a coma after being knocked down by a horse in the summer of 2009, following her sophomore year at South Carolina. After eventually returning to the program, graduating in 2012, and working in the sales and marketing world, Middleton is turning to a career in nursing to help others in need.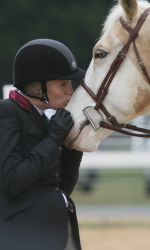 "After speaking with members of my family who are in the medical profession, I decided that being a nurse practitioner is going to be the best way to go for me," Middleton said. "I'd like to think I can make a difference for someone else."
"Since her accident, Victoria has become much more interested in helping others that have been through, or are going through, a similar experience like hers," said head coach Boo Major. "Her accident gave her a different perspective on what it takes to care for people and how rewarding of a job it can be."
Following an outstanding sophomore season in which she posted a 12-1-1 record for the Gamecocks, Middleton was working in Vermont for the summer when an ordinary day changed quickly.
"It happened July 24, 2009, and I don't remember anything until mid-August," Middleton said. "I was bathing a horse. He broke the fence he was tied to, came back and hit me in the chin, and I fell back and hit my brainstem on the corner of the concrete."
Suffering life-threatening injuries, Middleton was airlifted to the Albany Medical Center in New York, where she spent several days in a coma and was on a respirator in the Intensive Care Unit.
"I remember waking up and sort of just accepting my surroundings," Middleton said. "I wasn't afraid, and it wasn't a surprise to me I guess. The first thing I remember doing that morning is going to a group therapy session, and we were sitting around in a circle. Everyone had to introduce themselves, and I was twenty years old at the time that this happened, but I introduced myself and said 'I'm Victoria Middleton, and I'm 17 years old.' "
When told that she was not correct, and that she was indeed 20, Middleton was once again very accepting.
"I wasn't scared," Middleton said. "It was more like 'OK, so this is happening.' "
She later rode an air-ambulance to Atlanta where she was a patient for the next few months at the Shepherd Center, which specializes in spinal cord and brain injury rehabilitation.
"I wasn't able to speak for a while, and I had absolutely no control over my left side, which I don't even remember," Middleton said. "I do remember it being difficult to walk and run. It was like my left side wasn't really keeping up. I had difficulty with walking, and I had to have people help me walk at first."
Middleton performed well in rehab, and while she was anxious to get out, she managed to keep her sense of humor.
"I remember one time, I was in my wheelchair and I rolled up to one of my friends," Middleton recalled. "I told her to get the key, and 'we're busting out of here.' "
Although she speaks very matter-of-factly about her recovery, she admits that the prognosis for a full recovery wasn't always certain.
"With brain injuries, it's hard to diagnose what the individual is going to be like later," Middleton said. "They don't always know what the connections in your brain are going to be like, or whether they are all going to be made again. You can totally change personalities. You could be a very happy person before your accident, and if you get a bad injury, you can become negative, sad, or depressed."
I think her accident pointed her in the direction she was destined to follow, which is being the person that always wanted to help someone else.

Boo Major, Head Coach
Middleton was confident, however, that she would get back to being her old self. Several months later, she was able to take some classes at a school near to her parent's home in Marietta, Georgia. In the fall of 2010, she was able to return to South Carolina, not only as a student, but as a member of the Gamecock equestrian team.
"I was never surprised that she would return once I saw how rapidly she started to recover from the injury," Major said. "It was a very scary few months immediately following her accident, but once she regained her ability to talk, things just fell into place for her bit by bit. It seemed quick to us, but we know it was a long tough road for Victoria and her family.We were all thrilled to have her back."
Just months before her accident, Middleton was holding her own among the nation's best in her sport, earning an individual national runner-up finish in equitation on the flat after earning a No. 5 national seed. In team competition, she went undefeated at the Varsity Equestrian National Championships. Riding since the age of seven, being able to get back up on the horse was satisfying, but also frustrating at times because of the standards she had previously established for herself.
"It was hard for me not to be able to ride because that was what I had done for my whole life," Middleton said. "I finally was able to ride. I tried to get as strong as I could, but I was not the same that I was before my accident. That was tough because I'm pretty competitive, and I wasn't as good as I was before.
"My teammates were wonderful. They were very patient with me. I just wasn't the same as I was before, but the coaches and everyone else were just so supportive. It was nice to get back."
"She worked very hard to get stronger both mentally and physically," Major said. "We would always talk about her new normal, and she was always a tremendous sport when talking about her accident and recovery."
Middleton said she learned a lot about herself, and there was never a doubt in her mind that she would make it back. She was an honor roll student before and after the accident, but she noted that after her accident, her academic focus had become more intense.
"I record lectures and have to take an insane amount of notes," Middleton said. "I studied a lot more. I don't know if that's from the accident, or if I just became a more mature human being."
As a senior, Middleton received the athletics department's Gamecock Inspiration Award at the annual awards gala. After graduating in 2012 with her degree in business marketing, she spent some time working in sales and decided to make a change. The 27-year-old is paying that inspiration forward with the decision to go back to school in her hometown in order to pursue a career as a nurse.
"I decided I wanted to make a difference," Middleton said. "I wanted to help people. The accident made me stronger. I feel like I can help people and be a little bit of an inspiration."
"Victoria is a very compassionate person and always has been," Major said. "I think her accident pointed her in the direction she was destined to follow, which is being the person that always wanted to help someone else.
"Victoria will succeed in anything she sets her mind to. I am lucky to have had her influence my life."