Catching Up with Grayson Greiner
June 20, 2018
Grayson Greiner earned his first taste of Major League Baseball earlier this season, and after a productive debut, he was recently called up again to the Detroit Tigers. The former South Carolina catcher is hungry to keep his career moving forward after fighting through some early growing pains in professional baseball.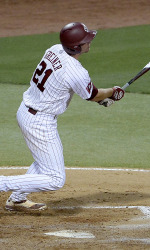 "I was drafted in 2014 and got off to a good start that season, and then in 2015 I went to high-A ball and I think I hit .183 with maybe two home runs," Greiner recalled. "I had a terrible season. That was really humbling because I hadn't experienced failure like that my entire life. I did pretty well in college and my first season in pro ball, so that was really tough.
"I never doubted that I would make it, but I just had to work harder and figure some things out."
That work ethic has paid off throughout his career. After three years with the Gamecocks (2012-2014), Greiner was selected in the third round of the 2014 Major League Baseball draft by the Tigers. He has worked his way up the ranks and on June 12, he was called up from the Triple-A Toledo Mud Hens for his second stint in the majors. He earned his first call up to the MLB club in May.
"Getting called up was amazing," Greiner said of his first appearance at the Major League level. "We were in Durham, North Carolina, for a series, and my dad, my wife, and my son were all there when it happened. I got called up after the game, so I got to share that experience with them. They were able to make the trip up to Kansas City for my debut. It was something I've been wanting since I was four years old."
Greiner's major league debut got off to a good start as he singled in his first at-bat against the Royals.
"I wanted to be aggressive and get that first hit out of the way," Greiner said. "The first hit is the hardest one. When I hit it, I could hear my little cheering section going crazy, so that was pretty cool.
"I was kind of nervous right before the game, but once I got out there, it was just another baseball game. The hours leading up to the game, I was really nervous and excited. I was more nervous about catching than hitting. I always want to do my job behind the plate and call a good game. I got more comfortable as the game went on."
It didn't hurt to have another former Gamecock in the opposing dugout as Whit Merrifield was in the starting lineup for the Royals. In eight games with the Tigers during his first call up, Greiner hit a respectable .269 with a pair of doubles and 4 RBI. He has played in three games so far (as of June 19) in his most recent call up, and has one hit in each game (3-11) that he has played.
"I just want to stay healthy and get better every day," Greiner said. "I'm trying to make strides offensively and defensively and win as many games as I can. I hate losing. No matter what level I'm at, I always want to win. I'll do whatever I can to help my team win."
Getting to play at South Carolina for those three years …helped prepare me for pro ball.

Grayson Greiner
Having been in the professional ranks for five years now, Greiner isn't fazed by much, but he admits there were times earlier in his career where it's easy to get star struck.
"The first time I went to major league camp a few years ago, Miguel Cabrera was there, and that was amazing because when I was growing up in middle school and high school, he was one of the best right-handed hitters of the past 10 years," Greiner said. "He's won a triple crown and the MVP (award). The first time I was in the same club house as him and watched him take [batting practice], I was pretty awe-struck. I got over that pretty quickly, though."
For Greiner, playing in the SEC was certainly a challenge that helped shape his career. In addition to the relationships with his teammates, one of Greiner's favorite memories of his college career was the opportunity to play in the College World Series and national championship series as a freshman in 2012.
"I don't think I would have been close to being ready for pro baseball coming out of high school because physical and mentally, it's such a grind," Greiner said. "Getting to play at South Carolina for those three years with Coach (Ray) Tanner, Coach (Chad) Holbrook, Coach (Jerry) Meyers, Coach (Sammy) Esposito, and all those guys helped prepare me for pro ball with the way they teach and the way they push you. Playing in the SEC was a big challenge. It's the best conference in college baseball in my opinion. If you can succeed there, you have a good chance of succeeding in pro ball."
While the competition helped prepare him for the next level, there were adjustments to be made.
"I'd say the schedule is the biggest challenge at first," Greiner said. "There's a big difference in playing one midweek game and Friday, Saturday, and Sunday in college, and then playing almost every single day for five or six months. I think we got nine or ten days off, then we played 142 games in the minors and you play 162 in the majors. In college you have a social life. When you get to pro ball, you have your job for five or six months every day. You wake up, get to the field early and get ready for the game however you need to do it. That's your job.
"I'm not complaining, though. I wouldn't trade it for any other job."
The biggest challenge of such a schedule is being away from family, which includes his wife, Madison, and their four-month old son, Hudson, who are currently back in his hometown of Columbia, S.C.
"I think the coolest part is that he's starting to recognize me when we Facetime," Greiner said. "Seeing his personality grow is really cool. He's starting to smile more. There's a lot of cool parts about being a dad. It's been pretty amazing so far."