Gamecocks Team Up to Work with Local Group of Athletes
May 7, 2018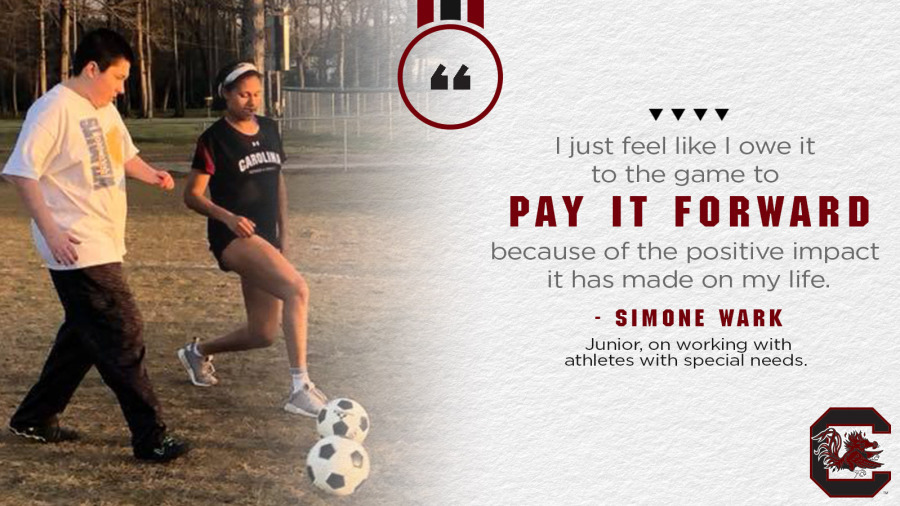 Making an impact on the playing field can happen even when you're not the one competing and even if it's not your "regular" sport. South Carolina junior soccer student-athlete Simone Wark and beach volleyball junior student-athlete Delaney Wood, along with some of her teammates, volunteered their time each week this spring to teach soccer to youths and adults with special needs.
"It just seemed like such a cool and unique opportunity," Wark said. "It means so much to them. Being a South Carolina student-athlete, I hope I can bring some hope and joy by playing soccer because it has blessed me with so many friendships, memories and fun times. I just feel like I owe it to the game to pay it forward because of the positive impact it has made on my life. I hope I can spread some of that to them as well."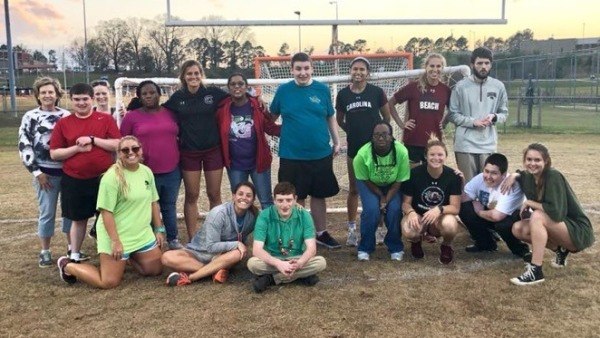 "As a team and in the athletics department in general, community service is really important to us," Wood said. "Getting to do service with sports and having kids there was fun. They really enjoy having the athletes come. It's really fun for us, too, and it's great to try to make a difference in their lives."
The student-athletes worked with the Miracle League Tornadoes program through the Irmo/Chapin Recreation Center on Tuesdays and Thursdays. Wark was introduced to the group by South Carolina softball senior Jordyn Augustus, who did something similar last fall with the Gamecock softball team.
"It means a lot," said Jordan O'Keefe, Therapeutic Recreation Director. "The student-athletes are so busy with sports and academics, so for them to come out to help us out consistently every week and spend their time with our athletes here is very meaningful. Our athletes, kids and adults, got a lot out of it. They formed friendships with Simone and the girls from beach volleyball over the course of the season."
Seeing how important it was to them, made it that much better for us, too.

Delaney Wood
"They were all very out-going," Wood said of Miracle League participants. "They took us in and looked forward to it every time we came. They really got into it and wanted to talk strategy and things like that. Seeing how important it was to them, made it that much better for us, too."
"It's just really cool to see how much of an impact we have in giving them our support and encouragement," Wark said. "I was blown away just by the excitement they showed. They all looked forward to us coming back every week. They've been phenomenal and a lot of them said they can't wait to come see me play in the fall. Just making that connection is pretty special."
The group had its end of year party in April, and neither the Gamecocks nor the Tornadoes were ready for the season to end.
"I'm going to miss doing it," Wark said. "It was sad saying goodbye to them. We took lots of pictures, and they all found me on social media. So, we'll be in touch!"
"We joined in last fall with softball, too, because they could always use more help," Wood added. "We loved it so much. We'll do it again in the fall, for sure!"