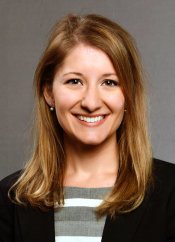 Position:
Director of Student-Athlete Development
Megan Stoltzfus joined the University of South Carolina as the director of student-athlete development in November 2017. Stoltzfus returned to South Carolina after three years as the associate director of employer services and a senior career advisor with the Texas A&M University Career Center. Megan previously worked at USC from 2012-2014 with the Career Center and served as a life skills intern at the University of Florida while completing her graduate degree in student personnel in higher education. An active member of the National Association of Academic Advisors for Athletics since 2011, Stoltzfus serves on the membership committee as the chair of the data analysis sub-committee.
A native of Avon Lake, Ohio, Megan earned her Bachelor of Science in sport leadership and humanities from The Ohio State University and began her career in sports marketing with the Miami Dolphins. She and her husband, Paul, have one son, Jackson.
Megan Stoltzfus