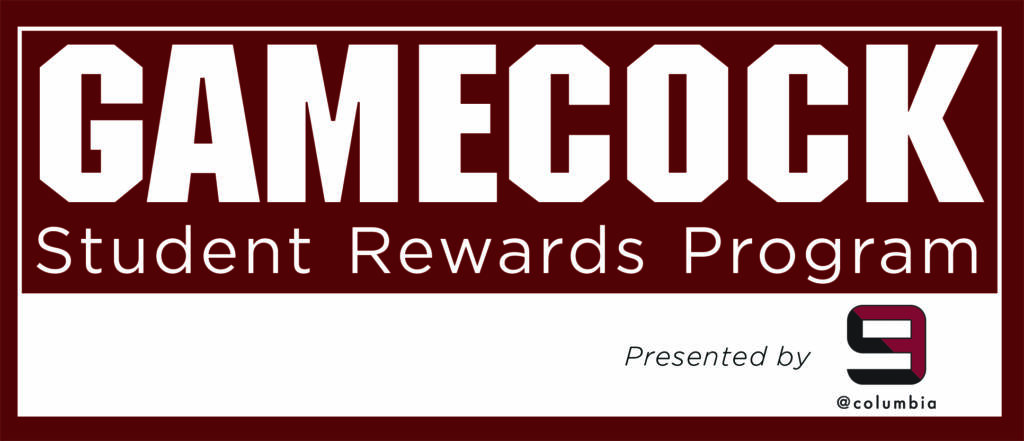 South Carolina athletics events would not be the same without our loyal and enthusiastic student fans. Home field advantage is about atmosphere and energy, and students are the heartbeat of our home crowds. As a thank you for your continued efforts and to recognize your impact as part of our team, the South Carolina Athletics Department as created the Gamecock Student Rewards Program, presented by The Nine @ Columbia.
WHAT IS THE GAMECOCK STUDENT REWARDS PROGRAM?
The South Carolina Athletics Department rewards its most loyal student fans for their commitment to the Gamecocks.
Incentive program for students who attend home athletic events.
Come to athletic events and earn points towards FREE Under Armour apparel.
FOR INFORMATION ON THE 2020 FOOTBALL AND SOCCER PROCESS, CLICK HERE. 
GAMECOCK STUDENT REWARDS APP
Make sure you download the Gamecock Student Rewards App available on both the Apple Store and Google Play Stores. If you do not have an iPhone or Android, you can visit gamecockstudentrewards.com. The Mobile App allows you to see all upcoming events; see your points and awards you've unlocked; complete the student ticketing process; and other exciting features. When registering, make sure you use your University of South Carolina Email Address for your account to connect correctly.


2020-21 PRIZES
Prizes will be announced at a later time.
HOW DO I CHECK MY POINTS?
You will be able to check your points on the Gamecock Student Rewards App. Remember to use your University of South Carolina Email when you register or your points will not be updated correctly.
SOCIAL MEDIA
Follow us on Facebook
Follow us on Twitter
Follow us on Instagram
QUESTIONS
If you have questions, feel free to contact us through our social media accounts or through email.
For more information, visit the student ticketing website.