Group Ticketing Platform Makes It Easy to Sit with Friends
It's now easier to take advantage of specials such as Ticket Tuesday promos.
South Carolina is offering special discounts on Gamecock tickets with its weekly Tuesday Ticket Deal and purchasing group tickets is easier than ever before thanks to the use of the Fevo ticketing platform. The Fevo sales tool allows groups to get seats together even if the individuals in the group are not buying their tickets at the same time. Check out the easy-to-use group sales tool at www.itsgreattobeagamecock.com/groups or call the group sales department at 803-777-8850 to learn how to start your own Fevo group.
"We partnered with Fevo because we realized that some of our normal ticket-purchasing devices were not mobile friendly, and there can be some friction in the ticket-buying process," said Dan Stahl, general manager of ticket sales. "We wanted to eliminate some of the steps in that process. When we're doing promotions with Fevo, you see the page, press 'Buy tickets' and indicate how many tickets you want to add to your credit card. It eliminates a lot of the friction in the buying process."
After the purchase, the ticket buyer immediately receives an email confirmation, and they are later sent a link the week of the game to receive a mobile ticket on their phone.
We enhance their purchase by providing them some group benefits.
-Dan Stahl

Fevo has proven to be a success as Amy Bolka of Leesburg, Va., can attest to. The 1999 South Carolina graduate used the platform to invite a group of nearly 40 friends from around the country together for South Carolina's home football game against Texas A&M on October 13. 
"We have a group of friends that hasn't see each other since 2001, so we all decided to go to the game," Bolka said. "We all wanted to sit together, so we went online, and it was really easy. Then I sent my friends the link, and they were able to purchase the tickets, so we could all sit together. These are friends from school who now live all over the country. We have people from Massachusetts, North Carolina, New Jersey, Virginia, Pennsylvania, Missouri, and South Carolina.
"When you check out after purchasing tickets, it sent me a link that I could share with everyone. Then they were able to click on it, and they had no problems buying the tickets. That was the whole purpose; for all of us to be able to sit together. This was a great way to do it."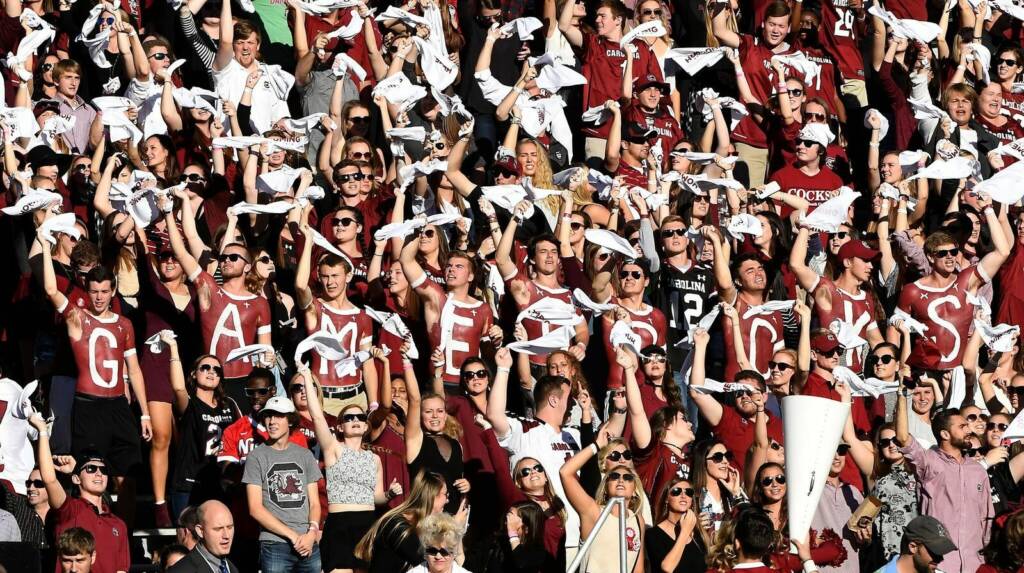 "The share-ability of the platform is huge," Stahl said. "Anyone that purchases something through Fevo gets a personalized link they can share with their friends. Because we haven't assigned an exact seat to that person, just a section, we can ensure that all their invitees are sitting together when we allocate the seats later, no matter how many people they invite.
"Also, because they are a group, we enhance their purchase by providing them some group benefits, whether it's an experience at the game or a discount with the ticket." 
In addition to the ability to facilitate group sales quickly, Stahl noted that the technology matches well with current consumer spending habits. 
"It renders correctly on a mobile phone, and trends over the last several years show that more and more people are buying things through their phone rather than a desktop computer," Stahl said. "We want that buying experience to be a pleasant experience through their mobile device.
"We used to use promo codes through our previous system, and the last year we used that, we sold around 3,000 tickets through those links and promo codes. Last year, in the football season alone we sold over 7,500 tickets using Fevo as a fully integrated partner."
South Carolina implemented the Fevo platform for purchasing tickets for basketball and baseball last year and is also using it for season tickets for other sports. 
"It makes it easy to share and easy to purchase," Stahl said. "We were one of the first partners with Fevo on the collegiate side of things. Last year, we sold the most tickets out of any collegiate partner they worked with at that point."
For more information visit www.itsgreattobeagamecock.com/groups or call 803-777-8850.