Lock Excited to Compete After Season Ending Injuries
Emma Lock has had some tough luck during her South Carolina volleyball career, having missed most of the last two seasons with a pair of different shoulder injuries. The redshirt junior is excited for her return to the court in 2018, and she is thankful to not only the athletic trainers who have helped her get back physically, but also to the resources made available by South Carolina Athletics to get her to a good place mentally. 
"The sports psychologist here, Dr. Rhea Merk (senior instructor in the Dept. of Psychology), is amazing, and our athletic trainers have been amazing in helping me," Lock said.
"Dr. Merk is awesome. I had been seeing her for a while, and when I got hurt, I was seeing her on a much more regular basis. It was a totally different world that I was put into. She helped me get through a lot. There are a lot of other people in the Athletics community and on-campus that have had surgeries and have been out injured who have been there in supporting me, too."
As a psychology major, with all the physical and mental health professionals available to Gamecock student-athletes, Lock understands the importance of eliminating any stigma associated with seeking help to improve mental health. 
"When you're hurt, you can feel so isolated and as if nobody understands," Lock said. "But people do understand, and there are other people who have gone through it. Talking it out helps so much. It has to come out. You have to get ahead of it.
"For me, rehab hasn't always been a straight up climb to getting back. There are always going to be times when I'd say, I don't know if I can get through this. You just have to keep going. It has definitely been a journey."
"Being able to practice is the best feeling ever."
– Emma  Lock
Lock played indoor and beach volleyball as a freshman, and it was the spring of that year where she started feeling some discomfort in her shoulder. After rehabilitating, she injured her shoulder after playing nine games as a sophomore before needing surgery.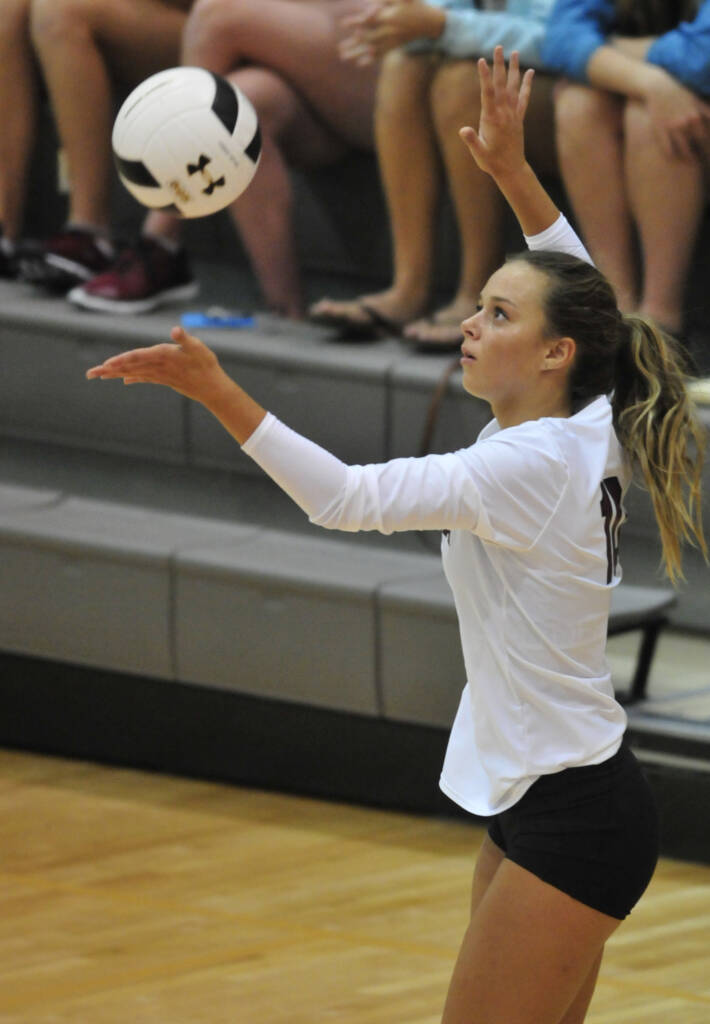 "The first one was super-hard because I had to sleep in a recliner for six weeks," Lock said. "The second injury came out of nowhere. I didn't see it coming. My first tear is completely healed. This was a new tear.
"It's hard because your normal mindset is to get extra reps when your struggling. You can get in the gym and put the work in and work harder. When you get injured, you have to rest and do rehab. You have to do that in addition to going to practice and everything else, even though you're not playing."
While the experience of having to miss most of the 2016 season led her to know what to expect when she had to miss most of last season, it didn't make it any easier.
"In one sense it's harder because it feels like I've been out for so long and doing the same thing over and over," Lock said. "Then to have it happen again, I thought, how am I going to get through this?
"It's definitely not how I thought my college career was going to go. When you have multiple season-ending injuries, it's a whole different mindset. You feel like you're losing your mind because what you love to do is taken away from you. It's like being punished for a long time. I would never wish it on anyone."
Although she is on the mend, Lock admits that she still has fears about another injury.
"At times, I'm terrified," Lock said. "I still have anxiety when we do drills where there's not a blocker. The only thing that goes through my head is whether this is going to happen again, and if it happens a third time, how would I handle it? I thought I was going to shut down after the second time. You just can't let that go too deep, or it will drive you crazy."
As she continues to strengthen her shoulder, Lock is glad to be back working with the team. 
"Being able to practice is the best feeling ever," Lock said. "I cried in my first practice back. Just having to sit on the sidelines and watch for so long, and you want to be in, but your body won't let you be in; it's tough. I'm really excited to play this season."