Check Out What's New at Williams-Brice Stadium
As you get set for your first visit to Williams-Brice Stadium for the 2018 season to watch South Carolina football, check out the latest improvements and additions to make the fan experience even better.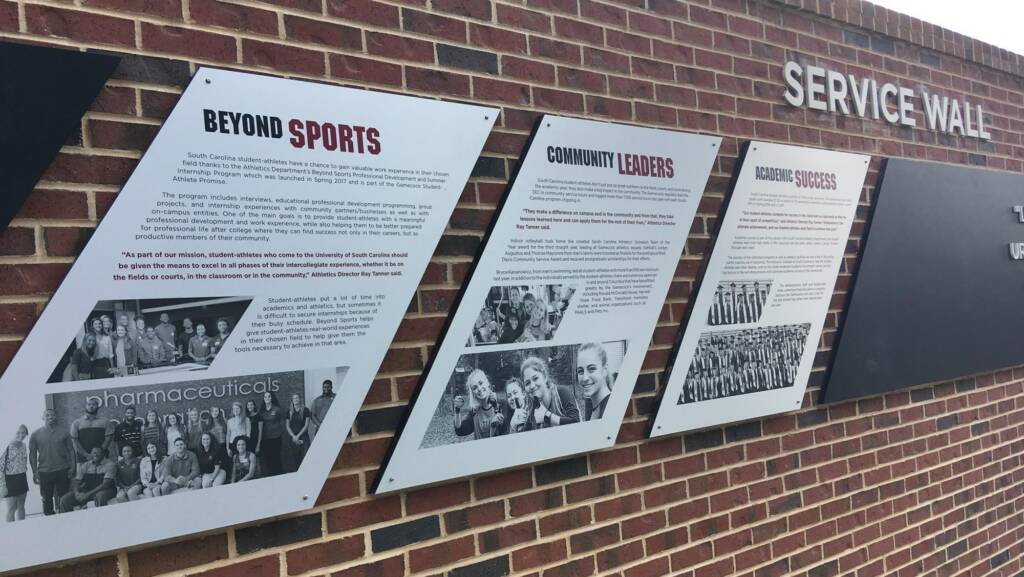 While making your way to the Springs Brooks Plaza outside Williams-Brice Stadium, visit the new Gamecock Football Wall of Captains display near the row of Cock-a-booses. The Ortner Leadership Wall highlights three captains, with different individuals spotlighted periodically. Other areas of the wall will showcase how South Carolina student-athletes standout in the community and the classroom.
"South Carolina's football captains had been on display inside the stadium for years with the Hall of Captains, but it's not easily accessible to the general public," said Steve Eigenbrot, Senior Associate Athletics Director for Development and the Gamecock Club. "This new Wall of Captains gives all fans the opportunity to learn more about Gamecock football history, see the year-by-year captains for the program, and enjoy some detailed stories about certain individual captains that will be rotated out on the Leadership Wall, in addition to some other features.
"We had a generous donor step up, who wanted to tell the story of our captains, show how they become leaders in the community, and also show that our student-athletes are engaged in the community."
"Fans sitting on the east side will notice a vast improvement in the concessions experience."
– Jeff  Crane, Exec. Assoc. Athletics Director

Once inside Williams-Brice Stadium, fans will have more options to find refreshments. South Carolina has made a one-million-dollar investment in concessions improvements for the east side of the stadium and added 30 new points of purchase overall inside the stadium.
"The east side ground level concession stands have been renovated to maximize efficiency and fan access to concessions," said Executive Associate Athletics Director Jeff Crane. "Fans sitting on the east side will notice a vast improvement in the concessions experience. Also, we have more cooking and walk-in refrigeration space on the east side to improve the efficiency of our operation.
"These improvements will improve service by easing pedestrian foot traffic congestion and creating space for concession and restroom lines."
Hot dog carts have been added to the east club level, providing additional options for east upper deck patrons.
Additionally, fans should have improved performance from their cell phones inside the stadium. An investment from AT&T is expected to upgrade the antennas in the distributed access system (DAS) to help cell phone connectivity. These new antennas should improve performance for those contracted with AT&T, Verizon, and T-Mobile services.
Student ticketing will also be more convenient in 2018 with the creation of a one-stop shop for students in the Gamecock Rewards mobile app. Students now have 100-percent mobile access to request, claim, and retrieve their football tickets with just a few simple taps on their cell phone. Students can also opt-in for text message notifications throughout the claim process.
The Gamecocks look forward to seeing you at Williams-Brice Stadium on Saturday, September 1, for the season opener at 12 p.m. against Coastal Carolina.