Passion for Giving Back is Personal for Brooke Gostomski
Brooke Gostomski's passion for giving back is personal. The South Carolina volleyball sophomore from Muskego, Wisconsin, crochets blankets for hospice patients in her spare time. 
"I was looking for stuff that I could do for community service when I went home because community service is such a big thing we do on our team," Gostomski said. "I found an online ad for Heartland Hospice in Milwaukee, and it said they were looking for people to crochet blankets to give to their patients and their families as sort of a comfort thing. 
"When I saw hospice, it hit home with me because my dad (Keith) had passed away when I was 14. He was in a hospice facility, and we actually had received a blanket. I asked my mom to pull it out for me because I had never seen it before. I realized that it stays with people's families, even after the person is gone. My mom will always think of my dad when she sees that. It's really special to me, so I really wanted to do this."
As a pharmacy major and a student-athlete, Gostomski doesn't always have a lot of spare time, but she was still willing to take the time to learn something new in addition to all her other commitments.
"I never heard of crocheting, so I Googled it and watched a lot of YouTube videos," Gostomski said. "After that, I thought, I could do this! People seemed to enjoy getting these, so I thought it was a way I could help people."
"You just have to keep going because it's worth it in the end."
– Brooke  Gostomski
Gostomski taught herself the craft last year, but it wasn't easy.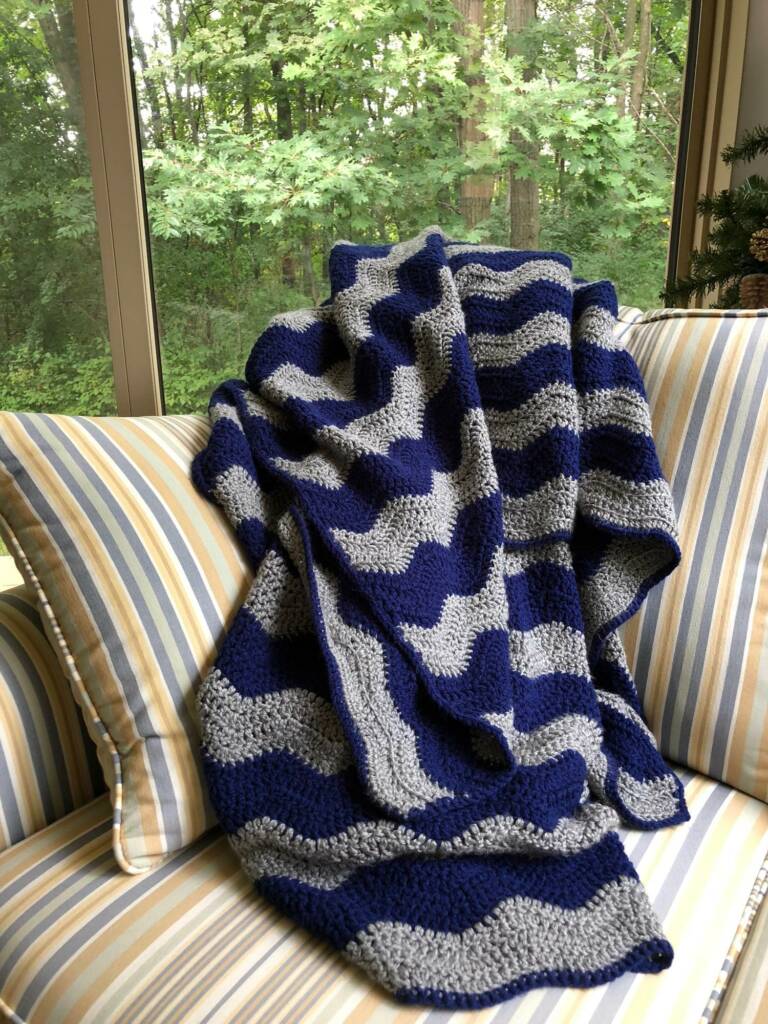 "I didn't realize how long it would take me to do one blanket," Gostomski said. "It took me about 20 hours to make a big, full-sized blanket, but the first time I took a blanket over to hospice, the people were so inviting and happy to be getting it. They were holding it up and showing it to everyone in the building.
"Once you get going, you can do a lot of other things while you're doing it, like watch a movie or something like that. I can sit down for about five hours and maybe get done with one-fourth of the blanket, but you just have to keep going because it's worth it in the end."
Serving the community is nothing new for South Carolina student-athletes as the Gamecocks have led the SEC in service hours for each of the last five years. The volleyball team took home South Carolina's Community Outreach Team of the Year award for the third straight year after notching a department-best 49 hours of service per student-athlete. That culture of giving back is a good fit for Gostomski.
"I do the blankets, and I volunteer at Pawmetto Lifeline a lot with the dogs and cats," Gostomski said. "That's just become a part of my life. I'll look forward to helping the dogs and cats when I'm here, and when I go home, I look forward to the crocheting. It's just something I love."
While she can't bring the huge balls of yarn on road trips when traveling with the volleyball team, she looks forward to any opportunity to work on a blanket.
"It's kind of therapeutic," Gostomski said. "It keeps my mind occupied. It calms me down. I can talk to somebody while I'm doing it or watch a movie. It's become a really good thing."
As it turns out, Gostomski is not the only Gamecock student-athlete who has enjoyed crocheting for hospice patients, as former swimmer
Bryce Kananowicz
(2015-2018) learned and shared the craft as well. 
In addition to providing comfort to hospice patients and families, Gostomski has other fans of her new craft.
"My boyfriend wants one, so he already knows what he's getting for Christmas," Gostomski said.