Willingness to be Coached Helps Jubb's Career Rise
Paul Jubb is coachable. After starting his college career at the bottom of the South Carolina tennis lineup and then playing in the middle last fall as a sophomore, Jubb soaked in the teachings from head coach Josh Goffi and assistant coach Kyle Bailey and elevated his game to earn himself a spot higher up in the lineup. That momentum has carried over to off-season play overseas for the Hull, England native.
 
"I've always been very willing to work since I got here," said Jubb, a retail management major. "When I first got here, I was half the player I am now. I've been really open to what our coaches say to me, and that's helped a lot. My game has really risen since then."
"He makes every ball count," said head coach Josh Goffi. "That's been his intent since day one. He just keeps jumping level after level. When you get a kid who is as eager to get to a certain level and then understands how to attain those levels, there's no stopping him until the end of his potential is reached."
Jubb didn't have a lot of exposure early in his high school career and wasn't high on the recruiting radar. Jubb was not part of the top 100 junior players participating at the Wimbledon Junior Grand Slam where Goffi was recruiting at the time. However, a friend told Goffi about Jubb, so he took a chance and made the four-hour train ride to Hull to watch him play. 
"We challenged him, and he rose to the occasion."
– Head Coach Josh  Goffi
"It goes all the way back to the first time I met Jubb," Goffi said. "I left the top 100 players in the world to go watch him. He was small, but he hit the ball a ton and moved unbelievably. The main thing that stuck out was in a conversation I had with him. He told me, 'if I get in the right environment, I'll be better than every single one of them.' He told me that with some serious intensity in his eyes. That really sold me on him."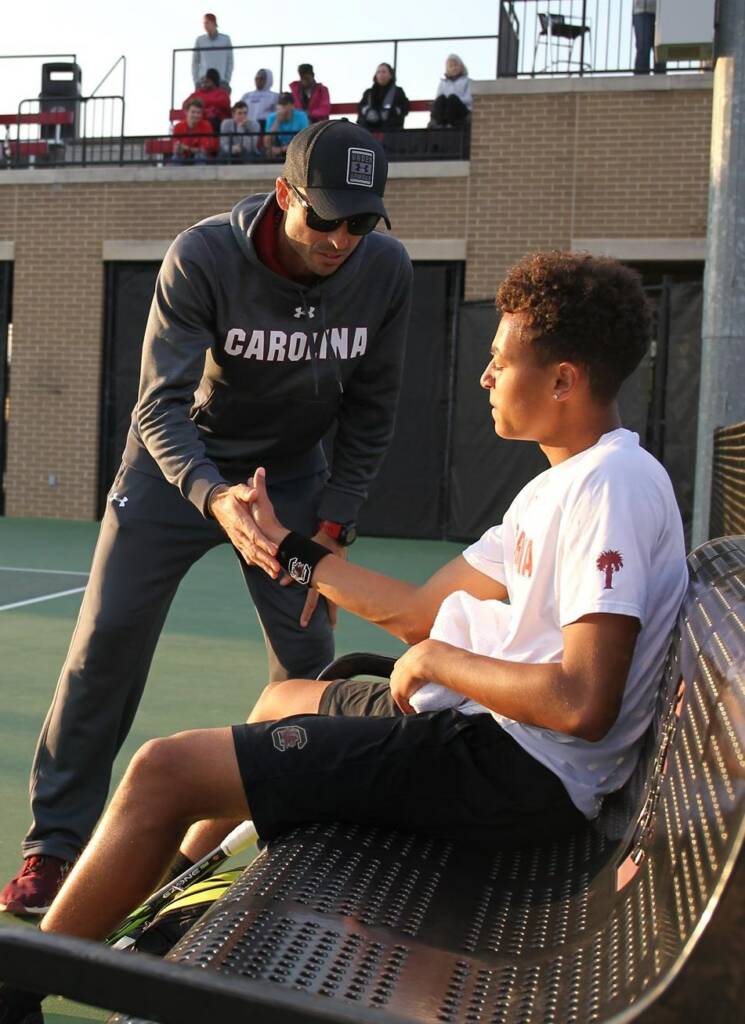 Jubb played much of last spring in the No. 2 slot for singles where he posted 14-3 record and elevated himself to the No. 1 spot at the end of the year. He earned second team All-SEC honors and was recognized as the ITA Carolina Region Player to Watch after his breakout season in which he went 24-11 overall in singles play and finished the year ranked No. 56 in the country.
 
"He wasn't even in our lineup in the first semester he got here," Goffi said. "He was only 17 when he got on campus. He played predominantly at the No. 6 (singles) spot that first spring season. He came in there and did his job and went 11-2. He came in the next summer and made some jumps. He had a tough fall season last year and wasn't acclimating to those new levels at first, but he learned a lot. He got his stuff together after we challenged him, and he rose to the occasion. From there, he learned how to grow and become a great player."
"Just taking everything the coaches have given me has really helped me," Jubb said. "I've been very determined to get better and push my limits."
Jubb played in the International Tennis Federation professional circuit over the summer, where he had to prove himself all over against ATP Top 500 opponents. 
"Playing a lot of matches back to back for four weeks straight was really good for me," Jubb said. "My expectations weren't really high going into it, and I wasn't worried about winning the tournaments. I wanted to win, but I wasn't expecting that I would win tournaments. Once I realized how well I was playing, I knew I was good enough to compete every single time."
Jubb posted a 22-2 singles record on the ITF pro circuit, which included winning the tournament at the Lithuania F1 Futures. He also had a 14-match win streak during one stretch. Due to his rank as an amateur, he was forced to play in qualifier matches each week but didn't lose a single qualifier match. 
"Every time I play, there is a part of me that wants to prove myself and show what I'm made of," Jubb said. "I think I did end up proving myself by not losing in any of the qualifiers."
"That will give him confidence," Goffi said. "He has arrived at a new level, but that's not the end. It's now time to reassess because every time you jump a level, there are new challenges."
As he prepares for his junior year with the Gamecocks, Jubb is confident his experience from this summer will help him, but he also knows he must continue to improve to move forward.
"I got a lot of confidence from what I did over the summer," Jubb said. "When I was playing the last couple of years, people didn't really know who I was. This year, my opponents will know a little bit more about me. I need to get physically stronger. My serve is another big thing for me to work on. If I improve on those, it will really help my game rise."