Lois Kaye Go is Motivated for Greater Team & Individual Success
Lois Kaye Go has done a lot in a short time. The junior on the South Carolina golf team has earned all-conference honors after each of her first two collegiate seasons, and also helped her native Philippines earn a gold medal at the 2018 Asian Games this summer. Now, she wants more.
"Obviously I wanted for us to make it to nationals last year and get a shot at winning the title," Go said. "I want to be the No. 1 player on the team, and that's not an easy goal because we have a lot of good players, and I know I need to work on a lot of aspects of my game.
"I'm looking forward to playing well as an individual and as a team."
Go started her collegiate career at Boston College where she earned All-ACC honors while leading the team in stroke average (72.29). She transferred to South Carolina last year and earned Second Team All-SEC honors, while ranking second on the team in stroke average (72.45), which is the top sophomore scoring average in program history and the fourth best single season scoring average overall. 
"I feel like we missed our shot at nationals last year, and that gives us more motivation to work on our games and find something that will make it click."
– Lois  Kaye Go
Go is studying accounting and finance, and although she is somewhat of a veteran in her third year of college, she is only 19 years old, having started college as a young 17-year-old.
"I'm a junior, but I'm really the same age as some of the freshmen," Go laughed. "I don't feel like I'm old. The education system back home is 10 years, instead of 12 years here.  It's still a K-through-12th grade curriculum, but it's offered in only 10 years. We would have class from 7:30 to 4:30, Monday through Friday.
"My first year of college was tough; doing everything on your own. Back home, everything was done for me. It was hard adjusting to being alone. I had a good relationship with my coaches and teammates (at Boston College), but I didn't make a lot of friends in the social aspect of things. Here, we pretty much live together as a team. My roommate is my teammate, so I always have people to hang out with. It was good for me to always have a familiar face around."
After the spring season ended for the Gamecocks at the NCAA Regional last May, Go found more success during the summer. She traveled to Malaysia in early August where she won Kuala Lumpur Amateur Open after finishing seven under par for the tournament. She later traveled to Jakarta, Indonesia, and helped her home nation win a gold medal at the 2018 Asian Games.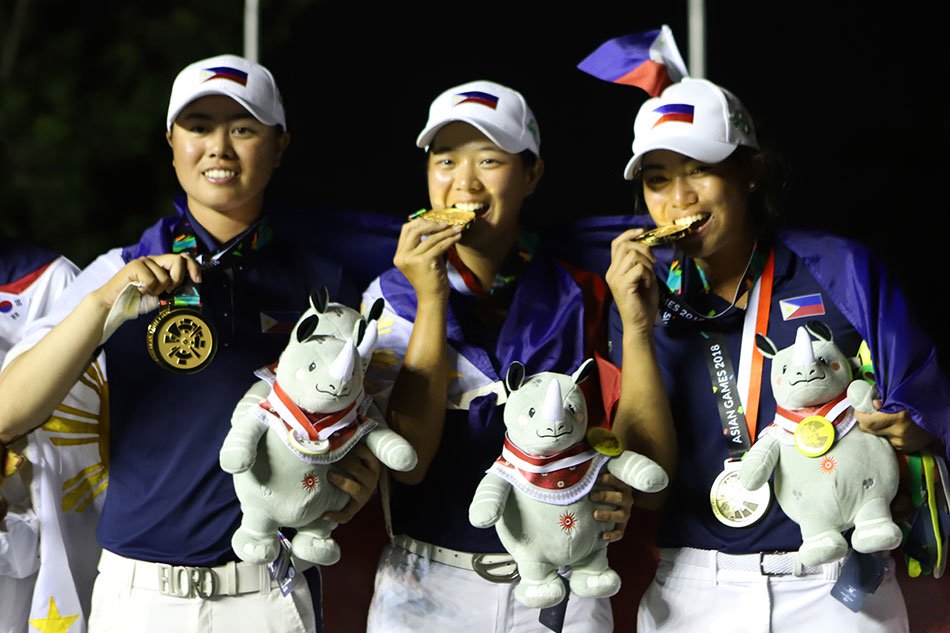 "It meant a lot. It also meant a lot to the whole country," Go said. "We weren't expecting it because there were other countries whose teams were very strong. My teammates played really great rounds on the last day. 
"There is a lot of pride and honor in representing your home country. The Asian Games experience was different than any other events. It's like the Olympics of Asia. We stayed in the Athletics Village. Seeing other athletes from different countries and other Filipino athletes was pretty awesome."
Go noted that playing in a tournament for her country was not a typical day on the links.
"I was pretty nervous at first," Go said. "Usually I don't get nervous. My teammates were telling me they were nervous even before warmups. In my head I told myself I was fine, but when I got to the first tee, I could barely tee up my ball because my hand was shaking! That's never happened to me before. I thought, 'just hit it straight and get it on the fairway.' After a few holes, it was more like normal.
"I just knew this was so important; representing your country in such a big event. You have the whole weight of your country on you, so I just wanted to do really well."
Go will have another opportunity to represent the Philippines at a tournament in December.  In the meantime, she hopes her experiences over the summer will help grow her game as the Gamecocks compete this year. 
"It's just more exposure, which is always a good thing," Go said. "We played as a team there, and that's how we play here. The camaraderie and things like that are similar.
"I feel like we missed our shot at (NCAA) nationals last year, and that gives us more motivation to work on our games and find something that will make it click. I need to work on my scoring game. My short game is not the strongest part of my game. Our coaches have really been on us about it; wedging, wedging, wedging!"