Former Gamecocks Enjoying Professional Careers at Alma Mater
Finding a job that you love is one thing but being able to do what you love at your alma mater is even better. Several former South Carolina student-athletes have had the good fortune, and the qualifications, to come back to Columbia in recent years to work with the programs that gave them the opportunity to compete and earn a degree.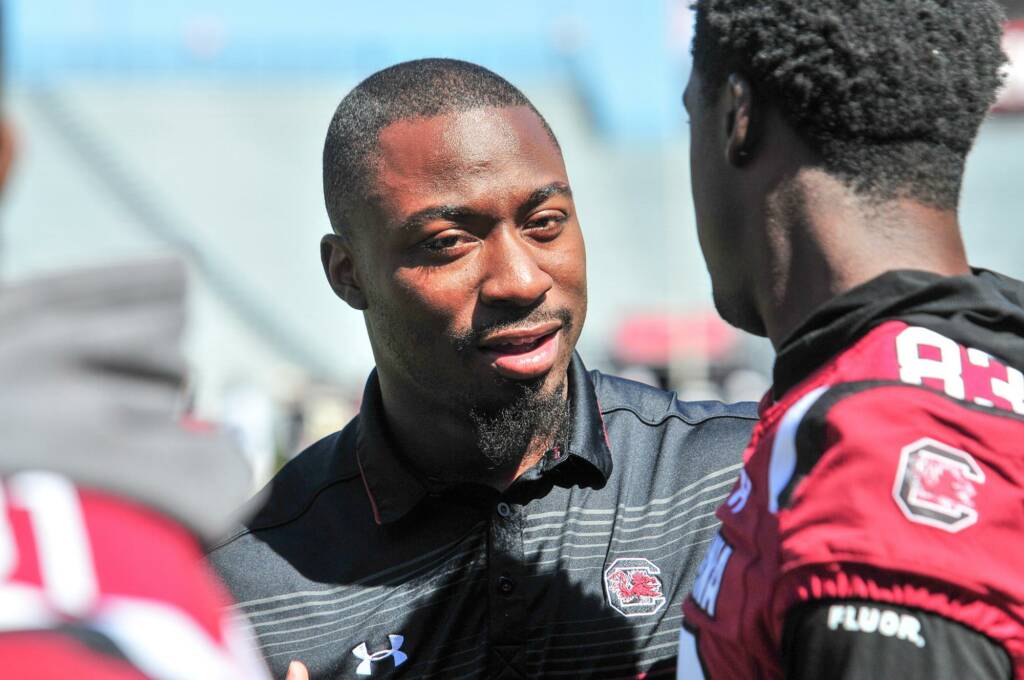 "Familiarity. I empathize with the guys in the locker room," said Marcus Lattimore, South Carolina football's Director of Player Development, who starred for the Gamecocks from 2010 through 2012. "It's a place where I made my name. It's a number of different things. I'm familiar here. I know the area. I want to see my university do well. I know part of doing well involves recruiting. I think I have a unique story that is compelling to recruits and families. I knew I could help in that aspect, but I also can empathize with the guys and what they go through on a day to day basis. I can educate them on certain things that can help them, so they don't fall into certain traps in college."
"I'm 29 years old, and I get to come back to my alma mater and work my dream job!" said softball assistant Kaela Jackson, who came back to South Carolina this summer after serving in a similar role over the last three years at Michigan State.  "That's one of those things that is just so rare to open up so quickly. Things were going well at Michigan State, but I had to take advantage of this opportunity.
Jackson lettered for the Gamecocks in 2011 and 2012 after transferring from junior college and was a team captain as a senior. She later served as a graduated manager before starting her coaching career as a volunteer assistant. For many, it's the mentoring they received as student-athletes that can spark their desire to pay it forward as a coach.
"I love golf, and I love people," said Ben Dietrich, who was hired as the men's golf assistant coach after a stellar career for the Gamecocks and graduating last spring. "I think the combination of having a really good experience in playing for Coach (Bill) McDonald, along with my passion for golf and seeing the opportunities students have to grow personally, physically, mentally, emotionally, and spiritually in a four-year period; it creates a ripe opportunity for that. Coach helped me grow so much as a person beyond golf. It's a great opportunity to be around guys who are having such a transformational time in life."
"We're not just checking boxes here. It is a family."
– Kaela  Jackson

Many programs preach the importance of a family atmosphere within the team, but South Carolina "walks the walk" in that regard.
"Even after I graduated and left to go to Michigan State, the South Carolina softball team was still a part of my family," Jackson said. "Every year that the team would play in Tennessee, my parents would host them for a pregame or post-game meal. That speaks volumes. We mean it when say 'family.' Some of the players knew my parents more than they knew me! We're not just checking boxes here. It is a family. I've been overwhelmed with how great people have been in welcoming me back."
"The one word to categorize it is 'legacy,'" Dietrich said. "Coach McDonald structures his program in such a way that he does want it to be a family. He definitely puts the student-athlete first. I ended up redshirting my junior year because I was having some difficulties in school and life. It was one of those things where he basically said, let's put the clubs aside and get you back on your feet and then we'll approach the golf thing next. If I could do that for a player and change the outcome of his life for the better, then it would be worth it. To have an opportunity to do that here is very appealing."
Having former student-athletes come back to work in various roles with their former teams is nothing new. The list of Gamecocks working with their former teams also includes Shonda Cole in her fourth year serving as an assistant coach with volleyball after an All-American career with the Gamecocks and later, a professional playing career. Other former Gamecocks include Harrison O'Keefe in his first year as an assistant coach with the men's tennis team, Penny Boswell in her second year as Director of Operations for Track and Field/Cross Country, and Anna Conklin in her first year as Director of Operations for women's soccer.
The former student-athletes must learn not only to transition to a professional role, but some also learn how to transition their relationship with the individual who recruited and coached them.
"I was fortunate to work with Bev before when I was volunteer assistant, so that helped," Jackson said. "She has always been the most excellent mentor I could ask for, on and off the field. We became friends, which was interesting. It's a totally different relationship. I feel like I can talk to her about anything.
"I'm really proud of what she has done. When I was here the first time, it was all about the vision of what is to come. Now, I come back and think, 'you did it!' Look where the program is now! We're one step away from the Women's College World Series (last season). It's that culture that she has built that is pretty special."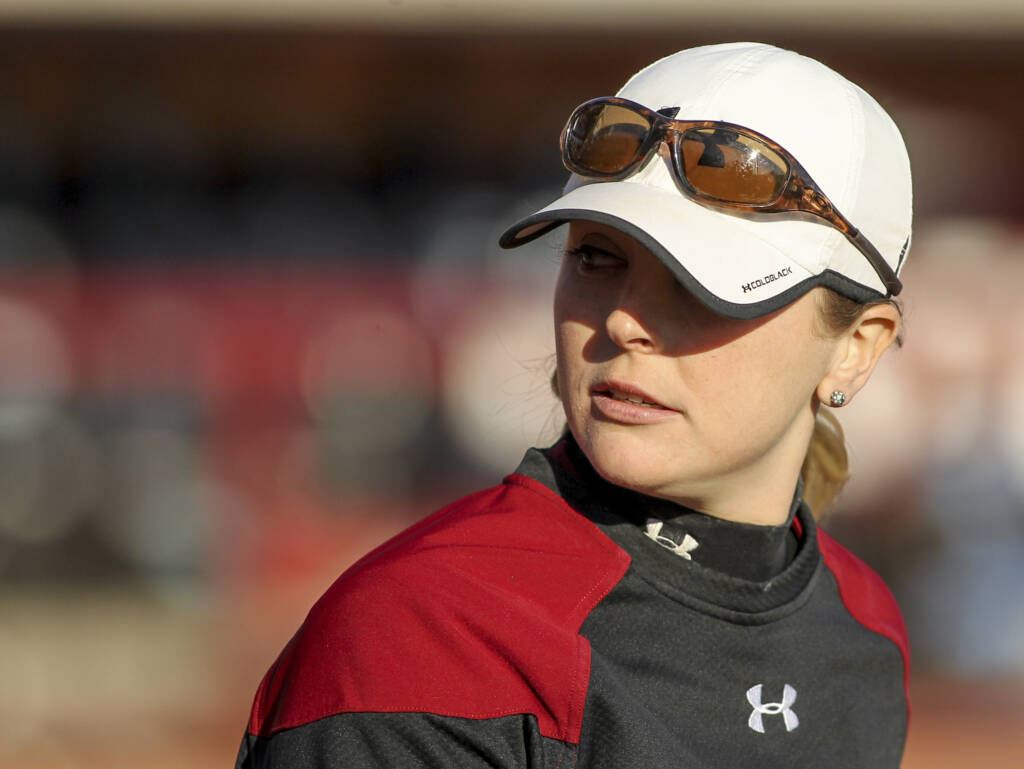 "I always felt like Coach McDonald and I had a solid relationship in the past, and I think that stems from the fact that he really cares about his guys," Dietrich said. "That's something I recognized early on. He cared about me beyond golf.
"It's interesting seeing things from this side of what goes into a program of this stature. When I was a player, I would show up for a trip, get on the van and you just worry about getting the ball in the hole. As a coach, it's also about where we are going to stay and how we're going to get there. I think I gained a lot more respect for Coach and for Marci (Saltzman), our director of ops, who holds it all together."
Some have the chance to see their former teammates in a different light, while others work with student-athletes with whom they never shared the locker room. Some are working for a completely different coaching staff. Either way, they're glad to be home.  
"For me, it makes it a little bit better not having the same coaches here because I get questions from them about the University and the football program or how things were in the past or things in the Columbia metropolitan area that I can answer," Lattimore said. "So, I can be a resource in that respect. Another thing that was appealing was Coach Muschamp. I knew his reputation before he got here, and I knew he would bring the energy and the passion we needed to get back to where we were and even further. He just brings so much structure to the program. It doesn't hurt being beside coach Bobby Bentley, who coached me in high school."
"The biggest challenge in coaching guys that were my teammates is when you have to keep them accountable," Dietrich said. "If there was ever any group of guys where this could work, this is it. I say that because they all want to get better, and they know what it takes to get better. Most of the time, if I have to call them out on something, it's an accountability they want because they set the parameters that they want to be held accountable for to be successful."
"The kids that graduated last year were the last group that I coached the first time I was here," Jackson said. "However, because I was here for five years as a student-athlete and on staff, most of the kids that are on the team now were girls I gave lessons to when they were younger. It's fun to see familiar faces. There's only one kid on the team who I didn't know when I first got here. It really did make it feel like coming home."