Distance Runners Seeking Personal Bests on the Course and in Academics
Finishing ahead of the pack while achieving personal bests are among the goals for cross country runners. For South Carolina distance student-athletes, that applies in the classroom as well as nine Gamecock cross country runners are students in the nation's top-ranked Honors College.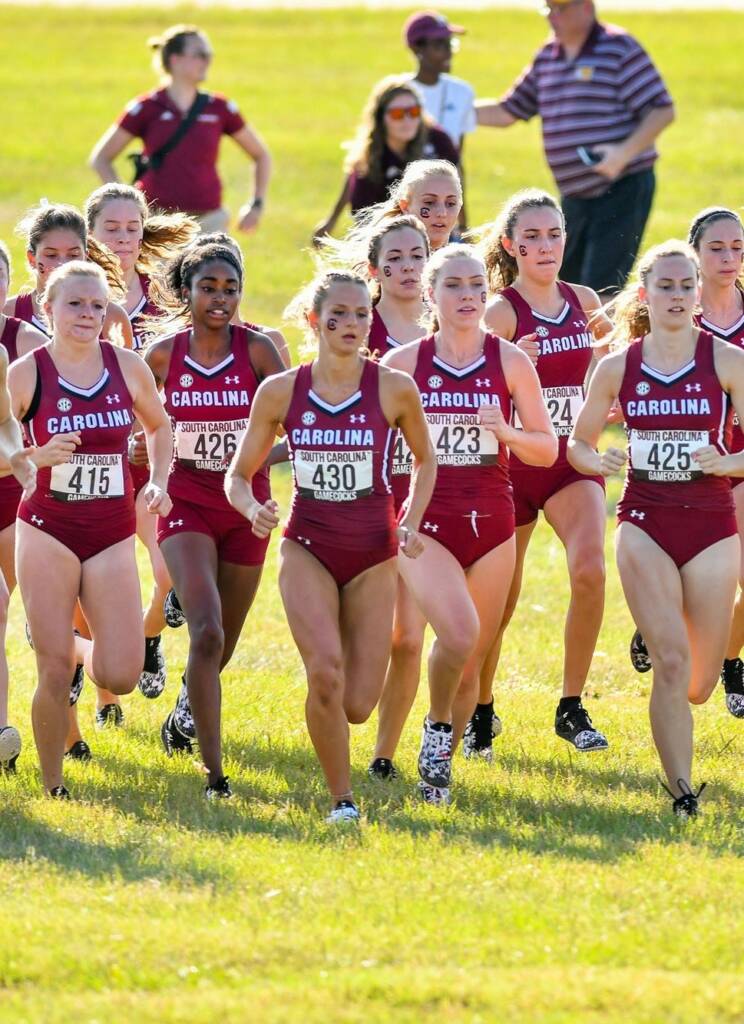 "The professors that I've had in my honors classes are amazing," said Colleen Openshaw, a redshirt junior who is majoring in biochemistry and molecular biology. "They're the ones I'll probably remember for the rest of my life. There is just a really good emphasis in developing a good all-around student."
"They're a lot more discussion-based with a lot more scholarly reading as opposed to a regular class where you are just taking notes and it's a lecture," said junior Kelsey Larkin, who is studying biology. "It opens up doors and allows you to be creative and think outside the box and critically."
The South Carolina Honors College has been top-ranked nationally since 2012, and the cross country team has consistently ranked among the nation's best in the classroom. Last year, the Gamecocks were honored as a USTFCCCA All-Academic Team for 17th consecutive season after ranking 10th nationally with a 3.74 team grade point average, and current senior Allie Mueller earned Academic All-America honors.  South Carolina has finished in the national top-20 in 12 straight seasons and posted the top GPA in the nation in 2008 and 2014. That commitment to academics is a big part of the team culture under the direction of assistant coach for distances and cross country Andrew Allden. 
"Coach Allden is always very considerate and cognizant of our needs as students," said sophomore Brooke Wilson, who is studying exercise science. "He has high expectations for us in the classroom, which I really appreciate. That's one of the things that drew me to the program.
"It's nice that we'll be traveling, and we'll all meet up in the morning and sit around the lobby doing homework. You have this bond over running, but you also have this bond over being successful students and preparing ourselves for our future careers."
"That was a big draw for me, not just that there is the Honors College, but the way the athletics program here approached academics," Openshaw said. "A lot of other schools would never give you the opportunity to study abroad (as a student-athlete), but coach Allden has always been very understanding about that. He is very supportive of that. He wants us to succeed as students. Academics are super important to us."
Having good grades and scoring well on entrance exams aren't the only criteria for admission in the Honors College.
"If the Honors College were a separate institution, it would be in the Ivy League in terms of the student profile," said Steve Lynn, Dean of the Honors College. "It's one up every year. The average S.A.T. for this last freshman class was 1492 on the 1600 scale. The average A.C.T. was 32.9.  We realize the S.A.T. and A.C.T. are not perfect, and that the tests don't capture everything. We have students that don't have those scores who request an application, and perhaps they bring something else that is worth of notice. Maybe they've been a leader at their school and have done something exceptional. We love having athletes in the honors college. We love diversity of all kinds."
"It's nice because you get to form better relationships with your professors."
– Brooke  Wilson, Sophomore
Having such academically talented student-athletes can relieve some worries of coaches as far as academic casualties, but Allden sometimes faces other situations that aren't necessarily bad problems to have. 
"Everyone graduates in four years. Additionally, I've had so many kids that come in with A.P. credit, that they graduate in three years," Allden said. "In a sport where maturity and experience matters, that can be a little more of a challenge than I might like."
Allden noted that the Honors College is a huge recruiting piece for the program. 
"The challenge is that our Honors College is getting progressively more difficult to get into because it is so good," Allden said. "I definitely use it (in recruiting). I talk about how we have a large number of kids from the team in the Honors College. This year, we have nine out of 27 that are in the Honors College. One of my favorite lines is that kids will complain about anything, but I never hear kids complain about the Honors College."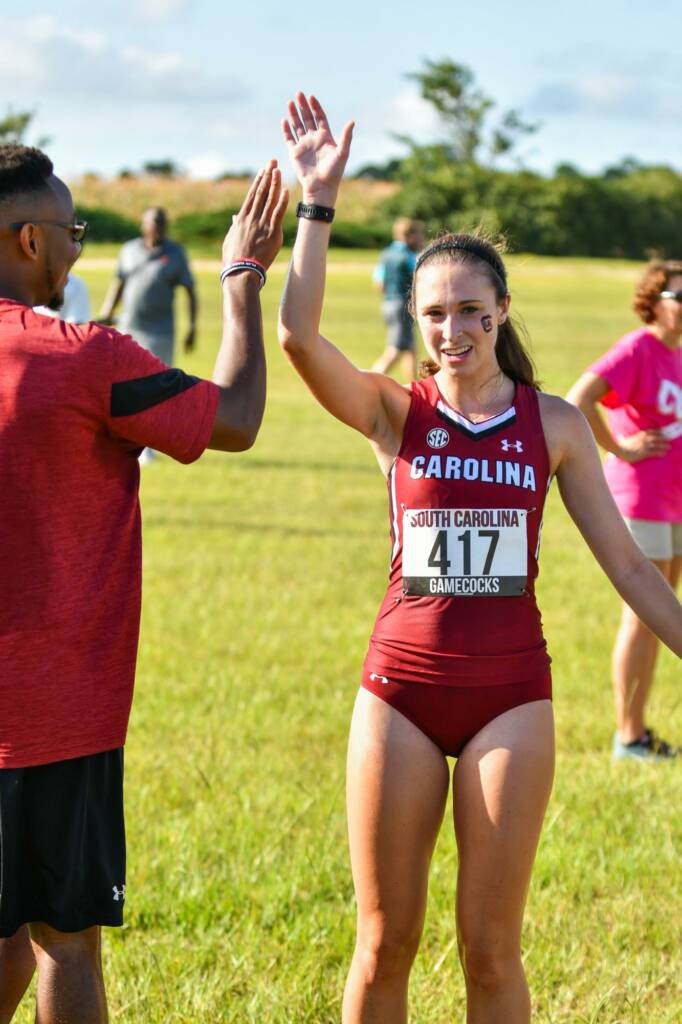 Kelsey Larkin
"It was a big part of my decision," Openshaw said. "I felt like here was the biggest balance between academics and athletics. I think at some schools, you would have to sacrifice one for the other. Here, there is a really good balance, and I'm able to compete in the SEC, while at the same time being in the best honors college in the country."
"I never expected to go to a large university, and it was very important to me to be a part of a smaller community, academically," added Wilson. "I think I realized that the size of the school would not matter as much as I thought it would. No matter where you go, you're going to have your group of friends and people that you interact with."
It's not always easy for student-athletes to balance academics and athletics, but the smaller class size, in addition to course offerings and relationships with the professors are all a huge part of the attraction to the Honors College.
"Our students take at least a third of their courses as honors classes," Lynn said. "Those average 18 students per class, and they're taught by research-active, really strong faculty. In reality, our students take almost half their courses in that format. As a result, they can get on research teams as freshmen. They can get to know faculty. They have real relationships with our best teachers. It really is a phenomenal education."
"I've had more of an opportunity to learn about things I might not have otherwise as a biochem major," Openshaw said. "Most my classes are sciences, but some of my most memorable classes are things like the history of film, literature, women and gender studies; things that I might not have had the opportunity to learn about without the Honors College.
"There's definitely no falling asleep in smaller classes! The smaller honors classes are more discussion-based. That's been really good for me. I really like that the professors know your name and know who you are. They're concerned about you as a student. They actually care about your success, and it's easier to do that when they know who you are."
"It's nice because you get to form better relationships with your professors," Wilson said. "You get more one on one feedback, and there is more room for each student to participate. If I'm going to sit in a class, I want to participate."
"It's one of the best in the nation," Larkin said. "That was definitely a major appeal for me. I think they (Honors College classes) are taught in a different way with a different goal in mind.  I want to pursue a career in the medical field. I'm currently taking a course, maternal and child health, which focuses more on the issues that surround certain different health disparities. So, rather than just learning about the biology that I get from my regular courses, these Honors courses open up those doors to have more discussions.
"The professors are willing to work with us, and it's easier to develop a connection. Getting their knowledge and help one on one, you get more out of every class."
Seven South Carolina cross country student-athletes graduated last year, with five moving on to post-graduate education. The opportunity to challenge themselves in academics and athletics will set up the student-athletes for success when their days of wearing the Garnet and Black have ended. 
"Taking a lot on prepares me for my future career," Larkin said. "In medical school and in the workforce, I'm going to have to handle a lot. Being able to balance the Honors College and athletics is a challenge. I've been able to work through it and have a routine and know how to work with it. That's really going to pay off."
"We had a networking night, and I had the chance to meet with the admissions people from MUSC, which is one of the medical schools I'll probably be applying in the next couple of years," Openshaw said. "They want student-athletes because they know we have a really good work ethic and they see how successful we are in academics. I've had a lot of opportunities through athletics that I might not have had otherwise. 
"Right now, I'm working on my senior thesis for the Honors College. I'm doing it on how altitude training and humidity affect runners. I got the chance to train in Colorado this summer and do my own research. It's really cool to see how far I've come and how much athletics and the Honors College have given me."
Allden is proud of the challenging majors his student-athletes pursue, but sometimes he needs to reign them in from biting off more than they can chew.
"We have a lot of kids in pre-medical sciences," Allden said. "We have a lot of kids in exercise science, pharmacy and business. There are times when I wish they were taking a little bit of an easier load. I joke about it, but it's true. I often have the conversation, 'no you don't have to triple major to get into medical school or law school. Majoring in two things and getting a 4.0, you're going to be fine."