NCAA Tournament Fulfills Dream for Gamecock Great
As a member of the South Carolina Athletics Hall of Fame, Shonda Cole already has a long list of impressive accolades, but the Gamecocks' first volleyball All-American and current assistant coach yearned for one thing that eluded her – the NCAA Tournament. Now that the Gamecocks have reached the tournament for the first time since 2002, Cole is as fired up as anyone else.
"It means more being an alum of this program because there are people that came before me who helped build the foundation for this program," Cole said. "As a coach, to see these girls take us back to where it all started, it just means more. As a coach, I'm obviously proud of these girls and excited. Being an alumna of this school and this program, it means a lot more to me."
The Gamecocks will play Colorado at the Maturi Pavilion, home court for the University of Minnesota, on Friday, Nov. 30 at 5:30 p.m. ET.
"There has been so much support from alumni I keep in touch with and others who have reached out and have been watching our season," Cole said. "I have a group chat going with a lot of my former teammates, and we talk about volleyball all the time. They talk about how proud they are of the team and the changes they have made. The support has been unbelievable, this year and in years past, but this year in particular."
Cole started her Gamecock career in 2003, the year after the program's last tournament appearance, and was a great player on some talented South Carolina teams that were not fortunate enough to make the postseason. Among the messages she tries to convey to the current student-athletes is that it's not always about talent alone. Instead, she emphasizes the importance of execution and maximizing potential and opportunities.
"When I was here as a player, we had a lot of great athletes on the team, but we just couldn't quite pull it together," Cole said. "With these girls here now, I tell them that it's not about one person. It's super-important that everyone has a role. Team chemistry is important. You can have five or six great players, but if you're not able to execute together on the court, then it doesn't mean anything. These girls have shown what you can do when you get all that talent together, and you have the team chemistry and the right training."
"It means that we are able to write history."
– Mikayla  Shields, Junior

The Gamecocks finished the year with a 19-9 overall record and a 10-8 mark in SEC play, both win totals were the highest since 2008. First-year head coach Tom Mendoza has a lot of reasons to be excited, but he is certainly happy that Cole will get a chance to experience the NCAA Tournament.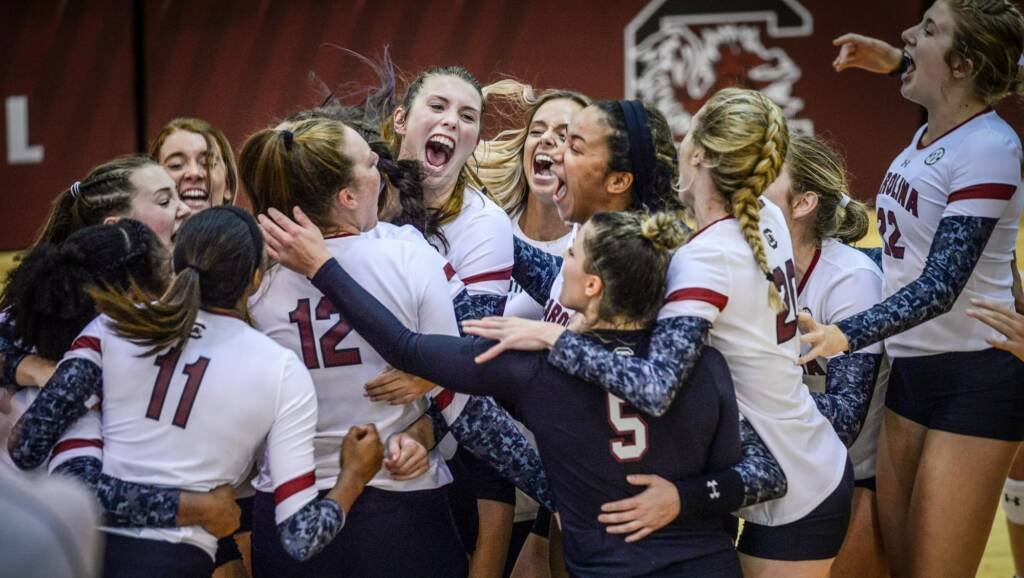 "Shonda is a great coach," Mendoza said. "She is a coach that deserves to be at this level, and she deserves to be successful at this level. It's been great to see her continue to grow as a coach. There is pride in making sure that South Carolina is in this discussion and in the NCAA Tournament on a regular basis."
For the current Gamecocks, helping Cole achieve her dreams while also reaching their own, was satisfying.
"People who started this program built this foundation," said senior Aubrey Ezell. "Each year, people that have come in as freshmen have built this program a little bit more.  We're here to show and prove that they built this for us. With Shonda being an assistant coach and being able to go with us, I'm just so happy for her."
"It means a lot," said junior Mikayla Shields. "It means that we are able to write history. It's been 16 years since we've been in a position to be in the tournament. As a player, to have a role model such as Shonda and to be able to help her realize that dream, it means everything to me."
Cole noted that seeing South Carolina's name pop up during the NCAA Tournament selection show created a bond between the current and former players alike, and she'll do her part to help more Gamecocks achieve their dreams on and off the court.
"When they announced our name, my phone has been blowing up!" Cole said. "I reached out to alums, teammates and family members. The outpouring of people that have reached out has been amazing."