Indoor Facility Enhances Championship Experience for Student-Athletes
The historic opening of South Carolina's newly renovated Carolina Indoor Track & Field Complex was a long time coming, but it was worth the wait. In addition to the many "firsts" that occurred at the Gamecock Inaugural track and field meet that South Carolina hosted last weekend, the state-of-the-art facility puts the Gamecock Track and Field program in rarified air among its peers.
"It's special," said head coach Curtis Frye. "Going from a square facility where kids would run into the wall to something that's equal to the best facility in the world is great for our student-athletes, for the state of South Carolina, and for the SEC. There isn't a better facility in the world than what we have with this track."
More than 1200 athletes from 30 teams were on hand to break-in the new facility at the Gamecock Inaugural, and it didn't take long for records to fall on what Frye had called a very fast track as senior Arinze Chance broke the school record in the 400 meters with a time of 46:15, which sets a national record for his home country of Guyana.
"I expected Arinze to make progress, but that wasn't just progress; that was a leap!" Frye said. "He has put that kind of work in to reap that kind of benefit. This facility also gave him a great return on that work."
Among the many "firsts," sophomore sprinter Carlos Wilson was the first Gamecock to compete in an event after winning his heat in the 60 meters early on, while junior Noah Walker was the first Gamecock to win an event after taking top honors in the men's Open 400 meters. Junior Anna Kathryn Stoddard was the first South Carolina female student-athlete to win an event in the new facility after a victory in the 300 meters, improving her personal best by a whopping 12 seconds. Sophomore Stephanie Davis would later win the 400 meters for the Gamecocks.
Senior Yann Randrianasolo put his name in the books as South Carolina's first men's field event winner in the facility as the two-time All-American topped the field in the long jump. Redshirt freshman Carisma Holland was South Carolina's first female field event winner, leading the Gamecocks to a sweep in the shotput. The women's distance medley relay recorded the sixth fastest time in school history to win that event as well.
"We talked about that with the team, that there can only be one 'first,'" Frye said. "Someone can run faster later, but there can never be another first. We challenged our kids at a team meeting before the event to see how many of them could establish themselves as a 'first.' There were also a lot of personal bests, not just for our student-athletes, but for a lot of others as well, even if they didn't win. The track is giving great returns."
"To have this facility and to not have to be on the road every week, it means a lot!"
– Yohance  Thomas, senior

The previous indoor facility was a multi-purpose facility that tried to serve some of the needs of several sports, including track and field, tennis, football, baseball, softball and soccer, without really providing an adequate indoor solution for any of them.
"Going from sharing a facility with everyone and having to schedule when we could actually get into the facility, to having a world-class facility is something that wakes me up each night because I'm so appreciative to see our state and our University grow," Frye beamed. "I appreciate our alumni being patient with us as we've transitioned the last few years and believing that we can win another national championship here. Facilities are a driving force."
The Carolina Indoor Track & Field Complex features a banked six-lane 200m Mondo track, a separate throws area, two pole vault areas, two jumps runways and two high jump areas along with an eight-lane 60m straight track on the infield. The new facility comes on the heels of the renovation of the Sheila and Morris Cregger Outdoor Track which re-opened two years ago. For South Carolina student-athletes who first heard about the facilities when they were being recruited, it's a dream come true.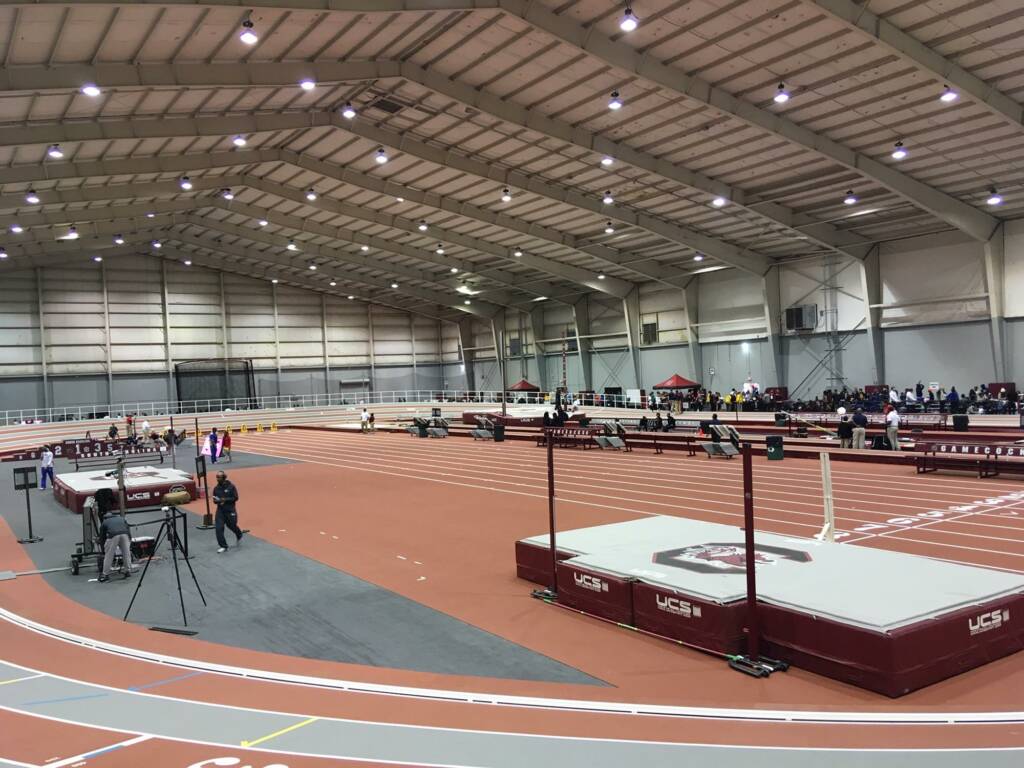 "It feels good to have this," said senior sprinter Yohance Thomas. "It's really come together. I know this has been a dream for Coach Frye for some time, so it's nice to see it finally completed and to be able to compete here. Being one of the first ones to run here means a lot. When I first got here, we were running at a high school track for practice. So, to have this facility and to not have to be on the road every week, it means a lot!"
"Each lane of the track is 42 inches wide, and it has a double turn radius. It's a smooth gradual entrance and exit in the turns," Frye said. "It is at the maximum standard of IAAF approval. So, there is a lot of potential for record times being run.
"We can pole vault on a raised runway. Before, we were jumping on short boxes on the ground. We can run the long jump in two different directions at 170 feet, instead of a runway that's 130 feet. Our student-athletes don't have to worry about not being able to qualify for nationals at home just because our facility wouldn't allow them to qualify.
"We have two throw circles, so weight throwers don't have to wait for the shot put. Athletes don't have to warm up and then cool down and get injured because now they don't have to wait to do their event."
In addition to the facility being a desirable destination for opposing teams, Frye is proud that the facility can serve as a showcase piece for younger athletes, who may eventually compete for the Gamecocks in track and field or other sports.
"Last week we had an AAU track meet where we had kids as young as six years old up to 18 running here," Frye said. "We had kids here from the northeast of the United States, and from all the way down south in Miami here to run. So, we're getting kids to visit the University of South Carolina to come here and look at all of our great facilities.
"(Former Olympian) Terrence Trammell came down here to run when he was 13, and that was his first memory of the school, so South Carolina became his school. First impressions are lasting impressions. Now, kids that come here will go back home with a 'wow.'"
Frye is also excited to have Gamecock Track and Field alumni come back to see the new facility. Several South Carolina track and field legends were in attendance Friday to celebrate the new facility, including two-time Olympian (Jamaica) and three-time NCAA National Champion Aleen Bailey, as well as 1999 SEC weight throw champion Bert Sorin, who entered as an unattached competitor and proved he was still in top form after winning the Open Weight Throw.
"It's great to have your alumni on campus," Frye said. "We don't ever want to forget our alumni along the way. We want them to feel welcome."