Softball's Alex Fulmer is on the Beat When She's Off the Diamond
Alex Fulmer isn't just going along for the ride. After spending time on patrol with the Richland County Sheriff's Department in ride-alongs last year, South Carolina softball's sophomore outfielder continues to seek hands-on experience in pursuit of a future career in law enforcement and is now working part-time with the with the R.C.S.D.'s Fugitive Task Force.
"We go after people involved in intense crimes with arrest warrants," Fulmer said. "It could be murder, attempted murder, violent crimes, and things like that.
"We know who we're going after because we've done the research in advance. We know everything about them. It's usually a pretty easy grab. A lot of times we go early in the mornings, and they're asleep by the time we get there."
The Newberry, S.C., native is studying criminal justice, and during her ride-along experiences last year, Fulmer was on patrol with deputies who were part of the Live P.D. television show, which follows law enforcement officers during evening patrols.
"After working with them for a few months, our senior investigator Tanesha Reese, really influenced me to want to do more," Fulmer said. "She told me to come see her at the office, we talked about it, and it worked out."
"This experience has helped me grow up a lot more."
– Alex  Fulmer
Fulmer works at the Richland County Sheriff's Department three days per week in between classes and practices. In addition to investigating where to find the alleged offenders, Fulmer sometimes goes out with the deputies when the arrests are made.
"I don't get scared," Fulmer said. "Whenever we go out on operations, I stay in the truck until our team deems that it's safe. We usually have a pretty good idea what we're going into, but sometimes if you're going after one accused of attempted murder or assault with a deadly weapon, your nerves can get going. You have to push your emotions to the back. For the most part, I know our people will be OK."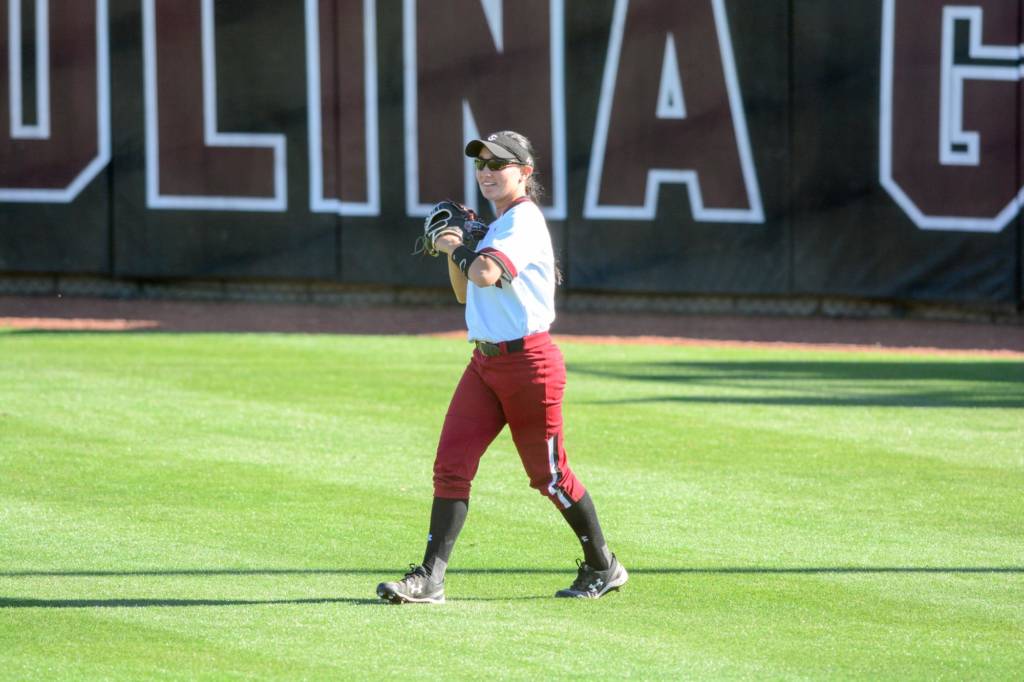 Fulmer's long-term law enforcement goals include becoming a Secret Service agent, but for now, she is happy to work her way up.
"What I like about law enforcement is being able to help out the community any way that I can," Fulmer said. "I've learned a lot.
"Some of the crimes that I've looked into are very disturbing. They can make you upset, and you think 'how can somebody do that to somebody else?' It's a great feeling when you know you've helped get someone like that off the streets.  I do feel like I'm making an impact."
While nobody in her family works in law enforcement, Fulmer said the mentoring she has received over the last two years reaffirmed her initial desire to pursue it as a career.
"It's like our team here; we're a family," Fulmer said. "Sheriff (Leon) Lott has been great and is always looking out for us.  I remember when I first met Tanesha Reese, and she told me what she does, and I thought that was exactly what I wanted to do. I just knew."
Fulmer has the full support of head coach Beverly Smith and her teammates, and her part time job gives her a different perspective than most college students.
"Coach Bev has always been there and is easy to talk to," Fulmer said. "I think I do a good job of keeping things separated between work and softball and everything else. This experience has helped me grow up a lot more.
"I'm more aware of my surroundings, who is around me and what is going on. If I'm in a restaurant, I want to see all the exits. There are always going to be at least two, so I want to know where they are."
When she's done tracking down fly balls in the outfield for the Gamecocks in a couple of years and has graduated from South Carolina, Fulmer looks forward to continuing her path of tracking down criminals with plans to immediately enroll in the police academy.
South Carolina softball is coming off an outstanding 2018 campaign which saw the Gamecocks advance to the NCAA Super Regional while posing a 49-17 record. The 2019 season begins Feb. 7-10 at the Puerto Vallarta Challenge in Mexico.