#SameHere College Tour Offers Gamecocks Lessons in Mental Health
Creating a culture of care is the main theme for Gamecock Sports Science, which represents the all-encompassing health care for University of South Carolina student-athletes. A key component of that includes mental and emotional health, which is why the student-athletes took part in the #SameHere Sit-Downs College Tour at The Zone inside Williams-Brice Stadium on Monday. While statistics show that one in five people will experience mental illness in their lifetime, tour founder Eric Kussin said that mental health should be a topic for five-in-five people.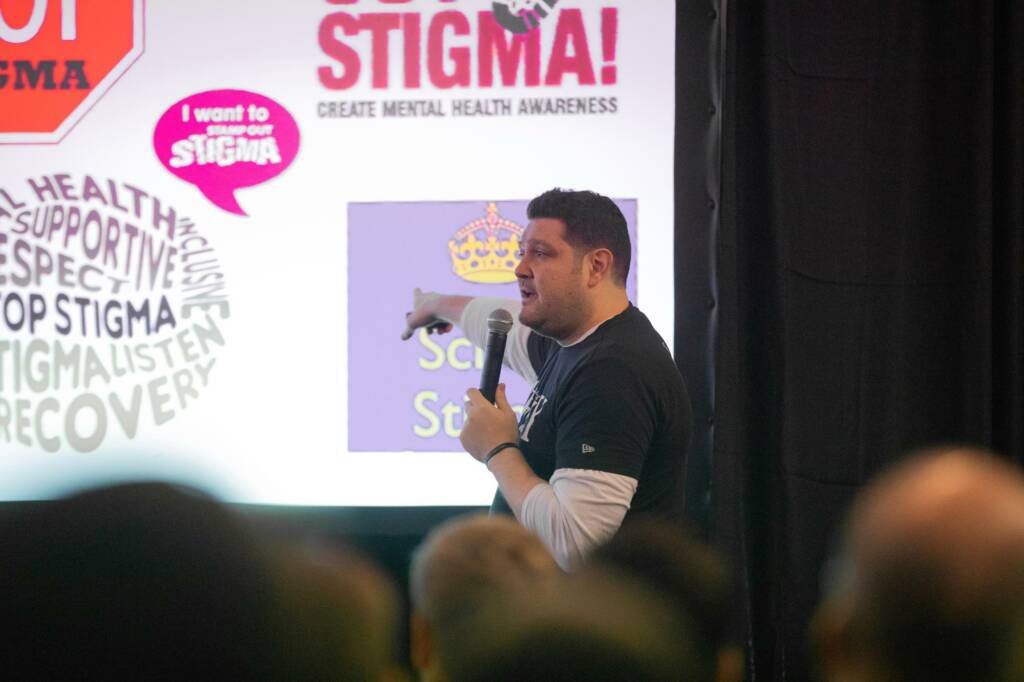 "The reason we use the 'same here' American sign-language sign associated with what we do is we're able to show that whether it's celebrities, people with platforms, every day people, or the homeless guy on the street – all of us face challenges," said Kussin, a former student-athlete at Cornell whose mental health rapidly declined after a successful career as a professional sports executive in the NBA and NHL.  "We need to talk more about that. When someone has a sprained knee and they come back from that, we talk about how brave they are for coming back and rehabbing themselves. When life throws us that curveball, the equivalent of the sprained ankle or the sprained knee is the sprained brain. Now, all of the sudden that person is called 'weak.' That doesn't make sense. Once you can establish that we all go through things, it makes it much easier for people to talk about it."
Kussin was joined by former South Carolina and current Baltimore Ravens tight-end Hayden Hurst, and Kym Hilinksi, mother of South Carolina freshman quarterback Ryan Hilinski, as well as Tyler Hilinksi, who played football at Washington State and died by suicide last year. Their shared goals are taking the stigma away from talking about mental health and seeking help.
"South Carolina completely changed my life," Hurst said. "It was probably the best decision I made in my life because when I stepped on campus, I was a 21-year-old freshman jumping from the minor leagues, and I was kind of broken. The people I met here completely changed the course of my life."
Hurst came to South Carolina following a few years of playing professional baseball right out of high school. When his baseball career floundered, he was grateful to find a home playing football with the Gamecocks, but there were tough times in between.
"I started doing bad at baseball, and I shut myself off from a lot of people," Hurst recalled. "I was embarrassed. I had no idea how to fix it. I didn't want to talk to people. I was getting depressed and started feeling anxious. I turned to alcohol. I was probably drinking every day in the minor leagues to just numb the thought of having to feel sick and feel that anxiety. I was at the bottom."
"It really put things in perspective that everyone can be suffering through something."
– Mikayla  Krzeczowski

Hurst is grateful for the resources in place at South Carolina to help him with his emotional and mental health and has since established the Hayden Hurst Family Foundation to raise awareness of mental health issues in adolescents and teens by funding mental health services and/or programs through donations and fundraising events.
"Here, I spoke with (Wellness Director for Mental Health) Dr. (Tim) Malone a lot," Hurst said. "He was instrumental in helping me from the ground up. I had a scared straight moment here my freshman year, and then I met a lot of good people, and they helped build me back up. I had turned to drinking a lot, but since my freshman year, I haven't had a sip of alcohol. I'm in a very good place now, and that's why I feel comfortable in being able to share my story.
"I just want to be transparent with my entire story. A lot of people just know me as an All-SEC tight-end who got drafted in the first round, but it wasn't all sunshine and rainbows in my life. I got drafted for baseball right out of high school. I had never really experienced failure. I got to the Pirates and nothing worked. I didn't know how to deal with it. I had some rough times. I've been to the bottom, and I know what it's like. I also know what it's like to pull yourself out of it. It can be done."
Each of the speakers made an impact on the South Carolina student-athletes.
"I thought it was really interesting," said freshman swimmer Alex Wade. "It definitely opened my eyes. There were a lot of statistics I didn't know about. They were mind-boggling."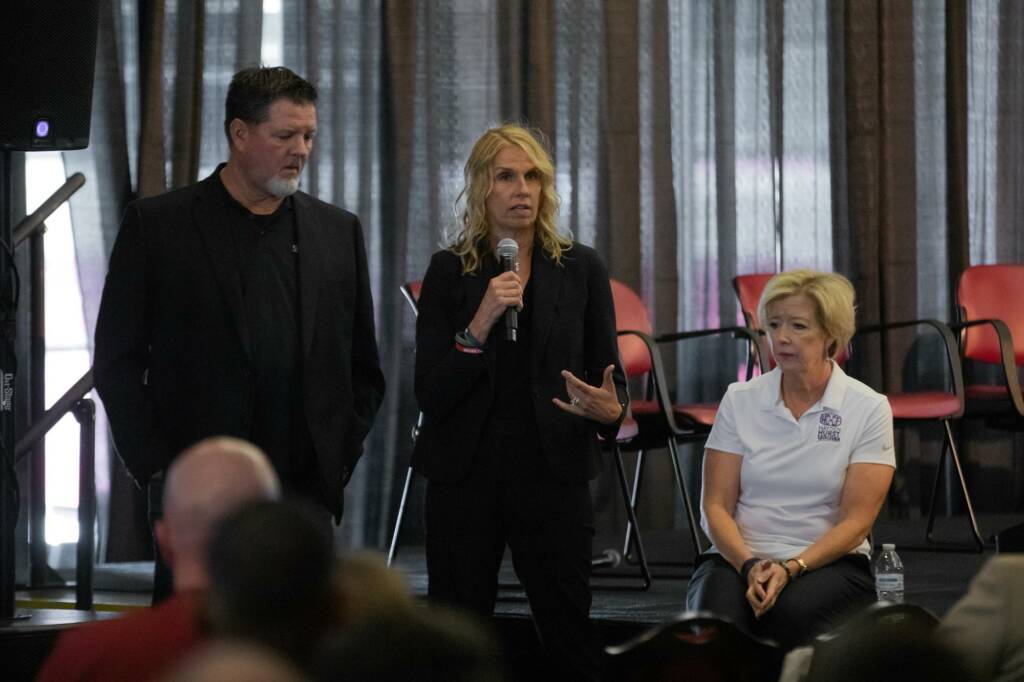 "Listening to Ryan's mom speak was really impactful," said freshman swimmer Nathan Walton. "Just knowing what they went through brings home a more personal story for us about mental health. It's crazy to think that any number of your friends or teammates could be going through something. Everybody seems to be doing so well all the time and handling things very well. It reveals that behind all that, everyone struggles with something at one point or another."
"It was really eye-opening," said junior women's soccer student-athlete Mikayla Krzeczowski. "Being in sports is a different realm. There are a lot of different stressors and different things that can trigger anxiety. It really put things in perspective that everyone can be suffering through something. I really enjoyed when the Hilinskis went up and talked about the different outlets that are out there. I know some girls on the team shed some tears in hearing some of the stories."
Kussin tours college campuses around the country, and he is seeing positive results in discussing how to combat the everyday stress and/or traumatic events that can impact performance in and out of the sports arenas.
"What we learn from doing these sessions is that when you bring someone of influence who shares their personal story and you realize that we all go through things, there's a thing called a safe space that is created," Kussin said. "That allows students, no matter what size the room is, to feel like they're talking one-on-one with the people on stage. We get these incredible questions where they are able to open up like they've never done before."
Athletics coaches and staff also attended a separate presentation earlier in the day.
"Hopefully we're going to make an impact," Kussin said. "The coaches are the ones that can carry that message and live that message. They do care about the health of the players, but they're also going to see results in the performance of their players. Players are going perform better if they feel better."
As part of Gamecocks Sports Science, South Carolina student-athletes have access to a wide scope of mental health professionals.