Taking One for the Team is a Common Occurrence for Gamecock Trio
Records are meant to be broken, but when three individuals on the same team rank No. 1, No. 2 and No. 3 in program history for an offensive statistic, it's pretty unique. Many of South Carolina's team and individual records for a single season and a career have fallen over the last seven years, and as a result the Gamecocks are in the hunt for their seventh consecutive NCAA Tournament appearance. 
Care to take a guess which career record has three current Gamecocks at the top of the list?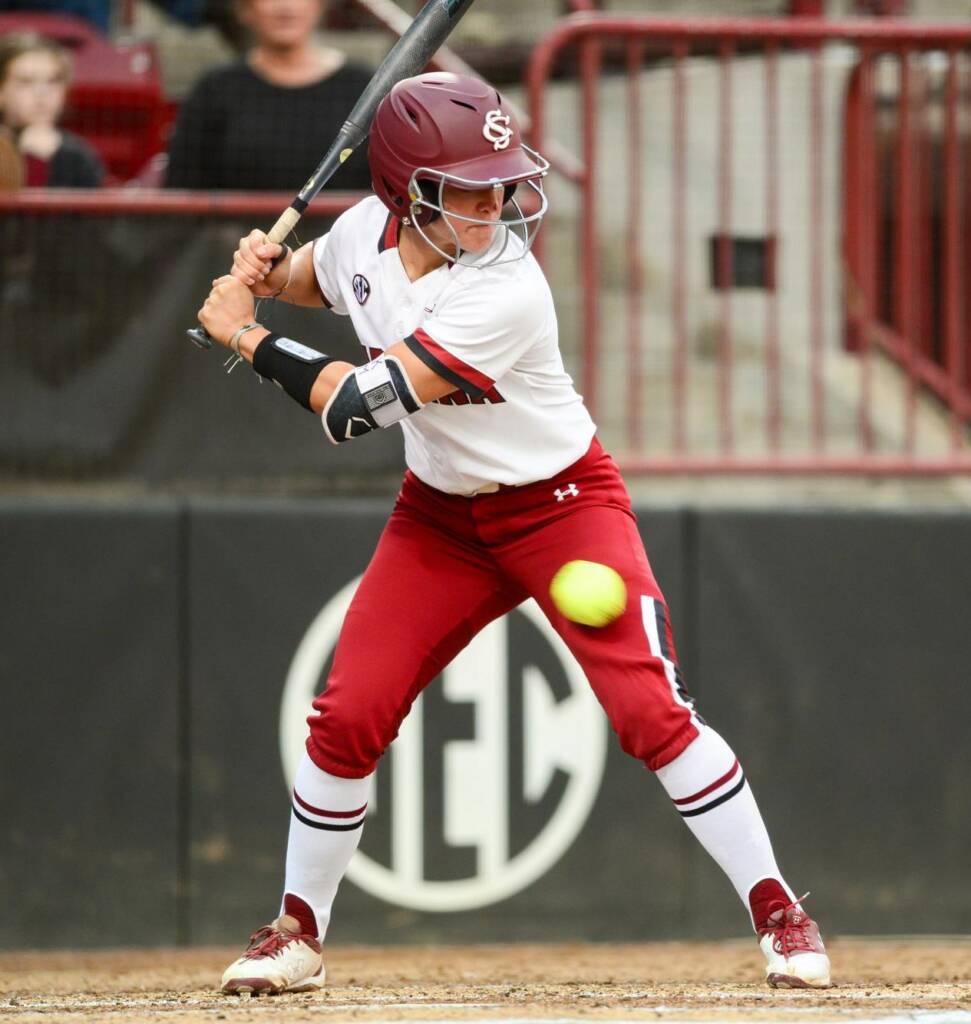 Kenzi  Maguire
No, not home runs. Not yet, anyway.
It's not RBI either. Nor is it doubles or stolen bases.
If you need a hint, think about Hughie Jennings and Craig Biggio if you're a Major League Baseball aficionado. Maybe Rudy Stein from The Bad News Bears if you're in to classic sports movies?
Redshirt junior Kenzi Maguire, sophomore Jana Johns, and senior Kennedy Clark rank first, tied for second, and third, respectively, for the most times to be hit by a pitch at South Carolina. It's not that they can't get out of the way. They just choose not to.
"Our motto is, 'we've got ice.' So, if we do get hit, we can put ice on it," Clark said. "It's not a big deal."
"O-B-P (On Base Percentage) is life! If they want to put us on base, we're going to take it," Johns said.
"Yeah, we'd rather not move because the dugout gets on you when somebody does try to move out of the way," added Maguire.
Maguire has been hit a program-leading 48 times in her career, but after having to sit out a couple of weeks with an ankle injury this season, her teammates are on her heals! Johns is tied with Dana Hathorn (2011-2014) for second on the list, earning 46 beanballs, including a single-season record 28 plunkings as a freshman last year. Clark is next on the list at 38. (Clark's total hit by pitch is currently the third highest number, and since there is a tie for second, you could technically count her as fourth overall.)
"One time I had four bruises on different spots on one leg. It looked like somebody had beaten me up."
– Jana  Johns
If "taking one for the team" is a badge of honor, these three are certainly well-decorated, even if it hurts sometimes.
"It depends where you get hit," Clark said. "Most of the times it happens so quickly, you think, 'oh, good I get to go to first,' so you don't think about it. Then you're standing on first base, and it starts throbbing. Kenzi and I get mad because we don't get bruises, and you can't show how hard it really hit you; but Jana, she bruises!"
"One time I had four bruises on different spots on one leg," Johns recalled. "It looked like somebody had beaten me up."
Despite being plunked often in their careers, each contend that it's not on purpose.
"They like to throw me inside because it's a struggle to hit inside more than outside," Maguire said. "They end up hitting me, so it's to my benefit."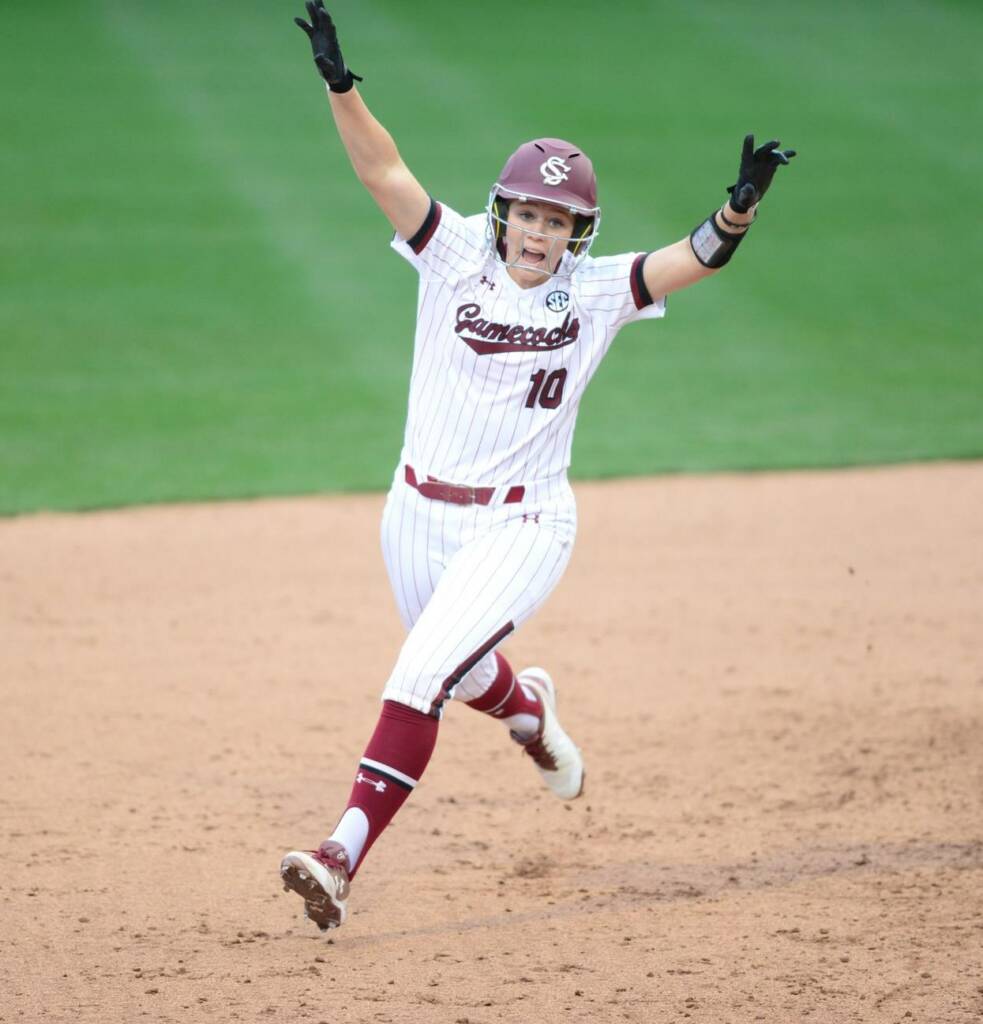 Jana  Johns
 
"I don't stand on the plate, but they pitch me inside, and I get hit," Johns said.
"In baseball, players get mad when they get hit. We're happy because we're on base," said Clark. "I don't wear a facemask, so when the pitcher is up there in the zone, you have to turn the head quick. I've only been hit in the head twice; knock wood!"
Getting in the way of pitches isn't the only thing that each does well.  Maguire is hitting .305 with 5 home runs and 22 RBI this season and earned Second Team All-SEC and All-Region honors last year. Johns leads the team in hitting (.394) and home runs (11), is tied for the team lead with 39 RBI, and earned SEC All-Freshman Team and SEC All-Defensive Team honors last year. Clark is second on the team this season in hitting (.384) to go along with 6 home runs and 27 RBI.  
Maguire still has another season to play for the Gamecocks after this year, while Johns has two more years, which could lead to some exciting competition to stay on top.
"Hey, I'm coming for you!" Johns said, pointing to Maguire.
"I'll be happy for you," Maguire said. "I don't think we've been keeping count." 
"I do think it's pretty cool that the three of us are on the same team and are at the top," Clark said.
In 2018, South Carolina set a program record with 86 hit-by-pitch. If you're keeping score at home, Liberty's Cheryl Wyrick owns the NCAA Division I single season record after being hit 44 times, while Radford's Becky Mantel (2013-2016) owns the career record with 111. Perhaps there are NCAA records on the horizon for the Gamecocks.
"You've got this, Jana!" Clark exclaimed.
Get the ice bags ready.