Stone Makes Big Strides in a Short Time with Distance Running
South Carolina junior Heather Stone is somewhat of a late bloomer in distance running, but for the Gamecocks, it has been worth the wait. Stone was a multisport athlete in high school, excelling early in her career at soccer, and she was also an all-state swimmer.
"I really didn't want to be a runner at first," said Stone, who is studying retail management and public relations. "During my first two years of high school, I wanted to play soccer in college.  I just fell in love with running when I made the commitment to it. I decided I was going to run track in the spring my last year, rather than play soccer.
"In high school, I didn't focus strictly on running. I wouldn't train year-round in high school. Transitioning here, doing different workouts, upping my mileage, and having more people to run with has really helped."
Stone opened the 2019 cross country season on a high note last weekend by taking the individual title at the Carolina Challenge with a personal record time of 17:27.7 in the 5K event.
She was South Carolina's top finisher in four of six meets last year in cross country. She recorded the ninth best 5K time (17:45.8) in program history when she finished third at the Carolina Challenge last fall. She placed second at the Charleston Classic, helping the Gamecocks win the team title and was the team's top finisher at the SEC Championships. She later ran in the NCAA Southeast Regional.
"Her improvement has been off the charts."
– Coach Andrew  Allden
Stone also excelled in the spring during track & field season, finishing fourth in the SEC 10K event and qualified for the NCAA regional in the event.
"She made a humongous jump in her career," said Andrew Allden, assistant coach for distances. "Her improvement has been off the charts."
In other sports, running distances is loathed but accepted as part of the conditioning process. Distance runners are a different breed.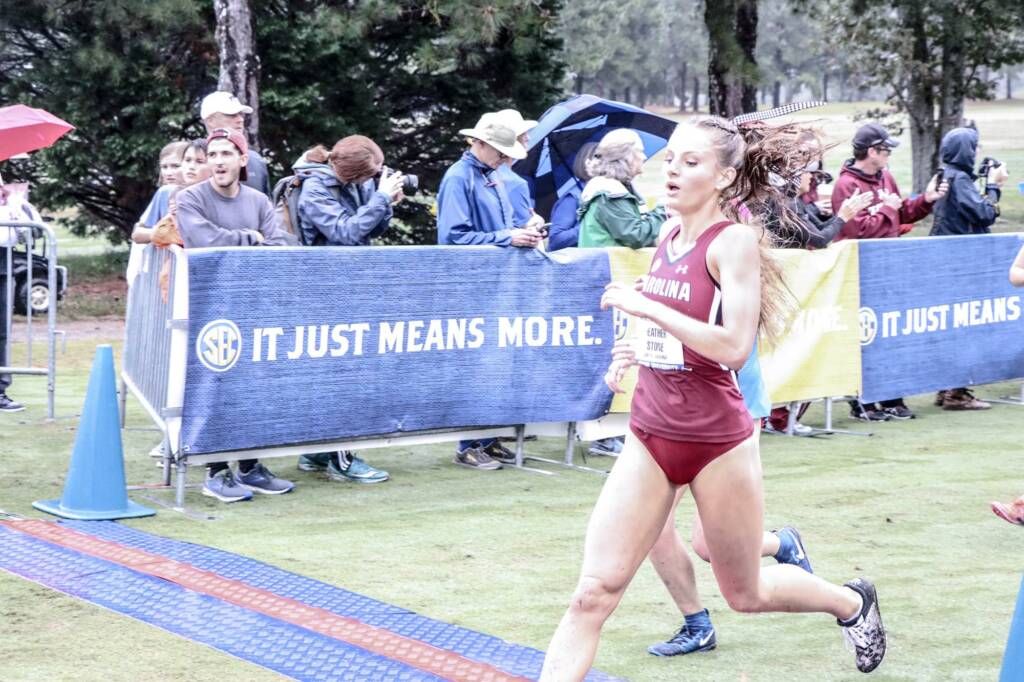 "I think it's really cool how you can push your body to different limits when you're running," Stone said "It's all on you as a runner. I like that part of it. It requires a lot of discipline, and it's mentally and physically challenging."
In high school, many of Stones teammates were running to stay in shape for other sports. Stone found it easier to transition to a fulltime runner once she was surrounded by others who had a passion for it.
"The great thing about running in college is that you have around 30 people to run with, whereas in high school, you only have a couple," Stone said. "I used to run with the boys on my high school team. The level of competition is a lot higher in college as well."
Now that she is confident in her training and seeing the results in competition, Stone looks to step up her game even more this season.
"In track, I want to try to make nationals," Stone said. "I definitely want to make it back to regionals and just improve upon what I did last year. For cross country, I would like to be in the top 25 in the SEC.
"Racing has always been hard, but as I've trained harder and become more consistent in my training, the racing has become better. I'm more confident in my races now. I look at myself as though I'm meant to be here, and that I can do this."