Kelsey Larkin has no problem overcoming obstacles
Kelsey Larkin has no problem with hurdles. If she falls, she gets back up and keeps going. That describes her mindset on and off the track or country course as the senior has found her niche not only in athletics, but also in academics as she plans to pursue a medical career.
"When I look back, there have been a lot of highs and a lot of lows," Larkin said. "There were plenty of times where studying was really difficult and running was really difficult. Having passion to become a doctor or to excel and help my teammates in cross country or track, it fuels the fire to keep going."
When she chose to attend South Carolina, Larkin aspired to be accepted into the University's prestigious Honors College. While she didn't get in initially, she was accepted as a Capstone Scholar and proved herself in the classroom in her first year. She was accepted into the Honors College as a sophomore.
"Academics have always a been a big part of my life, and I've always worked very hard at it," Larkin said. "I want to go to medical school, and I thought the Honors College would offer me the most challenges and provide for the most growth from an education standpoint. We have really cool classes, we can get a lot of extra help, and I had the chance to travel to Paris. It really provided something extra to my educational experience."
"I have fallen before and have a nice scar from the water jump. I went for a little bit of a swim at the Penn Relays last year, but I got up and kept going."
– Kelsey  Larkin
As an athlete, Larkin ran the 800m and the 400m hurdles in high school and also played soccer. She struggled initially in making the adjustment to running at the collegiate level.
"I trained with sprinters in high school, and coming here, I was training with (assistant coach for distances) coach (Andrew) Allden and the distance squad," Larkin recalled. "My freshman year was a huge adjustment to the workouts. I had never done anything that intense with that much mileage. Coach Allden really instilled a lot of confidence in me and believed in me, so I followed his program and just trusted the process."
After being an 800m runner her first two seasons with the Gamecocks, Larkin was encouraged to run cross country and found success.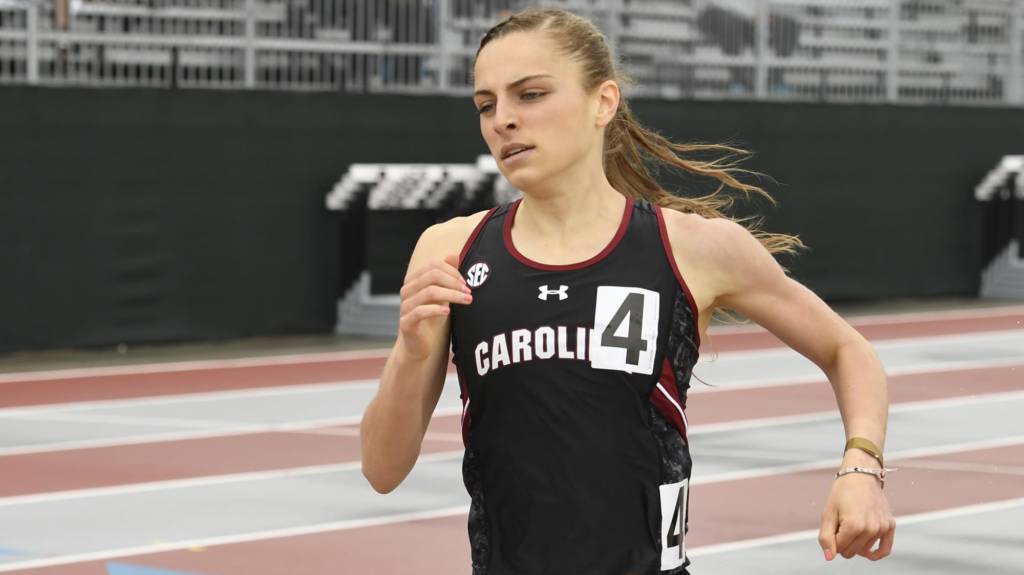 "It went really well, and I was usually our fourth or fifth runner in each race," Larkin said. "As I transitioned to college, I fell more in love with running. I admired all the hard work that it takes to go a on a ten-mile run because it's so taxing on your body. So, seeing how that went well, in indoor track season, I ran the mile and the 3K events."
With her past in hurdling, Allden suggested they combine her talents and have her run the steeplechase.
"I started doing that last spring, and that was a great opportunity!" Larkin said. "The steeplechase is a 3K, and there are four regular barriers every lap and one water jump. You approach the regular barriers sort of like a hurdle, but if you hit it, it doesn't fall. With the water barrier, you step on top of it and push yourself off to try to clear as much of the water as possible. It's deeper closer to the barrier. So, it's five barriers every lap for seven laps. I have fallen before and have a nice scar from the water jump. I went for a little bit of a swim at the Penn Relays last year, but I got up and kept going.
"I think this is my favorite event now. Excelling in the steeplechase is really cool. I feel very proud of myself, but I'm also humbled to have had the chance to run in the SEC Championships last year. That was one of my biggest goals coming into college."
In addition to finding events where she can succeed, Larkin continues to excel academically as she recently took the Medical College Admission Test and scored in the 95th percentile, which should set her on the right path.
"Hard work always pays off, eventually." Larkin said. "I'm open to anything in the medical field right now. I've always been interested in the medical field. I had a little cousin who was very sick when he was younger, and I remember visiting him and how sad it was. At the same time, the doctors saved his life, and I've always remembered that. I admired how they could treat his medical issues while also expressing compassion to our family. I sort of looked up to them as superstars."
As she prepares for her senior year of cross country and track, Larkin is not afraid to fall because she has picked herself up many times before.
"I can turn to my teammates because we have great camaraderie," Larkin said. "Everyone is so supportive. You see it in our results. We make a lot of sacrifices, but having that team atmosphere makes it all worth it, and I wouldn't trade it for anything.
"For cross country, I want to improve my times and contribute to the team. For track, I want to get the school record in the steeplechase. It's a lofty goal, but I think it's possible now that I have a year under my belt."