NFL Internship Provides Unique Experiences for Beach Volleyball's Harrison
After a noteworthy season representing South Carolina beach volleyball, senior Franky Harrison also made an impression while interning for the Carolina Panthers during their summer training camp, in Spartanburg, S.C. Working in the public relations and communications department, Harrison spent three weeks with the NFL team.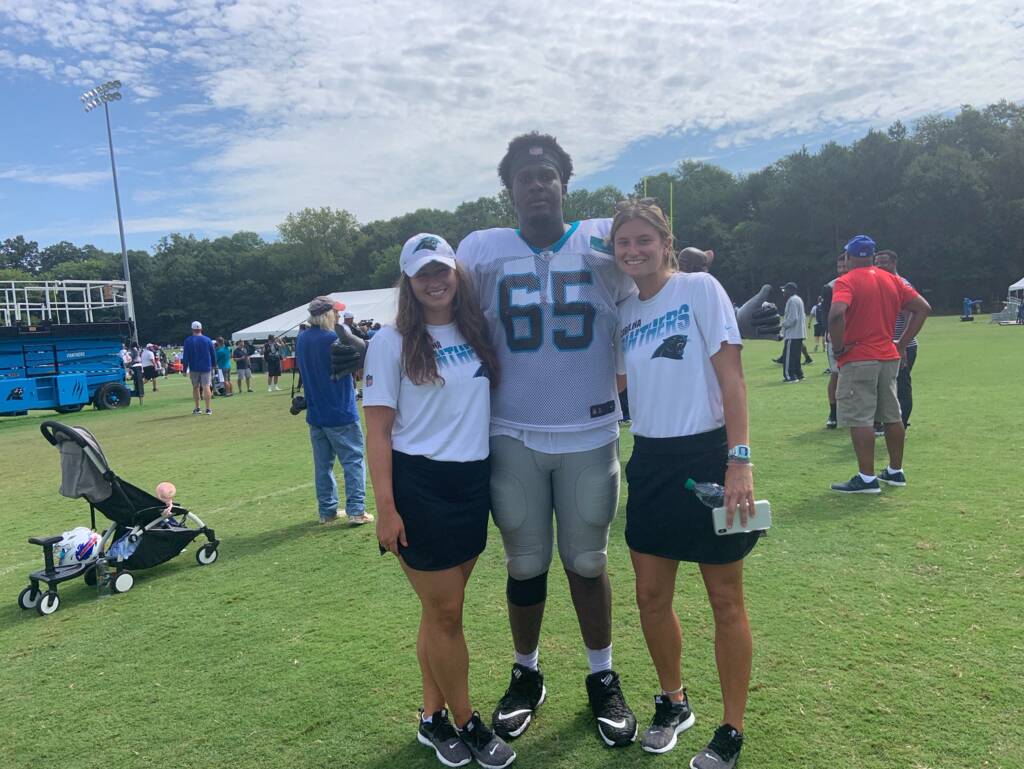 Harrison with former Gamecock Dennis Daley
"For the duration of their training camp at Wofford college I was a P.R. intern. My role was a liaison or mediator between the media and the players," Harrison said. "My responsibilities included, rotating with practice duties, giving out media credentials for all the media before camp, and corralling the media into the areas that they needed to be.
"Towards the end of practice our supervisors would text us and give us a player or two to grab afterwards for certain media outlets who wanted to interview them. I then had to explain to the players that the media wanted to interview them and what it was about. Also, if they were tired talking to the journalists, then they should give me a look and I would pull them away. I also controlled them as far as autographs (for fans) goes, making sure that we had sharpies on us."
Harrison obtained the position with the Panthers because of the Beyond Sports Professional Development and Summer Internship Program, which the Athletics Department set up back in 2017. The initiative was established to help student-athletes gain future success outside the field of athletics competition and give them the required experience in the real-world.
"Through Beyond Sports, we went and visited Charlotte as a field trip for the interns," Harrison said. "We did something at Northwestern Mutual, and then we went to the Panthers' stadium to tour it."
During the tour Harrison spoke with former Gamecock Caroline Cann, who was a successful dual sport athlete at South Carolina representing volleyball and track & field (2014). Cann now works for the Carolina Panthers as a reporter and producer for the team.
"I knew Caroline already from playing indoor volleyball here, so I had connected with her before a little bit, and she was there actually on the panel of people talking to us," Harrison said. "I was literally front and center in the media room. She looked me dead in the eye before anything had started and was like 'Let's Be Frank.'"  Let's Be Frank is the talk show series that Harrison has recorded for the Gamecocks beach volleyball team social media accounts.
"It's the coolest evolution of where we are now in media."
– Franky  Harrison
"I got to watch her do her thing. What she does is so cool. I was always interested in it because it seemed like such a cool opportunity. She's not necessarily a sideline reporter. She's the team media, all things Carolina Panthers, and access for the fans to behind the scenes. She's that liaison from the fans to the team. It's something that I would definitely be interested in.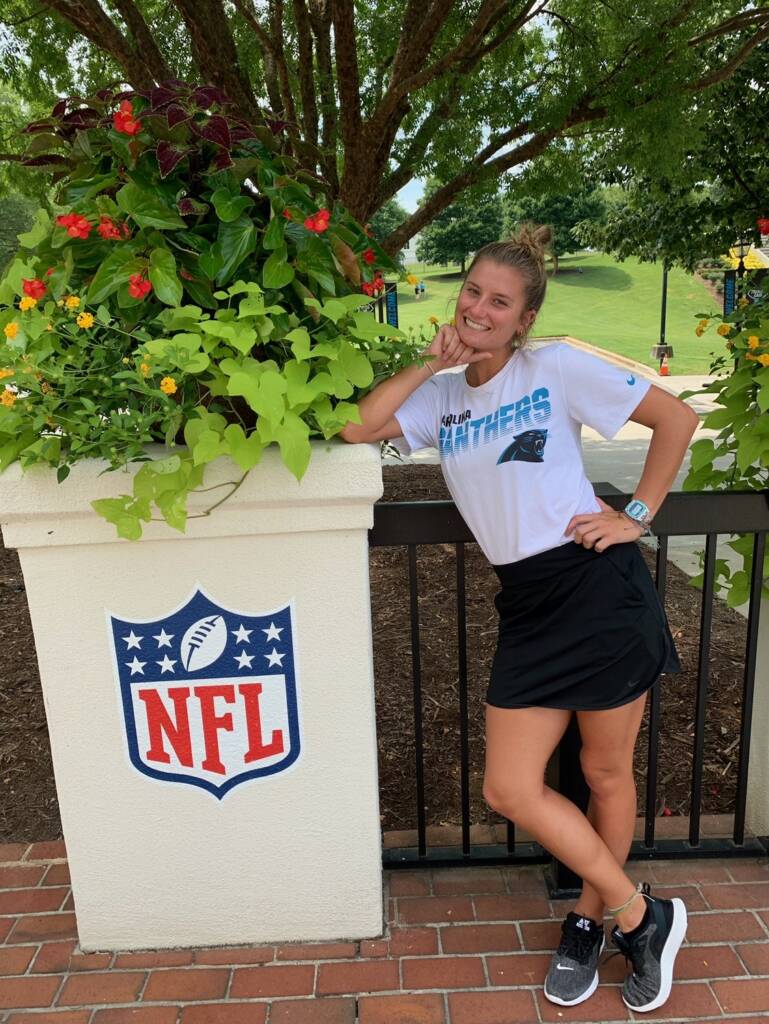 "She has a great personality and she gets to put that into her work every single day. She started doing things like vlogging for the team which I think is the coolest thing ever. She walks around with the camera with the guys hanging out and interacting with them. Then they cut and edit the videos and throw them up on the page. It's the coolest evolution of where we are now in media. It's very popular now."
Harrison, who owns a very bubbly and outgoing personality, also mentioned the opportunity to work with big time NFL players.
"I'm just a starstruck human being. I get starstruck very easily, but I think that's kind of fun. I drove Christian McCaffrey on a golf cart, and I made it a big deal on my Snapchat, and I made it a big story for all those following me," Harrison joked. "Cam Newton talked to me one time, and I made it the big deal for the rest of camp.
"It was very cool being part of that atmosphere, seeing the fans and the way they respond to the players walking by them, or when I put something on social media and people would be like 'you talked to McCaffrey, what did you say?'. It was just a cool thing to be a part of them and on the other side of it, interacting with these guys and not just being in part of a fan role."
The internship made possible by Beyond Sports and the Carolina Panthers gave Harrison valuable experiences and has helped her with what she's looking for in the future.
"As of right now my main goals are to possibly pursue graduate school and studying more of the media entertainment side of things and exploring that option," Harrison said. "I've had that in the back of my mind, and I think if I didn't explore that and didn't do it, I would regret that. It was such a cool experience in the NFL and I'm so grateful that I got to do that, but now that I have that, I can look on the flip side of it and explore what is open for me."