Tickets on Sale for Teacher Appreciation Day at Gamecock Football
BUY TICKETS

South Carolina Athletics wants to put educators in the spotlight and allow them to be applauded for their efforts throughout the year. South Carolina is once again participating in the College Football Playoff Foundation's "Extra Yard for Teachers Week" (September 14-21) with the promotion of Gamecock Football Teacher Appreciation Day at Williams-Brice Stadium on Saturday, October 19 as the Gamecocks host Florida.
Extra Yard for Teachers aims to elevate the profession by inspiring and empowering teachers using the high profile of college football. The College Football Foundation looks to tackle the challenges educators face by assisting them with resources, recognition, recruitment, and professional development.
The Gamecocks are teaming up with the UofSC College of Education and South Carolina Department of Education to host Teacher Appreciation Day at Williams-Brice Stadium. All teachers, school staff, and their families will enjoy a special discount on tickets and will be honored in various ways throughout game day. 
"Teaching is notoriously an underpaid and underappreciated profession," said former South Carolina football student-athlete Preston Thorne, who is also a former teacher and is currently working as the Outreach Coordinator at the College of Education. "It's really important for organizations like South Carolina Athletics to show them appreciation in a meaningful way. Teachers have long days and weeks, and they like to come to games, so to have them honored and celebrated as part of the South Carolina family is important.
"I taught in the classroom for 12 years at Blythewood High School, and in my current role in the College of Education, one of my goals is to raise the profile of the profession. I know so many people in education that are true professionals who show up every day and work for our students. This is just one way to show up for them. It's personal for me."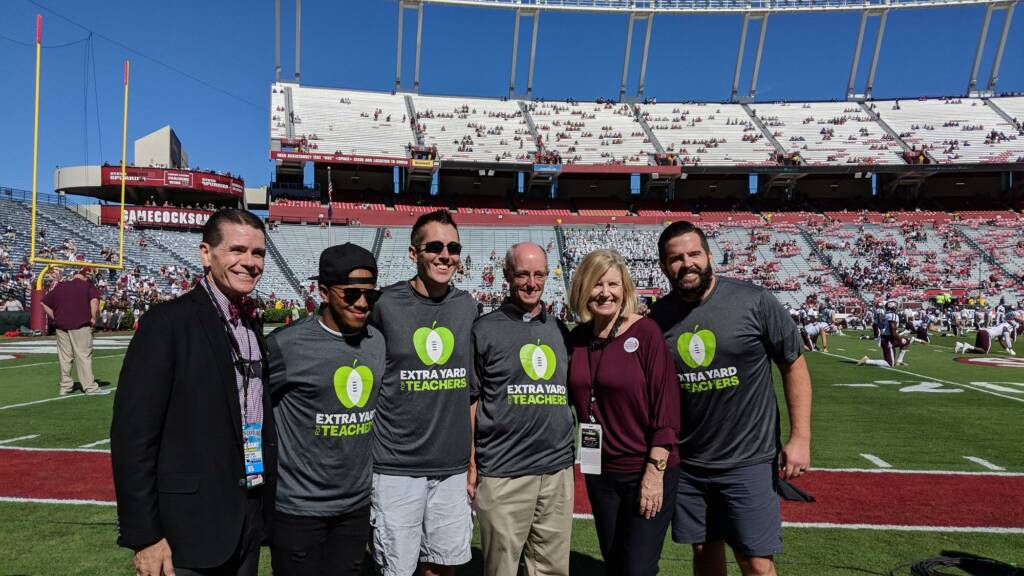 This is the fifth straight year that South Carolina has offered the discount for educators, and the event has grown each year. Tickets are only $30 each, a discount of $40, and educators do not have to be members of the Gamecock Club to buy the tickets.  In addition to the discount, teachers will be recognized on the field and with a special presentation on the video board inside Williams-Brice Stadium.
"The teachers will be invited to come out to the Gamecock Walk before the game so they can high-five the players, and we're creating a special event poster for teachers to pick up," said Thorne, who has also co-authored a pair of children's books with fellow football alumnus Langston Moore, and they have toured more than 100 schools around the state helping to promote literacy.
"I see all the teachers who have Gamecock posters in the classrooms and support the team. We know there are a lot of teachers who are die-hard supporters. There are so many teachers, coaches, and professors that have played a part in my success. A lot of folks that I've worked with have inspired me as well."
Fans will also see shout-outs from the student-athletes on social media and the video board about teachers that made an impact on their lives.
Educators who aren't regularly Gamecock fans are certainly encouraged to take advantage of the opportunity to be honored as well.
"We want to show teachers and those working in education that they are important to all of us. We want to recognize them and allow them to have a memorable experience," said Blake Woodward, Sales Manager for Ticket Sales at South Carolina. "They can bring as many guests as they'd like, and teachers from out of state are welcomed to take part as well."
Educators can purchase as many tickets as they need at the discounted rate to enjoy the game with family and friends. Interested parties can click on the web site and take advantage of the option to get seats together with friends and acquaintances through a custom link that's provided when they check out and can be shared with friends. This allows them to sit together while paying separately!
To purchase tickets for Gamecock Football Teacher Appreciation Day, please click the button at the top of the page or go to www.gamecocksonline.com/teachers.