Softball's Vaughan Makes Connections at College Football Hall of Fame
The Walking Dead may be a big part of South Carolina softball pitcher Rachel Vaughan's hometown, but the Senoia, Ga., native has a lively personality, so she spent much of her summer interning at the College Football Hall of Fame in Atlanta, where she worked as a greeter.
"I wanted to start making some connections related to my major," said Vaughan, who is studying sport and entertainment management. "I really enjoyed it. Everyone is so welcoming, and that is the atmosphere I wanted to be around.
"Don't get me wrong; home is great. They film most of The Walking Dead in my town, and there are people who dress up as zombies and just walk around, even when they're not filming. It's so funny. We have a Walking Dead museum, a Walking Dead café, and there are Walking Dead tours. It's pretty cool, but I don't watch it. I'm a scaredy-cat."
Vaughan isn't shy when meeting new people, however, so being one of the first faces that guests would see upon entering the College Football Hall of Fame was a good fit.
"I worked in the quad when you first walk into the building," Vaughan said. "I'd make people excited when they came in. It was a lot of interaction and making connections with people. I'd set them up with their favorite college team and show them the helmet wall with 818 different helmets.
"I memorized a lot of cool facts that I didn't know before, such as Notre Dame has the most hall of famers with 47. There are four people inducted into the Hall of Fame for playing and coaching, and (former South Carolina head coach) Steve Spurrier is one of them. I also learned that a lot of people who came in didn't know that Clemson was in South Carolina. It was always cool whenever someone came in and picked the Gamecocks. I'd always come over and take care of them. I also a met a girl who was a former 'Cocky' at South Carolina!"
"Seeing kids able to be kids and have fun, and then seeing adults go back and be a kid again was so much fun to be a part of."
 – Rachel  Vaughan
Vaughan also worked in other stations at the College Football Hall of Fame, including the indoor fields where attendees can kick field goals, catch passes, and show off other football skills.
"I'd throw the football where they could catch it and dive into the pads," Vaughan said. "Everyone gets excited about that. There were lots of kids, and some adults would do it. Everyone had lots of fun. People would get humbled when they tried to kick a field goal because it's harder than it looks. One group was from Texas, and one of them played college football. They heard that I was a college athlete and played softball, so they challenged me to kick it. I kicked it, and I made it! That was the only time I did it, so I finished perfect.
"When I was throwing the football to kids, the little boys would say something like, 'Did you see that girl throw the ball? Oh my gosh!' So, I received a lot of compliments on my passes."
Among the many connections she made with the guests, Vaughan helped make it a special visit for an elderly gentleman named Bob Reeves, who is a big Alabama fan.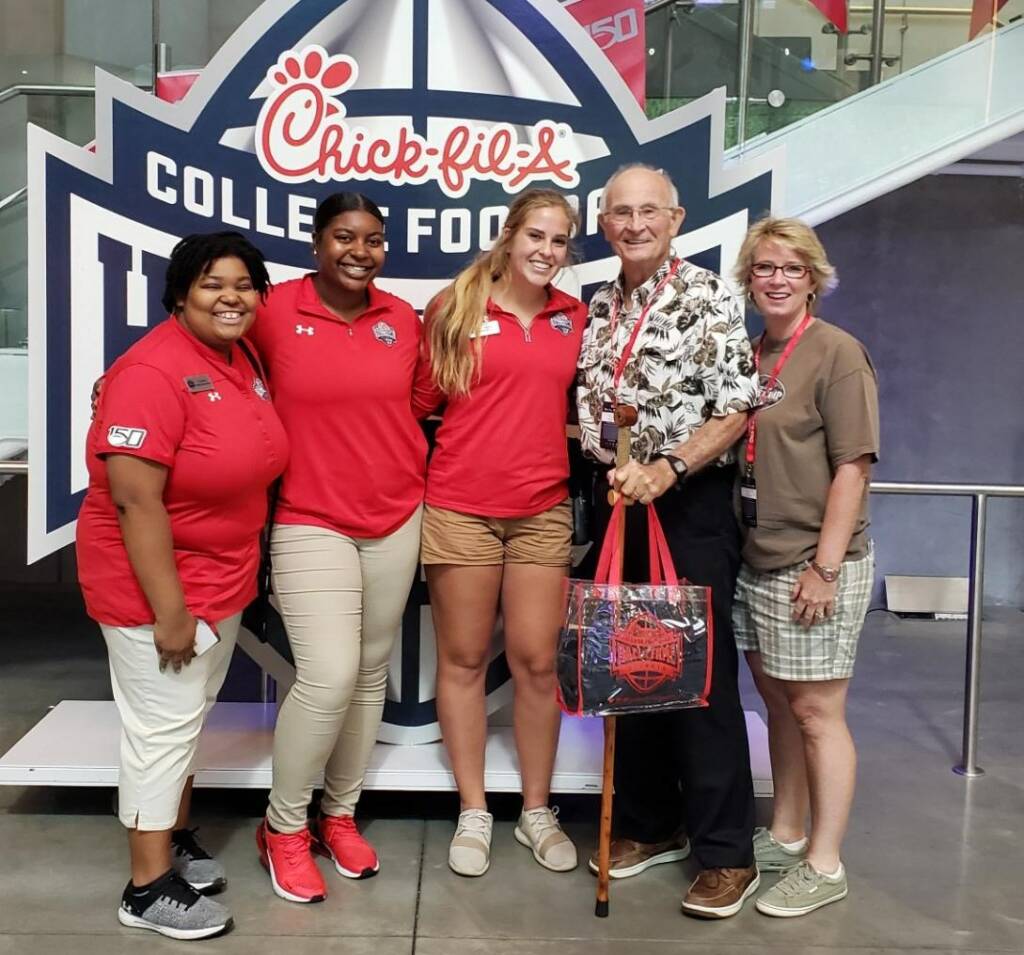 "This was my favorite part of the whole thing," Vaughan said. "He was with his friend and his daughter, and his friend pulled me aside and asked if there was anything that we could do to make his experience more special because he's on chemotherapy right now. We were able to get him a blanket with the College Football Hall of Fame symbol on it, a book about Nick Saban, an Alabama pin for his shirt, and a little clear bag that you can use when going into games. He really enjoyed it! It was so sweet. We were all crying."
Vaughan said that the interactive experience is what makes the College Football Hall of Fame special.
"When you buy your ticket, you get a pass with a lanyard. There's a chip in the pass that allows you to have more of a fan experience when you go through. The first thing you do is go to a kiosk and pick whichever school you want, ranging from (NCAA) division I to NAIA schools. When you scan your pass, the helmet will light up red at first and then blue to show that someone has come in representing the school that day. When people choose a D-III school, they get so excited to see their helmet and stuff there.
"It is so interactive. Anytime you walk up to any of the technology, it will tell you more about that team that you picked. This place talks to you and gets you to interact. There is so much to do, such as singing fight song karaoke, you can record yourself doing play-by-play, you can be part of the Game Day desk, which records you doing that, there is virtual reality, so it looks like you're actually in the game, and a ton of other things. It's so cool."
Vaughan said she hopes this won't be the last time she works at a place like the College Football Hall of Fame.
"Now that I've done it, I can see myself there or at a place like that in the future," Vaughan said. "It was a cool experience. I loved seeing their jaws drop when they first walk in and see the wall of helmets. I get to do this every day, and my jaw drops each time! It's a neat first impression. Seeing kids able to be kids and have fun, and then seeing adults go back and be a kid again was so much fun to be a part of.
"I learned a lot about communicating with people that I hadn't met before, so I definitely would like to go back there. I think it was much more exciting than The Walking Dead; at least for me!"