Softball Alumna Finds Niche in Mental Performance Research
Dr. Megan (Matthews) Buning (1999-2002) is one of South Carolina softball's all-time greats, and now she has found a unique way to give back to the game. A former coach who now also spends time in the SEC Network broadcast booth, Buning's full-time job is as an Associate Professor of Research at Augusta University where she not only teaches but has eagerly immersed herself into research focused on improving the mental performance of umpires and game officials.
"My passion is taking this applied approach to delivering what I know about mental performance and being able to deliver it to individuals who are hungry and need it," Buning said. "In becoming a member of a faculty, I want what I do to be meaningful. When you spend so much time on research, I want it to be influential. I think I've found a niche. It gives me a unique way to give back to the game that has done so much for me."
Her experiences as an athlete, coach, educator and researcher have overlapped in a way that's now satisfying.
"Bringing my research into my love of the game is a passion," Buning said. "I was able to merge my coaching and playing experience with my research in a way where mental performance is involved. My master's degree was in psychology, and over the last 12 years I have researched in that field. I had this itch to get back into the roots of sports psychology but do it in a practical way that would have an impact on somebody, immediately."
After the launch of the SEC Network six years ago, Buning was tabbed as an analyst for broadcasts on the digital platform (SEC Network+) for broadcasts of South Carolina home softball games.
"That's when I really started noticing the criticism and the social evaluation of the umpires," Buning said. "My respect for them went to another level. They have to know the rules, and they have to act a certain way to keep their jobs. It changed my perspective, and that started changing things for me, too."
This also opened the door for Buning to make a connection with the umpire coordinator for the SEC, Christie Cornwell.
"In conversations with her, a light bulb went off, and I realized that umpires and game officials across the board are not receiving mental performance assistance or mental health assistance," Buning said. "That didn't make a whole lot of sense to me. I wanted to see if I could take my research and deliver some mental performance training for game officials to see if it could help. Since March of 2017, I have worked with more than 100 collegiate umpires and have worked with some game officials from other sports.
"What I'm finding is that they have strategies in place, but they're based on what their mentors taught them or they're using methods simply to survive. They're doing some things, but there's not a fluid connection as to why they're doing things. Somebody asked me recently, why do they even want to umpire with all the criticism that they get?  Across the board, the answer I get is that they do it because they love it. The biggest issue that they struggle with is the ability to focus; it can be when they're tired or after a controversial call or they've gotten chewed out over a call. Just like athletes, they have to be able to snap back and get back to what they're doing. That's what they can struggle with."
Although she is just scratching the service, Buning is seeing her research efforts pay off.
"With the data I've found so far, in delivering mental performance strategies and training to them,  we have to start at the base level, but even through a workshop approach and giving it to them in training camp, it does help them improve in the belief in their ability," Buning said. "Those working in the group training over the course of a season are showing significant improvements in improved scores and belief in their abilities. The other thing I see is that they're hungry; they don't want to be railed on. They want to improve."
"There are skills you can take to go from being an athlete or a coach that will translate over to other things."
The desire to succeed is not lost on Buning. The Greer, S.C., native was an outstanding hitter coming out of high school and was recruited as a utility player by legendary South Carolina coach Joyce Compton.
"I came in as a freshman and wanted to pitch," Buning said. "I had a conversation with Coach Compton about it. She told me that she was going to give me the opportunity to show what I can do in practice. The rest is history."
Buning made an instant impact that would lead to a brilliant career. As a freshman, South Carolina won 49 games, with Buning collecting 29 wins in the circle to go along with a program-record nine saves on the way to earning NFCA Third Team All-America honors. She helped the Gamecocks win the 2000 SEC Tournament the following year, while taking home tournament MVP honors.
"After my sophomore year when we won the SEC Tournament, that's when it became apparent to me that other teams were scouting me and pointing to me, specifically," Buning recalled. "That's when I embraced that, yeah, I'm intimidating, and I'm going to work it for what it is. That's when I realized it was an advantage."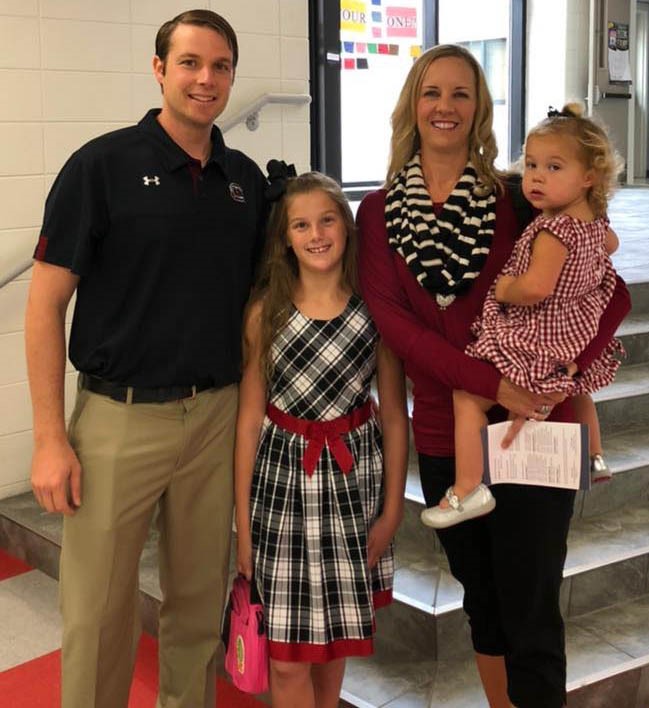 Megan Buning with husband, Shaun, and daughters, Emory and Lucy.
The two-time All-SEC and four-time All-Region performer continued to pile up the accolades while helping South Carolina reach the NCAA Tournament in each of her four seasons, and she is still the program's all-time leader with 1,090 career strikeouts. She was inducted into the South Carolina Letterman's Association Hall of Fame in 2013 and was later honored as an SEC Legend at the 2017 SEC Women's Basketball Tournament.
Buning was also an honor roll student and graduated with a degree in exercise science. As much as softball was a part of her life early on, she didn't define herself as only an athlete.
"When I first got out of school, I made the statement that I will never touch or look at softball again," Buning said. "That lasted about three months. I played professionally and was giving lessons. While I was playing professional, I hated it. It was different. I saw a position opening for a pitching coach at Florida State, and Coach Compton encouraged me to apply. Throughout my coaching career, I never felt settled. I felt like it was something I could do, but it just wasn't right."
Buning worked on coaching staffs at Florida State (2004-07), Coastal Carolina (2008-09) and Mississippi (2010-11). While coaching may not have been in her blood over the long haul, those stops allowed her to continue to satisfy her thirst for knowledge as she earned master's in sports psychology from Florida State and a Ph.D. from Ole Miss. At Augusta University, she teaches quantitative and qualitative research courses to graduate students, but she admits that she didn't initially seek out a career in teaching after earning her degrees.
"I wouldn't say this is something I wanted to get into," Buning said with a laugh. "It was odd. When I was completing my doctorate degree, I was thinking maybe I wanted to get into athletics administration, but when I went on interviews, it just wasn't jiving with me. I think I was still a little bit jaded about coming out of coaching. My advisor for my doctoral program had me teaching statistics, and she made the recommendation about teaching. I realized I could teach similarly to how I coach; that's where I have to be very active and engaged to teach the athlete. The seed was planted, and I made a 180 from the field to the classroom. I'm at a place where they allow me to be me.
"They were really going out on a limb in hiring me. They told me that one of the things that made me an attractive candidate was my athletics experience. They understood the value of what athletics could teach to an athlete and a coach."
Buning hopes her career path can inspire other former athletes and coaches who are trying to find their way in life after athletics.
"My journey has been all over the place," Buning said. "For athletes who are transitioning, making a career change is never easy. When you feel like you're about to step off the ledge with a career, you have to trust yourself and see where it takes you. Ultimately, this has been a tremendous amount of work, but I've had a lot of support from the people around me. I want to encourage them to know they don't have to be pigeon-holed into one thing. There are skills you can take to go from being an athlete or a coach that will translate over to other things. Don't feel like you're trapped. You can do what you want to do. You just have to work hard."
Buning and her husband, Shaun, live in Evans, Ga., with their two daughters Emory (10) and Lucy (2).