Time Allows Schoonmaker to Gain Perspective
Chrissy Schoonmaker's (2004-2008) comeback started 13 years ago, but the former South Carolina softball student-athlete isn't done writing her story. Schoonmaker broke her neck in a car accident in the fall of 2006 and was told her athletics career was over. She not only found a way to get back and compete, but she also continues to find ways to give back to the game and inspire others after spending more than a decade as a coach and recently coming back to her alma mater to work as an Assistant Director of Development for South Carolina Athletics.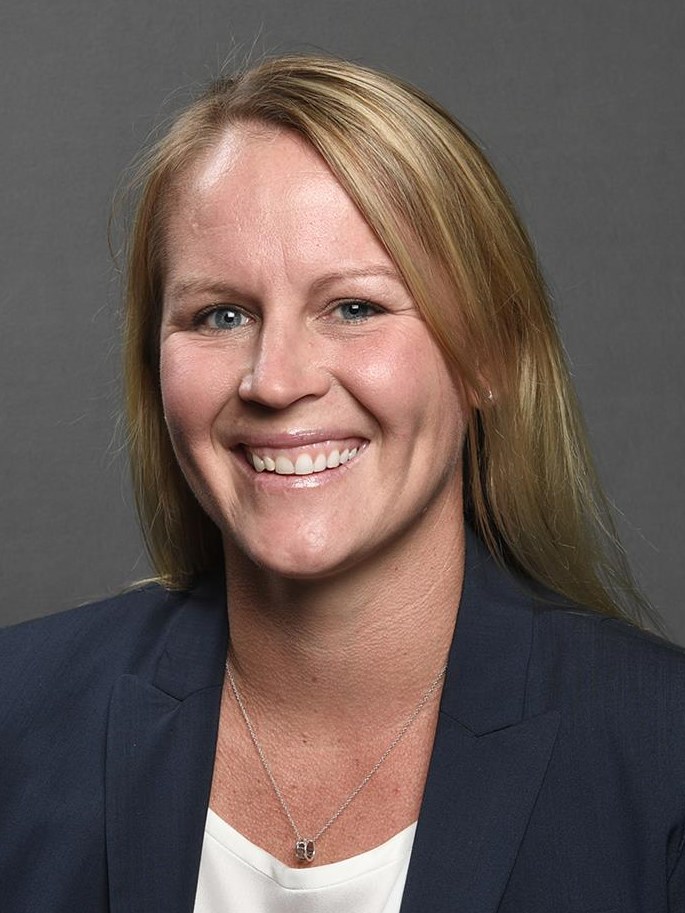 Citing a lyric from a favorite singer, India.Arie, Schoonmaker said "there's a blessing in every lesson.'"
I often refer back to that lyric with regard to the injury and how much it has taught me since then," Schoonmaker said. "That time in my life was a great teacher and an experience I've been able to share with many people to help inspire them when they go through a challenging time.
"It is an experience that was certainly challenging yet has also been the greatest teacher in my life thus far. It's cliché to say, but I am grateful that it happened as it has helped shape who I am and how I go about every day."
The accident happened in November 2006 when Schoonmaker was returning to campus after Thanksgiving break from her home in Sebastian, Fla. Her car flipped three times and rolled off the highway.
"To this day, I still haven't looked at photos from the accident, and I really don't want to see what happened," Schoonmaker said. "Your brain can block out some really hard stuff that you go through, but apparently, I punched out the glass and crawled through it to get out and walked to the side of the road. I know my neck really hurt."
After being taken to a hospital where they told her she had broken her neck, she was transferred to Halifax Medical Center in Daytona, which had a skilled team of neurosurgeons that was better equipped to deal with her injuries. 
"I remember staring at the ceiling tiles, and I kept asking, 'what's happening?'"  Schoonmaker recalled. "I told them that I can't break my neck because I play softball at South Carolina, and I'm a senior, and I'm a captain! I was pleading my case to the doctor as if he could change the result.
"I broke my C-2, which is where your skull basically connects to your vertebrae. The fracture is known as the 'hangman's fracture' because years and years ago, when people were hanged with a noose, that's the bone that snaps and hits your spinal cord, so you are paralyzed. Mine shattered and broke in three places, and my doctor called me his miracle patient because he had no idea how the bone broke and didn't hit my spinal cord. If it hit it, I would have been in a wheelchair the rest of my life. It's the same injury that (actor) Christopher Reeve had." 
Doctors had a couple of different options, including fusing her vertebrae together, which would permanently limit her range of motion and make it impossible for her to ever turn her head again. Because of her strength training as a student-athlete, doctors instead decided to put her in halo device which was held into place by four screws drilled into the front and back of her skull. She wore the device for the next several months and later wore other neck braces for a few more months once the halo was removed. During that time, Schoonmaker didn't give up on playing softball again.
"I told Coach (Joyce) Compton that I wanted to play the next year. She told me to take care of my health first, and if I could play next year then I would have a spot. I didn't allow myself to believe there was another option, regardless of what the doctors were telling me. When your world is devastated, you have to have something to hang on to."
That was all the motivation that Schoonmaker needed. Although she couldn't play in the spring of 2007, she was as active as she could be with her team. While wearing the halo, she had to be extremely careful not to have any jarring activities that could cause the bones to move into her spine, so she spent a lot of time initially going on walks with her mom when she was at home over Christmas break.
"There were so many people who saw me and stopped and told me that they'd been in a halo before," Schoonmaker said. "They told me, 'you can do this.' I didn't know them, but they were active and running and doing things. Later, I was in a bookstore, and a stranger came up and gave me a book. He had told me that he had broken his neck diving into a pool and wore a halo after. Now he lives an active life. He was probably in his 50s at that point. When I opened the book, it just said, 'God has a purpose for your life.'"
"That meant a lot. So now, 13 years later, anytime I see somebody in a halo or a neck brace, I make it a point to stop and offer them encouragement."
"It is a chance to help contribute at the place that built me and did so much for me as a person, student, and athlete."
The 2007 season ended up being special for the Gamecocks as they hosted the NCAA Regional, but they were the lowest seeded team in the regional. Still, they won the tournament to advance to the Super Regionals.
"My teammates didn't treat me any different even though I couldn't play," Schoonmaker said. "They even decorated my halo like a Christmas tree with lights and everything. That was a hard year to be watching, but going into the year, our goal was to not only go to regionals, but to go somewhere that we hadn't been before. I do believe that as a leader and a captain, I contributed more that year than any year that I was playing. I think it's because I wasn't worried just about what I was doing. I was focused on people on the field and in the dugout and what they were seeing when they went up to bat. It was kind of like being a player-coach. I relayed a lot of what I was seeing, especially to the young freshmen that hadn't been there before."
It wasn't always easy being in the dugout, even as her bones were healing well and the halo device was removed.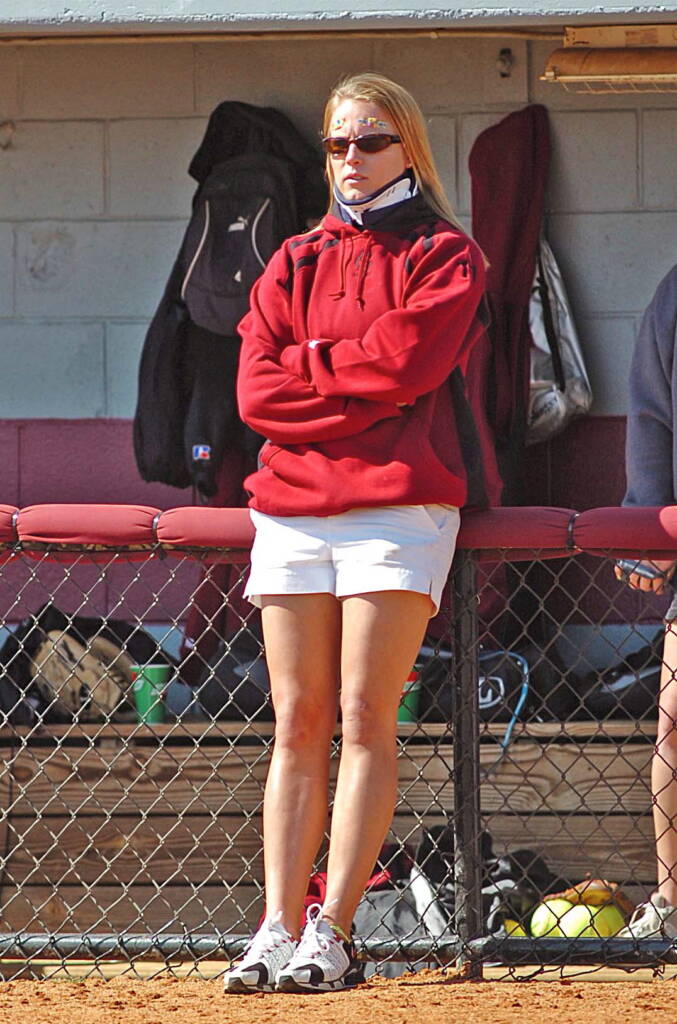 "Becky Martinez fouled one into the dugout, and I was in and out of neck collar at the time because this was in late May, and it hit me square in the eye," Schoonmaker said. "I had to get six or seven stitches. I was all bloody, and I had a black eye."
Following her redshirt season, she earned her undergraduate degree in psychology in 2007 with a minor in sports management and earned her master's in mass communications a year later after getting the chance to play as a fifth-year senior in 2008. Schoonmaker did all that she could to stay in shape throughout the healing process, and when she was fully released, she was more appreciative than ever before.
"I was thankful to play catch. I was thankful to go run," Schoonmaker said. "I could go 0-for-3 at the plate, and nobody wants to do that, but I could say, at least I got to do that. I was able to compete."
With degrees in hand, it was time to start thinking about a career. Former Athletics Director Eric Hyman offered her an opportunity to work with the Development Team during the launch of the "Yes" campaign, which centered around a master plan for facilities. She also caught the coaching bug and was an assistant coach at Dreher High School in Columbia.
A couple years later she was working in communications and event planning at Lexington Medical Center when she reached out to new Gamecock softball head coach Beverly Smith and eventually landed a position as a volunteer assistant coach, where she served for two years. Schoonmaker transferred into the emergency room, working the night shift at Lexington Medical Center so that she could be as involved as possible with coaching during the day. After receiving several offers for fulltime jobs at other schools, Schoonmaker moved on to become an assistant coach at Texas Tech and later held a similar role at Houston before landing at the University of Connecticut, where she spent five seasons.
"The best part about coaching is that age 18 to 22 is an age where young people are figuring out who they are," Schoonmaker said. "Everything is new to them, and you get to lead them and guide them. You feel the impact you make on a daily basis. You feel like you're making a difference in someone's life.
"It's amazing the things you learn about yourself when things aren't going well, such as how to lead. I've been able to share that message with kids that I coached the last 10 years. I've had kids that have had injuries or had deaths in their families, and to be able to draw back on what I did in that time was helpful."
Schoonmaker continued to prove her doctors wrong well-after he softball career. After her accident, doctors had not only told her that she would never play softball again, but it was also unlikely she would ever run again. Schoonmaker proved them wrong again and ran the Hartford Marathon while coaching at UCONN in 2017.
"It was somewhat of a bucket list item for obvious reasons and when I crossed the finish line, I had tears in my eyes because I remembered everything that had led me to that moment," Schoonmaker said. "Our coaching staff and some of our players had come to support and encourage and when they met me at the finish line, that moment was another celebration of all that is possible when you put your heart into something. That was another milestone in the comeback and the story that I guess is still being written."
Despite offers to remain in coaching, Schoonmaker was excited about an opportunity to come back to her alma mater in a different capacity. While she misses being a coach, she is excited about her new opportunity at South Carolina.
"I whole heartedly believe this was an opportunity to come back to my alma mater, say thank you to those donors and supporters who directly contributed to my Carolina experience and make an impact for the current student-athletes here at South Carolina," Schoonmaker said. "It is a chance to help contribute at the place that built me and did so much for me as a person, student, and athlete. I also believe this opportunity here at Carolina offers the chance to grow professionally, stretch outside of my comfort zone and develop in the ever-changing world of college-athletics.
"There's still that itch to make a difference with young people."