Offseason Commitment is Paying Off for Katie Prebble
After breaking home run records at another school as a freshman, followed by a season of struggles in her first year at South Carolina, junior designated player/outfielder Katie Prebble is determined to do more, and is she isn't happy to rest on her previous achievements.
"I don't think I've ever considered myself a home run hitter because I can do pretty well around the bases," Prebble said. "A ground ball through the infield when the infield doesn't have time to react is a good time, too."
Prebble is neither superstitious, nor is she driven by statistical goals.
"That's too much work. I don't need to focus on ten different things. I just can't," said Prebble, who is majoring in sport and entertainment management with a minor in biology. "I'm not a numbers person, and I'm terrible at math. I don't think about stats. That's not for me. If you go up looking for a home run, you're going to pop up. I make a plan with (Assistant) Coach (Kaela) Jackson for every single game depending on who we're playing and what the situation is. I just try to relax and get the job done, whether it's bringing someone in, or if I just need to get on base."
Prebble started her collegiate career at Gardner-Webb University in Boiling Springs, N.C., where she clubbed a Big South Conference freshman and school record 23 home runs, while batting .438 with a school record 71 RBI. Oddly enough, Prebble didn't hit many home runs in high school.
"I hit seven, maybe?" Prebble said.
That all changed her freshman year at Gardner-Webb where she was named the league's Freshman and Player of the Year while taking home NFCA Third Team All-America honors.
"I don't know what happened," Prebble said. "Maybe I got a little stronger. I was really fortunate to get the opportunity to play at Gardner-Webb because I was a couple of months away from not going to school at all. I was a nursing major originally, and nobody wanted anything to do with me (due to nursing requirements conflicting with athletics schedules). I knew that I was really lucky to have that opportunity."
While some athletes are happy to show off their achievements, Prebble doesn't live in the past.
"I asked my mom where (the awards) were the other day," Prebble said. "I have a shelf in my room at home, and then I have a box. So, they're either in the box or in the closet or on the shelf. I don't give them much weight. I don't carry them around with me. They're just titles. I am really appreciative of the awards, and I worked hard for them, but at the same time, there's always something else to strive for. I think if you sit on the awards you were given, it will be harder to grow. I'm looking toward the next goal."
After a year at Gardner-Webb, Prebble decided to transfer and landed at South Carolina.
"I wanted to play at the highest level possible," Prebble said. "I wanted to challenge myself."
"I'm enjoying the game a lot more now."
Transitioning to the SEC wasn't easy. In her first season with the Gamecocks, Prebble struggled to crack the lineup. She hit .156 with four home runs in 45 plate appearances. Rather than being discouraged after the season, she committed herself to proving she belonged.
"The pitching and the competition that we play here is at a different level," Prebble said. "I had accomplished a lot, but I still had so much to learn. I really appreciated last year because I learned more from watching my teammates play than I could have ever learned my freshman year because the level that they trained at was so much greater. I learned something new every day from my coaches to build my game. There was a big learning curve.
"It was hard at first. After talking with (Head) Coach Bev (Smith), I realized how much I wanted out of myself and this program. At the end of the season last year, I had an exit interview, and I just knew I had so much more to give. I knew that this program was really special, and that I needed to take advantage of being here."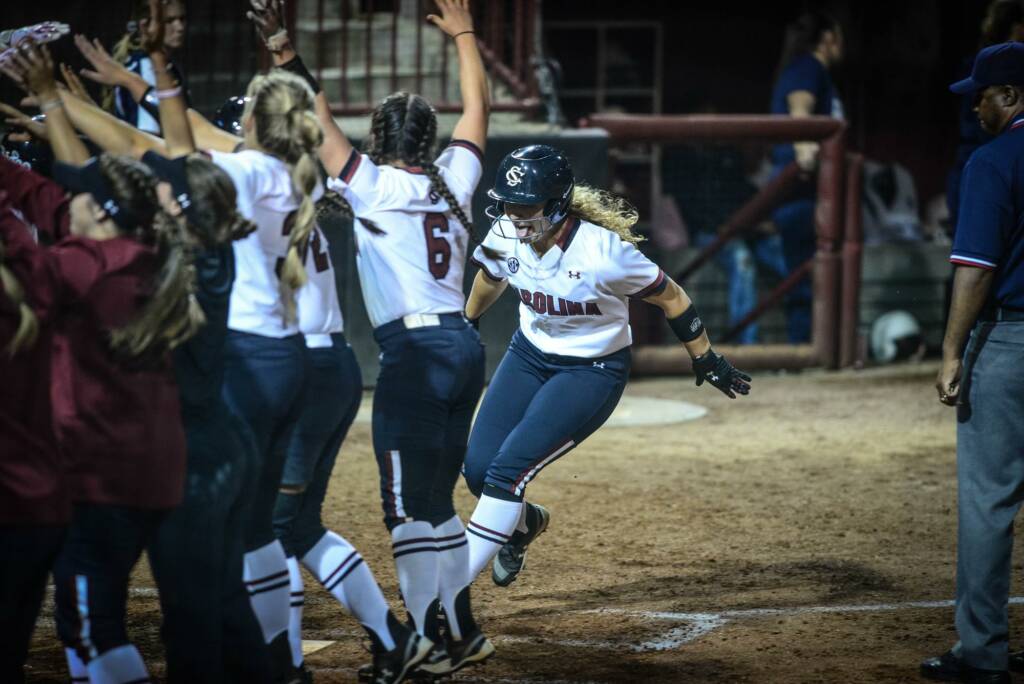 Over the summer, Prebble interned at a gym back home in Maryland where she trained relentlessly.
"I worked out every day, twice per day, and did all the crazy things they thought I could do because I was the young kid there," Prebble said. "All of the trainers there were huge for me. I also played on a U24 team in Pennsylvania."
Prebble has worked her way into the starting lineup this year and has not disappointed in the early part of the season. She enters this week leading the team with six home runs (a seventh home run against James Madison was erased when the game was ruled unofficial after exceeding the tournament's scheduled drop time) and also leads the Gamecocks with 23 RBI.
 
"I'm enjoying the game a lot more now," Prebble said. "We have so much energy in the dugout. We have more energy in the dugout than any team we've ever played. It's exciting to have that spark. It's nice to have that chip on your shoulder and to always know that you've got 20 girls there who are going to support you and hold you up if your struggling."
Having circled the bases 33 times in her collegiate career, one would think she is getting used to hitting the big fly.
"Sometimes I can't tell that it's a home run, so I have to run it out a little bit," Prebble said. "Once it's gone, then I tell myself to slow down. I used to sprint them out. I was really excited."
Prebble slugged a majestic home run this year in a win at home over Georgia Southern, which not only easily cleared the left field wall and screen, but also the nine lanes at the Sheila and Morris Cregger Track & Field Facility, before landing in the infield grass of the facility. 
"I didn't watch it, so I didn't know where it landed. Now I'm wishing that I did," Prebble said. "It's just about being relaxed and getting the job done."
While she may not consider herself a home run hitter, she certainly enjoys a round trip.
"My favorite home run from last year was definitely at Auburn," Prebble recalled of her seventh inning long ball which helped win the game and clinch the three-game series. "It was a pinch-hit home run. Just coming home and having everyone in the tunnel screaming for me was great.
"We have the best home run tunnel. It's so much fun when you run through, and we always have someone at the end to give you a big hug. One of the best parts is high-fiving (Associate Head) Coach (Lisa Navas) Nav when you're rounding third because she always has something different to say to you and has funny comments. I also like seeing the shortstop kicking the dirt or the outfielder sitting down or crouching down. It's just so much fun now."