Silvia Chinellato is Keeping Up with COVID-19 on Two Fronts
The coronavirus pandemic has made things tough worldwide, and for South Carolina tennis senior and Italy native Silvia Chinellato, who has worked through a few injuries in her career, overcoming adversity is becoming a habit.
"I was really sad that I couldn't go home," Chinellato said. "A lot of my friends here have gone home. A friend from Spain went home, and another girl from Brazil is going home, but my part of the country is closed down. I am glad that I have a family here that is here for me. I do want to go home, but I have to wait for a good time because I don't want to have to quarantine myself. It's been hard, but I'm glad I have people here helping me out. Coach (Kevin) Epley has been here to help me with whatever I need. The people here have been really helping me, so I'm not as concerned for now."
Chinellato was last home in Como, Italy, over the Christmas break. She speaks with her family every day
"Everyone in the family is healthy, so that's good!" Chinellato said. "It's a mandatory quarantine. So, if you want to leave the house, only one person can do it if they need to go to the convenience store or things like that. You have to have a permit from the police. They just have to stay at home unless it's absolutely necessary. It's kind of tricky.
"They've told me to stay home. They don't want for it to get as bad here as it did in Italy."
With the University closed, Chinellato is staying at the home of her boyfriend's family.
"You have to be careful of the people you stay around because you can infect older people in the family who are more at risk," Chinellato said.
A two-time ITA Scholar Athlete, Chinellato has been a steady contributor in helping the Gamecocks reach the NCAA Tournament every year as well as winning the SEC Tournament title last year.
"It will be nice to pick up where we left off and see how far we can go next year."
The Gamecocks were off to a solid start this spring, winning their first four SEC matches before the rest of the season and all spring sports were canceled. Although what should have been her senior year has been canceled, Chinellato is excited about the prospect of coming back for a fifth year following the NCAA's recently ruling for spring sports student-athletes who lost a year of eligibility due to the COVID-19 pandemic.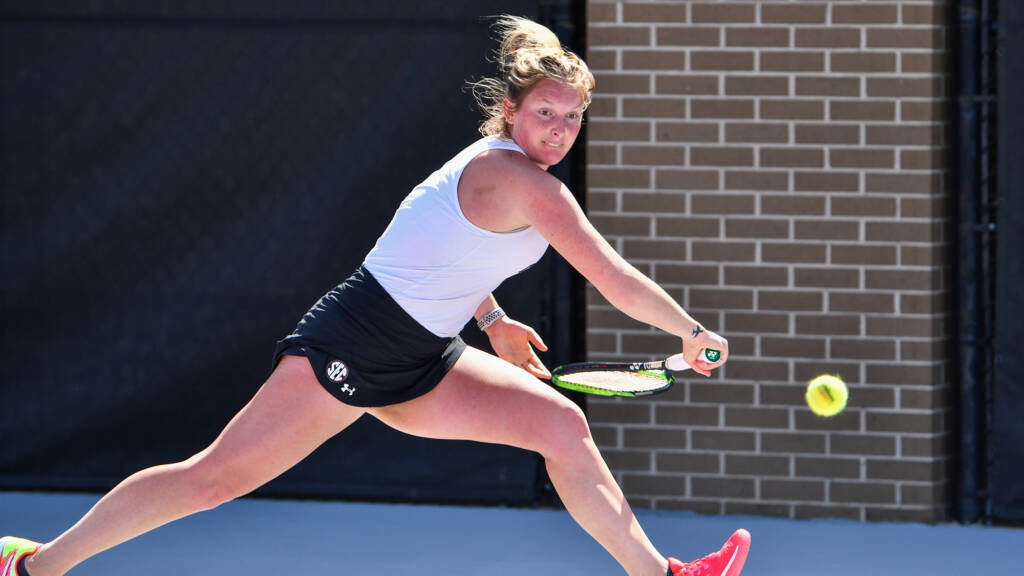 "It was weird because I didn't expect my career to finish like that," Chinellato said. "I was sad and kind of surprised. At first, I thought that this was the end. It's not in my control, but after looking at how my parents were doing, not in terms of their health, but how their lives were being altered, I thought if this protects people's situations, then OK. It's miserable in Italy right now. Italy has lost a lot in the tourism industry and a lot of people are sick. Seeing that, I'm glad they're trying to prevent that situation in the United States.
"The team was doing great. The NCAA decided really quick about getting our eligibility back, so this is great. At first, I thought about how this was not how we thought our senior season would go. We were looking forward to senior day and everything like that. I understand people are sad about losing their seasons, but in talking to my parents and having them explain how things got really bad there, I can see why they have taken all these measures here."
Chinellato suffered a knee injury as a sophomore, but was able to bounce back, only to having some issues in her other knee this year. She is scheduled to have surgery on her knee and is thankful that the operation is still able to be performed.  
Now she is looking forward to a time when the COVID-19 pandemic is in the rearview mirror, and a healthier version of herself can have a great final year of college athletics.
"I'll be back completely healthy," Chinellato said. "There is plenty of time to practice for next year. I've battled several injuries in my tennis career. My coaches and my teammates were really supportive in my coming back when I got hurt before. Everyone has been amazing. I had to be motivated with all that support around me."
Like everyone else, she is facing new challenges. Accustomed to her schedule being filled up with classes, practice, travel and other team-related activities, Chinellato is finding ways to occupy her time.
"I love cooking, so I'm cooking a lot lately," Chinellato said. "I play tennis a little bit to keep myself busy. I work out a little bit and go kayaking or listen to music. I'm not really a person who watches TV. I'd rather go do something active."
Having already earned her degree in hospitality and tourism management, Chinellato is working on her master's degree in the same field. She had planned to work as a volunteer assistant next year with the women's tennis team, but now she looks forward to joining them on the court.
"I'm really excited to be with my teammates again and spend more time with the coaches who have helped me a lot over the last four years. We have two freshmen coming in that are really good. They're really nice and great people. We've been doing great this year, so it will be nice to pick up where we left off and see how far we can go next year."