Tough Luck Can't Keep Kyle Gurrieri Down
Kyle Gurrieri doesn't let tough luck keep him down. South Carolina soccer's fifth-year senior has missed most of the last two seasons with knee injuries, but he keeps battling back to chase his dreams.
"I've just learned that you can never give up," said Gurrieri, who is a media arts major with a concentration on graphic design. "If you want something, it takes hard work and dedication. You have to keep your mind right and on the goals that you want to achieve. If you do that, anything is possible, so there's no reason to ever give up."
Gurrieri was a highly ranked recruit coming out of Passaic High School in New Jersey and spent time playing on the U14, U15 and U17 U.S. National Teams. He played his first year at Syracuse and then decided to transfer.
"I just felt at home here. I felt such a connection to the coaches," Gurrieri said. "It was like a big family here. I loved the facilities, and I loved the campus. I thought it would be a great place for me to keep improving and take my game to the next level."
Through no fault of his own, getting to the next level proved difficult. In the third game of the 2018 season, Gurrieri tore his ACL and meniscus in his left knee against Clemson and was lost for the year. Last year, Gurrieri played only six games after more problems in the left knee which resulted in the removal of his meniscus. Despite the setbacks, Gurrieri never thought about giving up.
"I want to be the best leader that I can be and support everybody."
"It's hard. It takes a big toll on you, mentally," Gurrieri said. "Soccer has always been my life. I've always had a dream of playing professionally. That's what kept me motivated. I tried to look at it in a positive way as it helped me with other aspects of my life. I know there is more than the game of soccer, but it also kept me motivated and grounded. It showed me that this was really what I wanted to do with my life.
"South Carolina has a great support system. My coaches were there for me day in and day out. The athletic trainers and my teammates, too. It was just a positive support staff with people helping me and giving me confidence and motivation to keep pushing through. I just want to do it for all those people that were there for me and give back to them by showing my abilities on the field."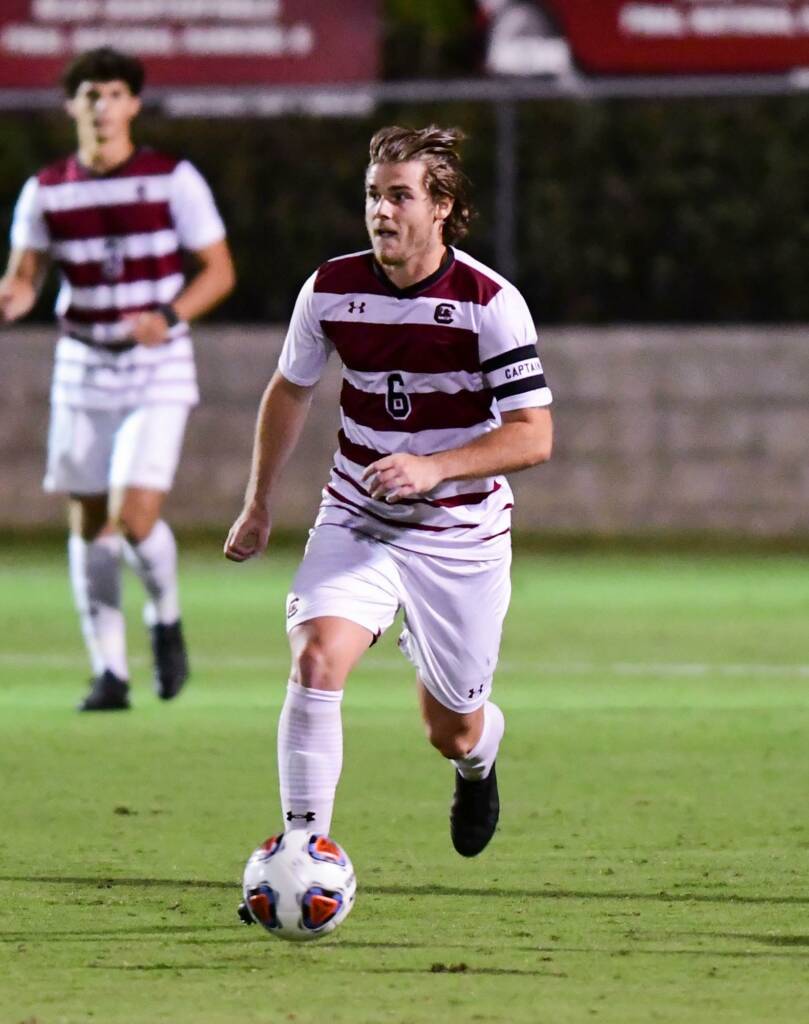 That being said, there were challenges in his rehabilitation beyond the physical part of the process.
"It really was all mental with being out of the game for that long," Gurrieri said. "Going out every day and seeing your teammates train and not being able to compete was tough. The biggest challenge for me was just trying to stay connected to the boys somehow. I just tried to stay positive and be there for them by giving them support and some pointers during the games.
"The rehab is so long. There are so many emotions that go through the rehab process, and you have so many thoughts that cross your mind. At first, it's rough coming back because you're behind everybody. Your fitness is not there, and you've lost your touch a little bit. I've played this game for so long, though, and once I was a few weeks in, I felt back at home. Today, I feel amazing and better than I did before the injuries."
Gurrieri and all college student-athletes were thrown a curveball due to the COVID-19 pandemic, which made his rehabilitation more of a logistical challenge. Then Conference-USA moved its league schedule to the spring, but the Gamecocks did schedule a few non-conference matches to be played in the fall.
"It's definitely unique in coming back from the meniscus surgery and then I had to deal with COVID," Gurrieri said. "With COVID, I couldn't go to physical therapy every day. So, it was all on me to do the exercises on my own and try to stay disciplined. I think it made me stronger, and I got a lot done. I was able to drop the extra weight I put on from not playing, and it really made me focused and dedicated to playing this year."
Gurrieri has taken it in stride and is simply glad to be back out on the pitch. Other than staying healthy, he has big goals for himself and the Gamecocks.
"First and foremost, I want to win the conference," Gurrieri said. "Personally, I wouldn't mind getting some stats under my name. I haven't had any college career, so it would be nice to go out there and show everyone what I can do; get some goals and get some assists. I'm a captain as well, so I want to be the best leader that I can be and support everybody in any way that they need. To go to an NCAA Tournament and NCAA Championship would be awesome!
"It was great being out there for our season opener. We got the win. It was an amazing experience. There were a lot of emotions being out there. I just have to build on that performance and keep getting better each day."