Backpack Project Provides School Supplies for Local Middle School
As some schools transition from online learning to resuming in-person instruction, South Carolina student-athletes are helping to make sure youngsters at one Columbia middle school have the supplies they need. The Gamecocks initiated the Backpack Project at W.G. Sanders Middle School as a community engagement opportunity led by the Athletics Department's Diversity and Inclusion Committee. The program to provide school supplies for the youngsters was spearheaded by redshirt junior football student-athlete Jaylin Dickerson and senior swimmer Caroline Spence.
"We started gathering bookbags, markers, pencils, crayons, notebooks and anything in that nature," Dickerson said. "In all, we had about 7,000 items. It was amazing."
"This year, we couldn't really see the students in-person so (Assistant Director of Student-Athlete Development) Caroline Neil came up with this idea for the Backpack project," Spence said. "Jaylin and I started advertising for it at team meetings to get them to donate. Along with some other people from S.A.A.C. (Student-Athlete Advisory Committee), we were able to bring it over there this week."
"We still have students who are home with e-learning, and we have students now back in the school," said Andrenna Smith, Principal at W.G. Sanders. "There are a lot of hands-on projects that take place at home and at school, so we had a need for lots of materials. We put together different packets of materials they can pick up and take them home for at-home projects and for use at school because students can't share these materials now. With the pandemic, each child needs their personal set of materials."
"It has made a great impact."
– Andrenna Smith, Principal at W.G. Sanders School
The Backpack Project school supply drive provided a boost for educators and families who may already be struggling due to the COVID-19 pandemic. The supplies were gathered from student-athletes and staff in collection boxes in the Athletics Department. The goal was to fill backpacks and pencil pouches with those donations and the results exceeded expectations.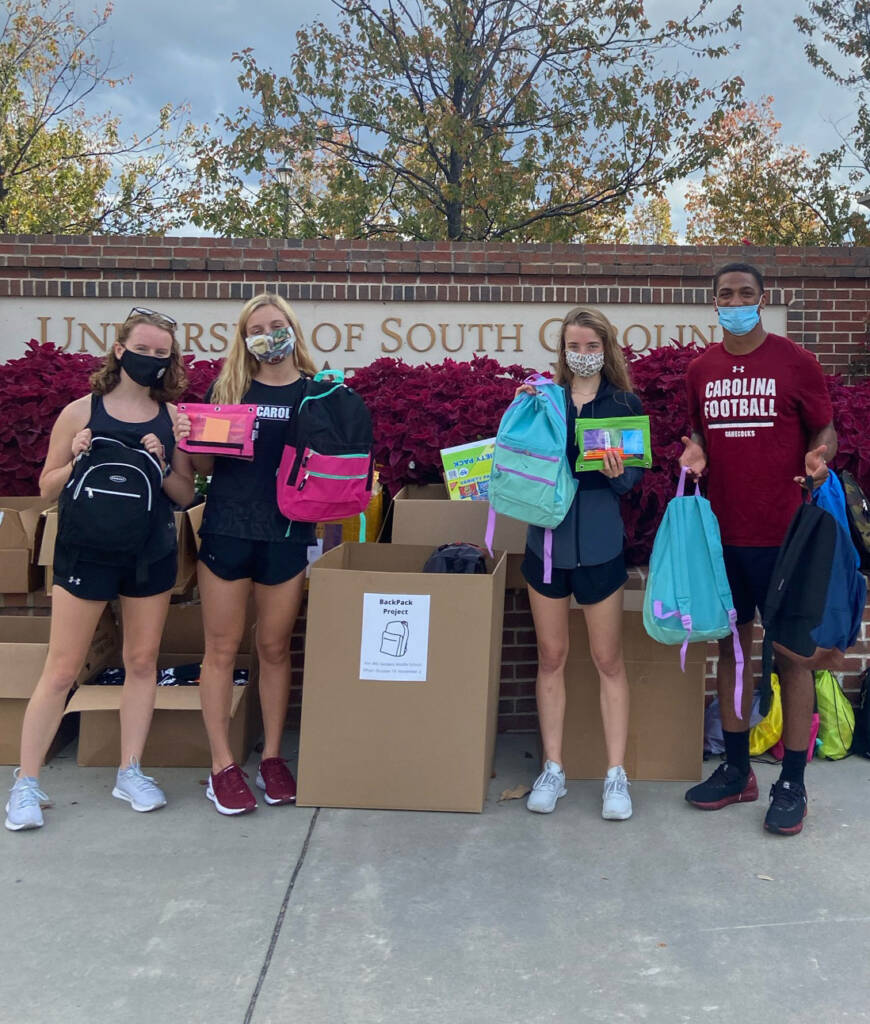 "It was so much more stuff than I anticipated," Spence said. "I think every single sport had people donate stuff. I was blown away with the support we received from our fellow athletes. It became a school-wide student-athlete project. My eyes were really opened this year with all that has been going on. This just seemed like a great opportunity to use my status as a student-athlete to reach out to people and give back to my community."
"It has made a great impact," Smith said. "There are families who are out of work, but this would still make a big impact for families who are working. It's good to have that helping hand. When our partners can help strengthen the education of our children by donating those materials and just showing that they care, it's really important."
The idea of giving back to elementary schools is nothing new for the Gamecocks, and Dickerson is no stranger to leading such an effort.
"Jaylin actually started this last year when he and other student-athletes went into W.G. Sanders Middle School and started a mentoring program where they would go in every week and talk with the kids for an hour," Spence said. "He has changed so many of their lives."
"I know that when I was growing up, I didn't really have anyone to guide me or mentor me," Dickerson said. "I just wanted to give back and guide them in the direction they need to be, so that they would have someone to look up to."
"Jaylin has made a difference," Smith said. "Sometimes just his presence makes a difference. I have a parent who calls here just for him. She said that he has made such a difference in her child's life. She told me that her son needs him in her child's life because of the difference he made last year. That means more to me than anything. This one child had a lot of things going on last year, and this year, he's a totally different person, and it's because of Jaylin. I don't know if Jaylin knows how much of an impact he has made for some of these boys.
"When any of the athletes come here, they just do it naturally. They listen to the children. As older adults, we tend to just talk to the students, but when the athletes come, they listen to them. Our children love that."