After Winning National Championship, Glenn Still Wants to Go Higher
Rachel Glenn just made history, and she already has other things on my mind. The South Carolina freshman won the National Championship in the high jump at the NCAA Outdoor Championships at Hayward Field in Eugene, Ore., last weekend with a career-best leap of 1.93 meters (6 feet, 4 inches).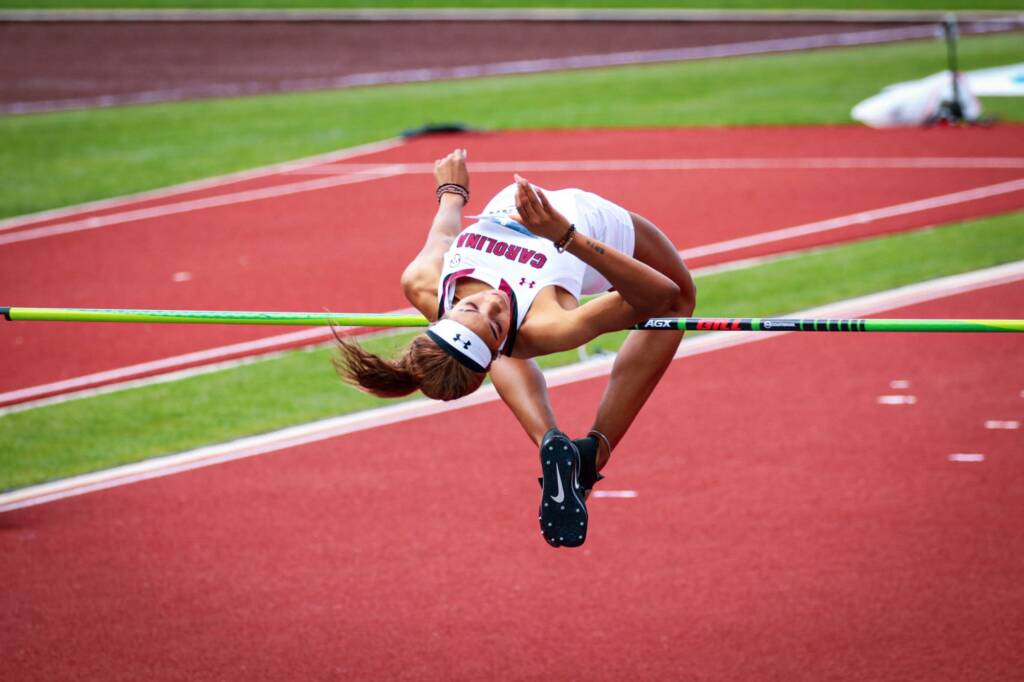 While still excited about becoming the first freshman Gamecock on the women's side to win a national title and the second Carolina high jumper to win the event since 2015 (Jeannelle Scheper), Glenn is always looking forward and upward.
"It feels amazing. I'll be even happier when I go 6'5″ next week at Olympic trials," Glenn said shortly after winning the national championship.
Glenn will have familiar scenery as the Olympic trials will be held at Hayward Field in Eugene from June 18-27.
"I think it's super exciting," Glenn said. "I'm going to be with all of the professional athletes. That's going to be super cool.
"I need to have the aggression that I did when I jumped 6'4″. As the bar goes higher and higher, if you mess up your steps, just jump higher."
"It's been amazing working with Coach D. She's so understanding."
Glenn's freshman campaign has been spectacular with three First Team All-America honors. In addition to her recent national championship, she finished as the indoor national runner-up in the high jump and added a First Team All-America honor in the indoor 4x400m relay. Blessed with natural talent, she is also thankful to her coaches, including her event coach, Delethea Quarles, for guiding her through the last year.
"It's been amazing working with Coach D. She's so understanding," Glenn said. "She's so flexible to work with your time schedule. We really communicate well."
Like all student-athletes, the last year was a challenge simply in operating around COVID-19 protocols. Glenn missed some training time earlier in the year when she had to quarantine after having close contact with people who had contracted the virus. Even with those challenges, Glenn remained confident in her abilities, and when the competition gets tough, she has no problem raising the bar, literally and figuratively.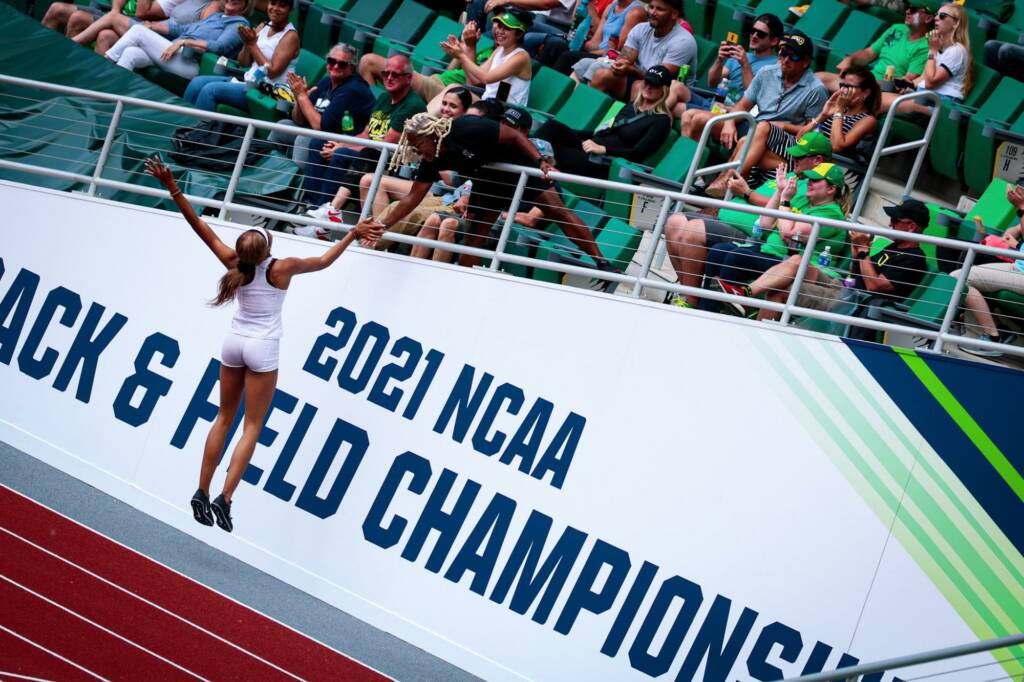 Glenn and Coach Quarles
"That morning, I did tell myself in the mirror, today, we're going to p.r. (personal record)," Glenn said of self-affirmations prior to her national championship leap. "If we don't p.r., we're going to win, and hopefully that win is a p.r. The bar kept going up. We finally got to the 6'4″ jump, and I said, OK this it. This is the jump we have to clear."
With a fantastic freshman season under her belt, Glenn will certainly be a marked woman in terms of being the one to beat in each competition moving forward in her collegiate career, and she's just fine with that.
"Coming into college, I thought I'm just another athlete here," Glenn said. "I did not think I would be at this high of a level. I don't want to say that I was doubting myself.
"I don't want to say it's attention seeking but coming out of high school, my number one goal was that when I go to college, I can't be mediocre. I can't be basic. I wanted to be top tier. I wanted to be the best."
As she continues to progress in her career, Glenn knows there is plenty of competition out there, but her biggest competition is with herself.
"I do acknowledge that there are other competitors there," Glenn said. "I'm aware of their marks. It does make me a little bit nervous if I pay attention to everybody else. I really try to stay with myself and focus on myself when I compete."
For now, Glenn will continue to use her positive affirmation routines to help her go higher than anyone has gone before.