Staley Excited for Another Opportunity to Make History
Dawn Staley is accustomed to the big stage. Whether it has been as a player or as a coach, Staley has achieved almost everything thinkable in her profession. Now, South Carolina's women's basketball coach has a chance to do something she hasn't done yet: win an Olympic gold medal as the head coach of the United States National Team as the Olympic Games begin next month in Tokyo.
"I'm super excited that it's finally here," Staley said of the Olympic games, which were postponed last year due to the COVID-19 pandemic.
"I've been blessed to do a lot of things that may have been unimaginable when I was a little girl growing up in the projects in North Philly. I've often said that my path is divinely ordered. There were only two things that I really wanted to do and that was to win a national championship and to win a gold medal and be an Olympian. I was able to accomplish those things and ten times more."
She played in Final Fours as a student-athlete at Virginia. She won a national championship in 2017 as South Carolina's head coach. She has won Olympic gold medals as a player and an assistant coach. Now that she sits in the first chair, she also embraces the opportunity for another first, not just for herself, but for others who ever thought or were told they couldn't achieve something.
"It never gets old to represent your country," Staley said.
"Nowadays, we're hearing a lot of 'firsts.' Whether it's two black coaches at a NCAA Final Four, or two black coaches competing at a SEC Championship. Now, a black coach being the head coach of an Olympic team. I know some people are like, if you can coach, you can coach. That's true, but when it's a first, and when it's history-making, I think it's something to be proud of. It also allows other doors to be opened and opportunities for black coaches to hold these positions. There is a lot of pressure to win gold, and I look forward to the challenge."
"Anytime that you represent USA Basketball, you have the biggest target on your back or chest."
The Soviet Union won the first women's basketball Olympic gold medal when the sport was added to the Games in 1976. Team USA has won gold in eight of the 10 Olympics since then, including the last six in a row. With that tradition of dominance, Staley understands the pressure associated with her role.
"Anytime that you represent USA Basketball, you have the biggest target on your back or chest," Staley said. "Everybody seems to play their best basketball. What's happened over the time that I've been the head coach of USA Basketball teams are chances to familiarize myself with the pressure. We won the gold medal two days ago in Puerto Rico (2021 AmeriCup). Those are all great experiences for me to be in to help ultimately for what we want to do in Tokyo next month."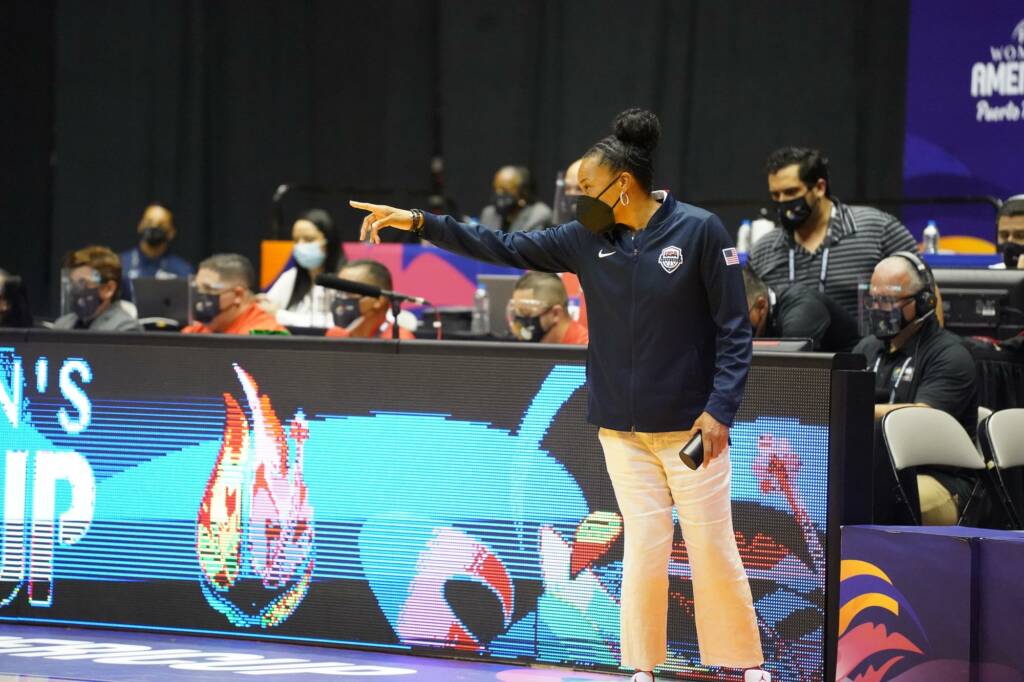 With COVID-19 protocols still in place for the athletes, Staley noted that this Olympic experience will be quite different than any other.
"You're not going to be able to do a lot of what you've done in the past, besides watching on television," Staley said. "As a first-timer, you're going to be excited and be happy to be there. You'll get your opportunity to step up and contribute. That's what young players need to be ready to do."
The U.S. National team roster is loaded with some of the greatest names currently playing in women's basketball, including former Gamecock and National Player of the Year A'ja Wilson.
"This is one of the things we had talked about," Staley said of her conversations with Wilson several years ago. "She has been able to check off every list that she compiled since I've known her; this being one of them. The things that she's done after leaving the University of South Carolina have been quite amazing.
"What she has been able to do, both on and off the court, tells us all that she is prepared for this moment. Playing in the Olympic Games isn't just about playing. It's about being mature. It's about being able to play with other great players. It's about performing at a high level as well. Every step of A'ja's career helped her for a moment like this. I couldn't be more proud of her, who she is and what she represents for all of us: the University of South Carolina, the city of Columbia or Hopkins, and her parents."
The U.S. team also features Sue Bird, Tina Charles, Napheesa Collier, Skylar Diggins-Smith, Sylvia Fowles, Chelsea Gray, Brittney Griner, Jewell Loyd, Breanna Stewart, and Diana Taurasi.
"All of them are their team's top scorers and top producers," Staley said. "When you come into a setting like USA Basketball, you tend to fall back on that, but you also tend do as the others are doing, and that is whatever it takes for us to win. People have to step up and do it or step down and do. You could play a much different role than you play on your WNBA team.
"With the roster that we have, it is a great mix of varying experienced players to first-time Olympians. You need a pretty good mix, especially if you want to take care of winning a gold medal.
"Some of these newcomers have played in World Cups. Some of them have been around our Team USA culture over the last three or four years. We just want them to do what they've done, and that is, when your number is called to perform. They just want to win."