McCutcheon Pushes Through Adversity to Excel On and Off the Court
The roar of the crowd on game day is a little different for South Carolina volleyball freshman Lauren McCutcheon. McCutcheon is deaf, but followed in her parents' footsteps to becoming a Gamecock and isn't interested in letting her life-long disability stand in the way of her goals.
"I was born completely deaf," said McCutcheon, who comes to the program from Greenville, S.C. "I told my teammates, don't treat me different. Don't slowly mouth your words. Just be yourself."
McCutcheon had surgeries on both ears for cochlear implants when she was very young, but she had a bad reaction to the procedure in the left ear and has since only used the device in her right, which she can take on and off. The implant involved putting a magnet on the inside of her head that attracts to a magnet in the device. Following the surgery, she got to work receiving speech therapy and, around fourth grade, took up lip reading.
"It affected several aspects of her growing up," said Kendra Stout, Lauren's mother. "Communication was obviously extremely delayed. It also cognitively affected her development, school-wise. Some classes were much more difficult for her. When you don't sign and you're delayed with developing verbal skills, your relationships with friend groups became a little bit of a slower process."
Looking back, McCutcheon couldn't enjoy some of the simple pleasures the same way that many kids take for granted such as going to the pool, the lake, or beach with friends because she would have to take out her implant.
"She handled it like a champ," Stout said. "All the things that you normally do in the water, playing Marco Polo and all of that, she kind of got pulled away. That was pretty heartbreaking but we have very strong belief in God, and we know that we're all made in His image. With her being deaf, she was made that way to find a way to overcome it and inspire others to do the same. She embraced that.  
"It was a challenge to her, but it ignited a little inspiration. She was having to work harder in things that would be normal to us. That desire to work harder and get better instilled a pretty special work ethic in her."
"I didn't want to be different. Now, I started realizing that it's okay to be this way."
That work ethic helped McCutcheon blossom as a student as well as an athlete. She was a four-time all-state selection at J.L. Mann Academy in Greenville, S.C. and was named the South Carolina Gatorade High School Volleyball Player of the Year as a senior.
Prior to coming to South Carolina, McCutcheon also had the opportunity to represent the United States as a member of the Deaf Volleyball National Team in 2019 at the Pan American Deaf Games in Brazil. After starring for the team and winning a gold medal, she plans to return for the Deaflympics this spring for the 2022 games in Caxias do Sul, Brazil.
"It was very fun to travel to different countries and play different countries. Two years ago when we went it was my first time ever being out of the country," McCutcheon said. "It's definitely different than college volleyball because you have to take your implants out and be completely deaf on the court."
Her impact as an athlete has continued on as a Gamecock, where she has started every match of her freshman season. She is proud to be known for her high level of play, rather than her inability to hear.
Current teammate Riley Whitesides holds a lot of pride for her as well, a pride that first developed when the two were teammates at the club level years ago. Whitesides, also a Greenville native, remembered learning about McCutcheon's deafness at tryouts but realized quickly that her future college teammate was not going to let that hold her back on the court.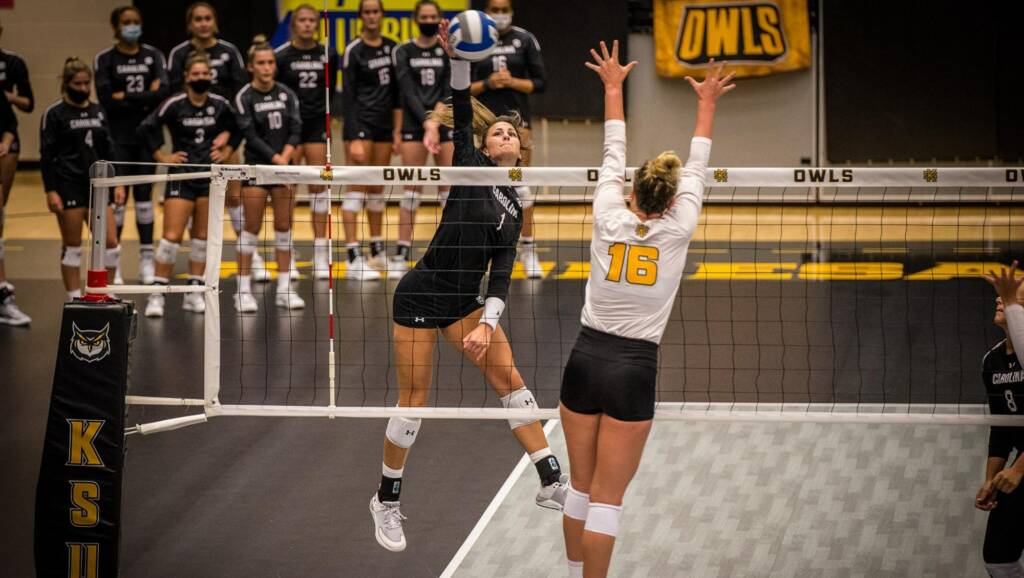 "Even as a 14-year-old it was always something that you would just forget about once we started playing, and it was honestly inspiring for us as teammates to see," Whitesides said. "She's just one of those people who takes what's given to her and makes the best out of it. She never really lets things affect her in a negative way and that's something everyone can learn from.
"That first year of club together our whole team was really close. Lauren and I would goof around all the time off the court and sometimes on it. It's those memories from when we were younger that I love, and we can look back on today and see just how far we've both come. It means a lot because we started as just babies chasing local tournament championships and now we're focused on doing something bigger together, seeing each other continue to grow along the way."
Along with her day-one position in the lineup, McCutcheon has also made a splash with two weekly SEC awards including the conference's Player of the Week honor on Sept. 20, making her the first Gamecock freshman in program history to be recognized by the conference as its top performer.
McCutcheon not only makes an impact with her team. She has also done some community outreach to help others who are hearing impaired.
"I have one specific kid, Sophia, who is three or four years old and she has the same cochlear implants. She wears both of them," McCutcheon said, her face lighting up as she mentions her. "I see that I'm showing people you can grow up and be great. She's so cute, and she wears a little headband to hold her implants because she's so little and her ears are so small, the implants fall out."
The relationship means as much to McCutcheon as it does to Sophia.
"(It's important) because I know what it's like. As you grow up, it's not going to get easier, but you'll start learning to make it easier. Middle school was the worst three years of my life with the cochlear implants. I just felt embarrassed, but people really do support you. You just tell them, and they'll support you. It's amazing how great people are."
That perspective took time to develop for McCutcheon, though.
"When I was younger, I wasn't completely open to telling people I was deaf," she said. "I struggled with telling people and I always wore my hair down so nobody would see the implant. I didn't want to be different. Now, I started realizing that it's okay to be this way. Not everyone is perfect and I've definitely gotten better at telling people."
Not only does she admit to being more comfortable broaching the subject of her deafness with people she meets, but the aspiring athletic trainer admits that her journey has helped develop a love for talking to and meeting new people.
"She is just an amazing individual," Stout said. "Every day with her, I learn something more from her that impacts my life and my interactions with other people. Lauren and Sophia have created a bond. It probably brought back a lot of what Lauren experienced as a kid. She is absolutely a role model. You want to make sure that kids (Sophia's) age have someone to talk to and look up to. I've always told Lauren to dream big because it's out there for you!"
As she navigates her first year on campus, McCutcheon is appreciative of her family, friends and teammates for being her biggest supporters and encourages others with any kind of disability to do what it takes to chase their dreams.
"Do whatever you want. Enjoy life. Have fun. There's nothing you can do about it and it's not your fault, so make the best of it!"