Gamecocks Take Part in MLK Day of Service
A day off from classes turned into a day to make a difference. Several dozen South Carolina student-athletes, as well as some staff, volunteered to help provide for the homeless as part of a Martin Luther King Day service event that was sponsored by the Athletics Department's Diversity, Equity, and Inclusion Committee ion Monday.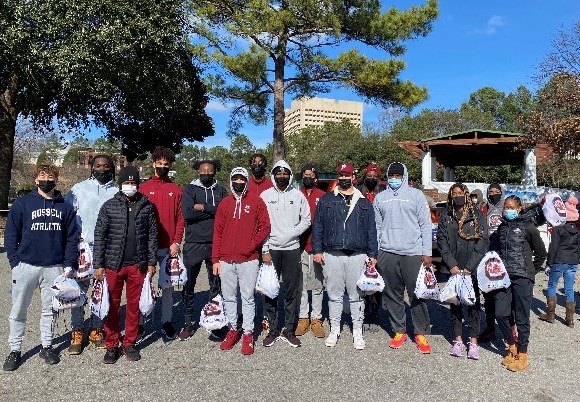 "The committee wanted to create a large community service event for our student-athletes and staff," said Leah Lott, South Carolina's Student-Athlete Development Coordinator and chair for the Diversity, Equity, and Inclusion community service sub-committee. "We had them come in and make sandwiches and other food items and put them in bags along with some sanitary kits for our friends in the community who are lacking housing and down on their luck. Hopefully this provides them with some joy and a nice meal on MLK Day."
The volunteers met on Monday morning in the cafeteria of the Dodie Anderson Academic Enrichment Center to pack the meals and supplies and then took them to Finlay Park in downtown Columbia. The Gamecocks coordinated the event with the local non-profit, Feeding Finlay, and Philly Pretzel Factory also donated 100 large soft pretzels to go along with the meals and sanitary kits that were packed in Gamecocks-branded draw string bags.
For the student-athletes, volunteering their time on a day off was a no-brainer.
"On this important day in history when we celebrate someone who was advocating for others, this is a good way to give back to the community and honor MLK," said Madison Owens, a senior on the softball team. "In a state where there are no professional sports teams, we are the big athletics part of the community, so it's important for us to be involved and set an example because children look up to us."
"I wanted to get myself and some of my teammates more involved in the community," said Eric Douglas, a redshirt senior on the football team. "What's more perfect than being involved with a project on MLK Day? Hopefully this will help somebody that really needs it. We don't want to be recognized as just football players and athletes. We want to be recognized as integral parts of the community. It's something we should and do truly care about."
Several of the South Carolina Athletics teams were represented in the effort.