Plenty of Reasons to Get Fired Up for Women's Tennis
Tennis season is underway, and there's a lot to be excited about for the Gamecocks and women's head coach Kevin Epley.
Exciting Newcomers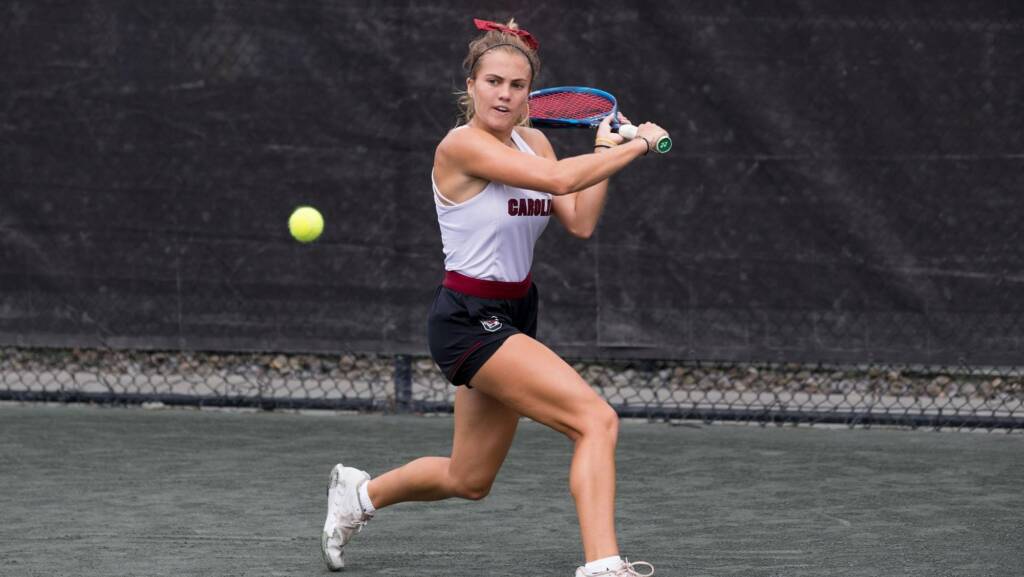 Sarah Hamner
"We have a lot of new faces," Epley said. "We have (freshman) Sarah Hamner who won the (ITA All American) national championship. It's going to be really exciting for people to come out and watch her compete. Her energy and her ability are going to captivate a lot of people. 
"(Junior) Ayana Akli is another new face, who transferred from Maryland. We had recruited her when she was a junior player, so we had a bit of a relationship. She's very good. From a universal tennis perspective, that's the fifth and twelfth highest rated players in the nation."
Akli and the talented freshman class, which also includes Misa Malkin, Gracie Mulville, and Chloe Narboni, joins a group of six returning players who helped the Gamecocks make their 26th consecutive NCAA Tournament appearance last year.
Hungry Veterans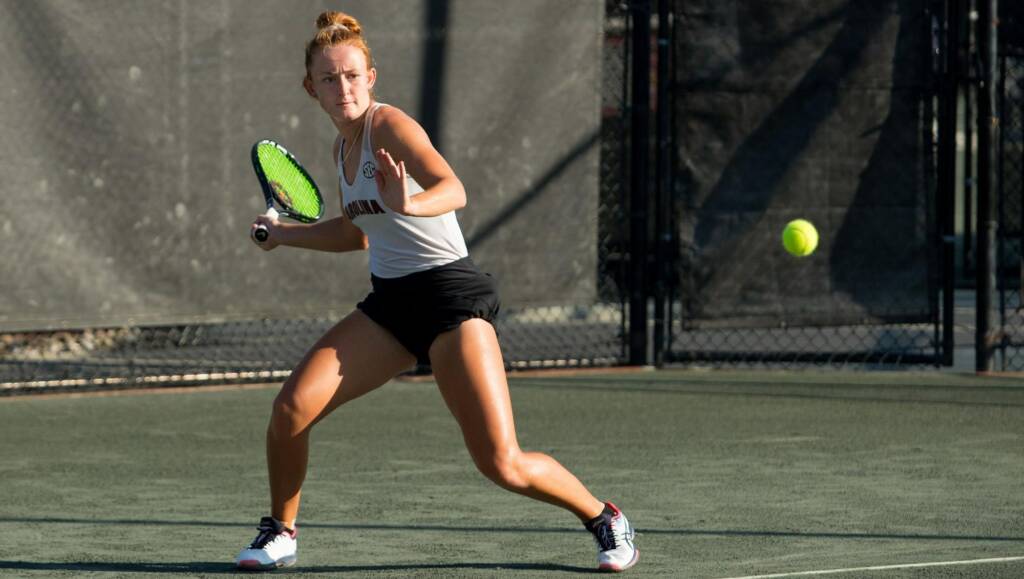 Megan Davies
While it's great having so many talented newcomers, the Gamecocks will also rely on returning players who have been through the rigors of SEC play and the postseason.
"(Graduate Student) Megan Davies (2021 Second Team All-SEC) definitely makes a difference for us," Epley said. "We're also going to be looking for (sophomore) Allie Gretkowski, who has been injured pretty much ever since she has been here. She has played great doubles, and we'd like to see her step up and get her going in singles again. 
"(Juniors) Elise Mills and Ana Cruz are wild cards right now. We're going to see who is going to step up."
Sophomore Lindsey Tulenko and junior Kendall Couch will also battle for opportunities in the lineup. 
Chemistry and Passion
"New faces and good team chemistry, for sure, is something people are going to notice with this team," Epley said. "This group is very close.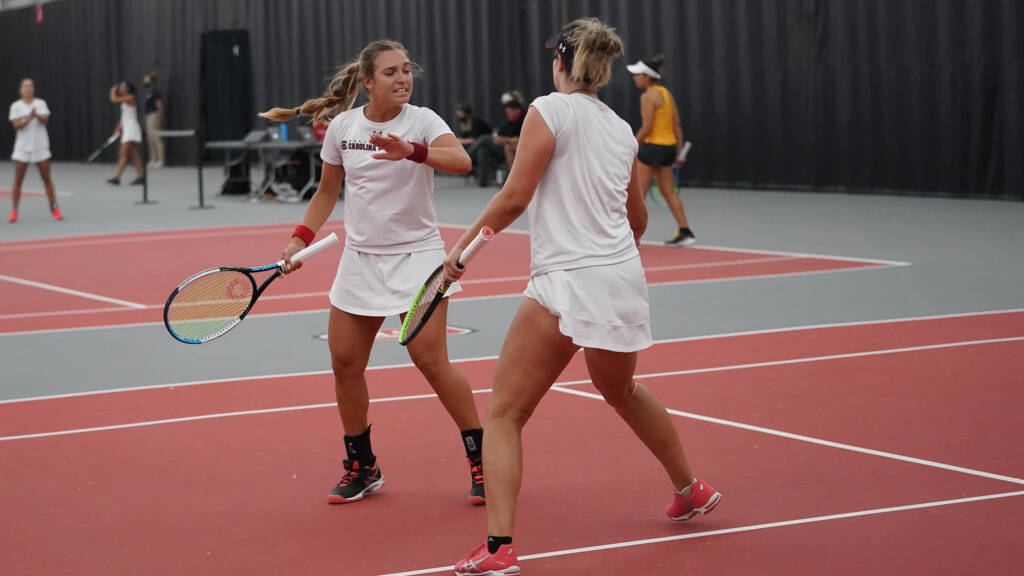 Ana Cruz & Allie Gretkowski
"It comes from the girls that we recruit. We try to recruit good kids. It also comes from the culture of the program. We try to create cohesion between them. We don't cater to one person. Everyone has to adhere to things. We hold people accountable, and we value the standard. That serves as a beacon and a glue for the team."
The last few years, the Gamecocks have been known for expressing their passion on the court, and Epley noted that it's not something that is contrived.
"It will be loud," Epley said. "You can have fake loud, but around 2015-2016 it became genuine. It's built on a very real desire to compete. There is a robust energy to win. We call it live energy. We're here to win, and that comes out when we win points. It comes out in momentum shifts with those points that can turn the match. With new kids, it can be hard to get them to that place. With people like Sarah (Hamner), she came in as a Gamecock. She is very loud naturally, as is Ayana.
"You can be loud and still be a good sport. We want to represent our school, our team, and ourselves in such a way that you think, man, they're really competitive, but we're not bad people who are clapping when you double fault."
High Standards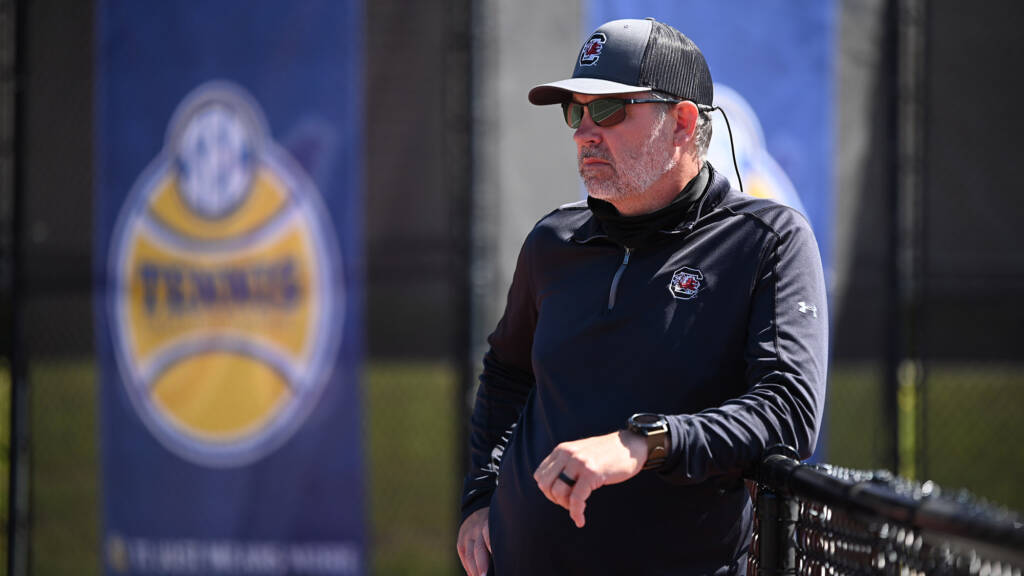 Coach Kevin Epley
The Gamecocks had some ups and downs last year, but still reached the postseason, which is an expectation after 26 consecutive NCAA Tournament appearances. Epley wants to continue to see the team fight when there is adversity. 
"Last year we started the SEC season 1-5, which was ridiculous for us," Epley said. "It was a really narrow margin in a lot of those matches we were losing. We were right there against the best, but things weren't falling our way. Then we won our next six SEC matches and later went on to the semifinals of the SECs.
"We just kept plugging away and turned around to have a reasonably successful season up until the NCAA Tournament where we didn't play that well. I think what we learned from last year is that we can take some hits and still be a good team. So, it will be interesting to see what our new kids can bring."