Carolina Softball is Fueled to Bounce Back in 2022
From Spurs & Feathers
After missing the postseason last year for the first time since 2012, South Carolina softball looks to stay healthy and bounce back in 2022.
"It was tough to end the season and not make the NCAA Tournament," said head coach Beverly Smith, who enters her 12th season with the Gamecocks after a 26-26 overall record last year. "A lot of the forecasting had us in, and I think we were one of the last ones out. It's been fuel for the returners. The student-athletes that were in that room don't want to feel that again. It has offered a very renewed focus for us at practice. It's something that has really been fuel for us to get better."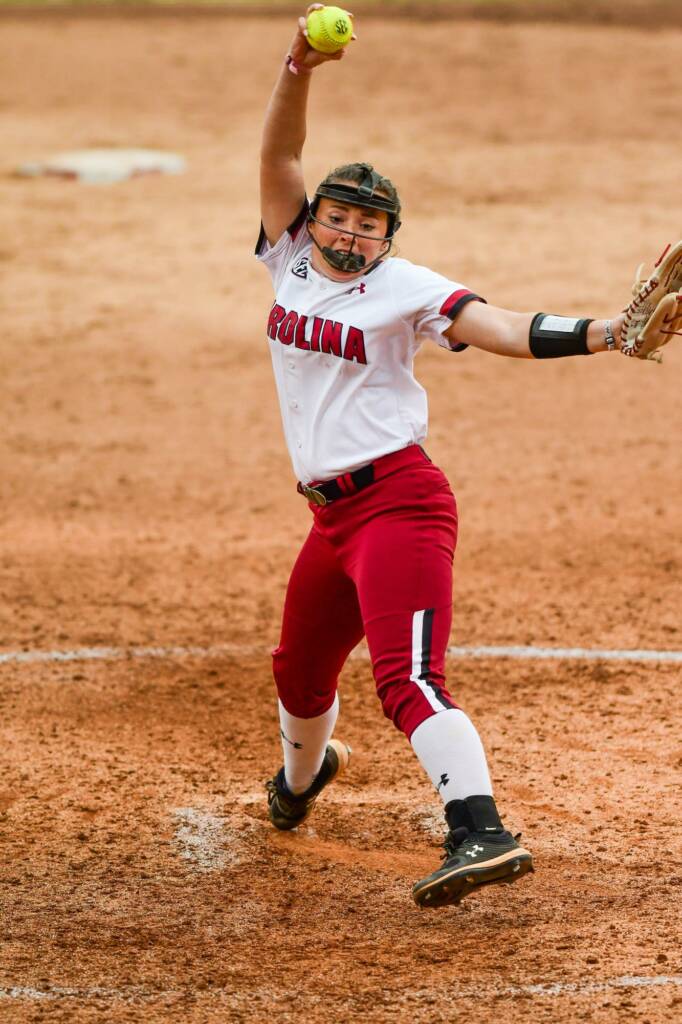 Karsen Ochs
Injuries to the pitching staff created some challenges last year, but with six of seven pitchers back in 2022, As a new season gets started this weekend, Smith will rely on experience to make an impact in the circle.
"I think having nearly the entire staff return from last year is a positive for us," Smith said. "They've all worked hard. (Jr.) Karsen Ochs (3-3, 4.60 ERA) has come out and really made strides in the fall. Her work ethic and focus has been really dialed in, and she is one of those who doesn't want a repeat of last season. She is someone looking to make this year different. Her focused energy is in the right direction.
"After some injuries the last couple of years, I think we all know what a healthy (Gr.) Kelsey Oh (3-7, 4.12 ERA) looks like. (So.) Leah Powell (10-7, 2.76 ERA) had some great innings for us last year, and she won't sneak up on anybody this year. If they continue to work as hard as they did in the fall, we have a lot of nice options in the spring."
The Gamecocks also return junior Bailey Betenbaugh (5-0, 2.18 ER), senior Rachel Vaughan (2-2, 4.35 ERA), and sophomore Skylar Trahan.
"Rachel Vaughan has done a great job," Smith said. "She has taken on the responsibility of ensuring our success. She looks out for everybody on the team. I think she is going to do a great job helping as a leader."
Perhaps the biggest question to be answered is who will make up the middle infield following the matriculation of graduate shortstop Kenzi Maguire (.427, 3 HR, 38 RBI) and second baseman Mackenzie Boesel (.416, 6 HR, 37 RBI), who both earned All-SEC and All-Region honors, with Boesel also earning Third Team All-American accolades.
"Mack and Kenzi were everyday starters for us for five and six years, so figuring out our middle infield is priority number one," Smith said. "We'll be young in the middle infield, but we're talented. We have three people rotating through the middle right now. Freshman Emma Sellers from California has done an outstanding job and looks really strong. Sophomores Riley Blampied (.190, 1 HR, 7 RBI) and Maddie Gallagher (.179, 4 RBI) have looked really strong there as well. Those three are doing a great job and can handle the work. It will be fun to watch those three continue to develop.
"The offensive side is certainly going to dictate some things for us. I also think we're aware that putting the best defense on the field could be very rewarding for us this year. It might be game to game with different matchups, but we definitely have some options there."
"We've really stepped up the intensity with how we practice, and that has paid off with the effort and intensity we're seeing from the players."
The Gamecocks do return veteran leadership behind the plate with senior Jordan Fabian (.258, 6 HR, 31 RBI), and there is some depth there as well to create other options.
"Jordan Fabian has really elevated her game with her arm strength, how she looks behind the plate, and her leadership on the field, and offensively," Smith said. "I think she is going to have a breakout season. She has taken the reins from a leadership standpoint as well. I'm really proud of the strides she has made.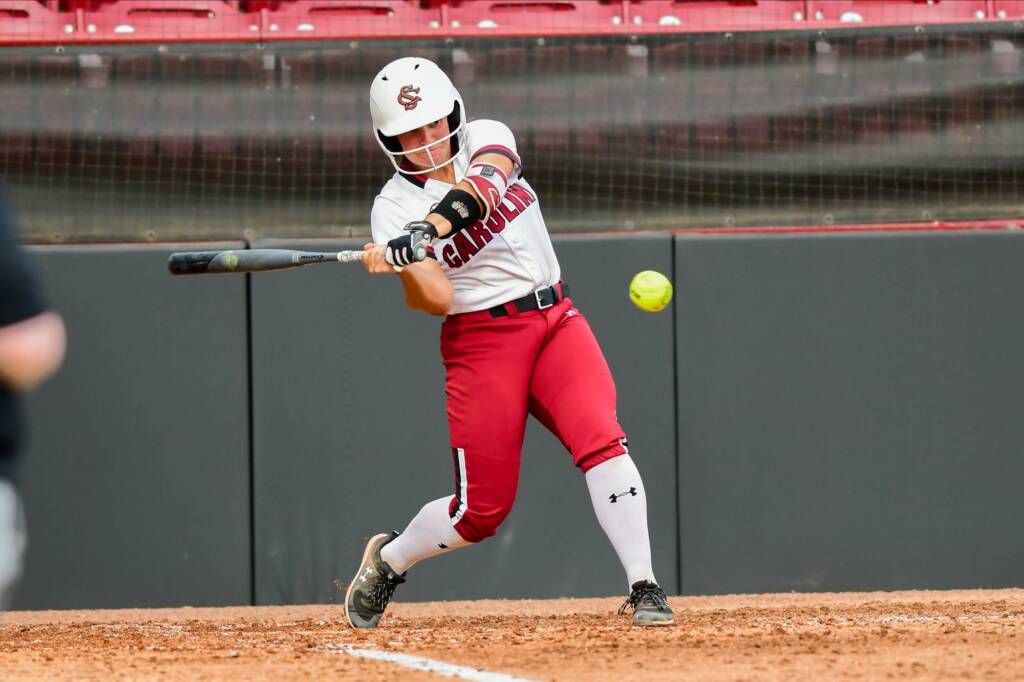 Jordan Fabian
"Freshman Giulia Desiderio is small but mighty. She has a great arm behind the plate. I think she is somebody that will get a lot of time behind the plate as well. That means that Jordan Fabian could also be an option at first base when not behind the plate."
Senior Kassidy Krupit (.301, 6 HR, 45 RBI) is also back to play first base or hit in the DP spot after leading the team in RBI last year.
After a revolving door of Gamecocks trying to hold down a spot at third base last year, Smith likes the competition she is seeing there as well.
"Riley Blampied has been out at third a lot, as has Giulia Desiderio. From a defensive standpoint, either one of those players can handle it."
Injuries in the outfield allowed young players to gain valuable experience last season. With senior Haley Simpson (.353 in '20) back after missing last season, Smith has options.
"Haley has been really outstanding at practice. I really like our outfield. (Gr.) Katie Prebble (.254, 5 HR, 20 RBI) looks really good and offers us power at the plate. Haley Simpson is a triple threat with power, speed, and runs it down well in the outfield.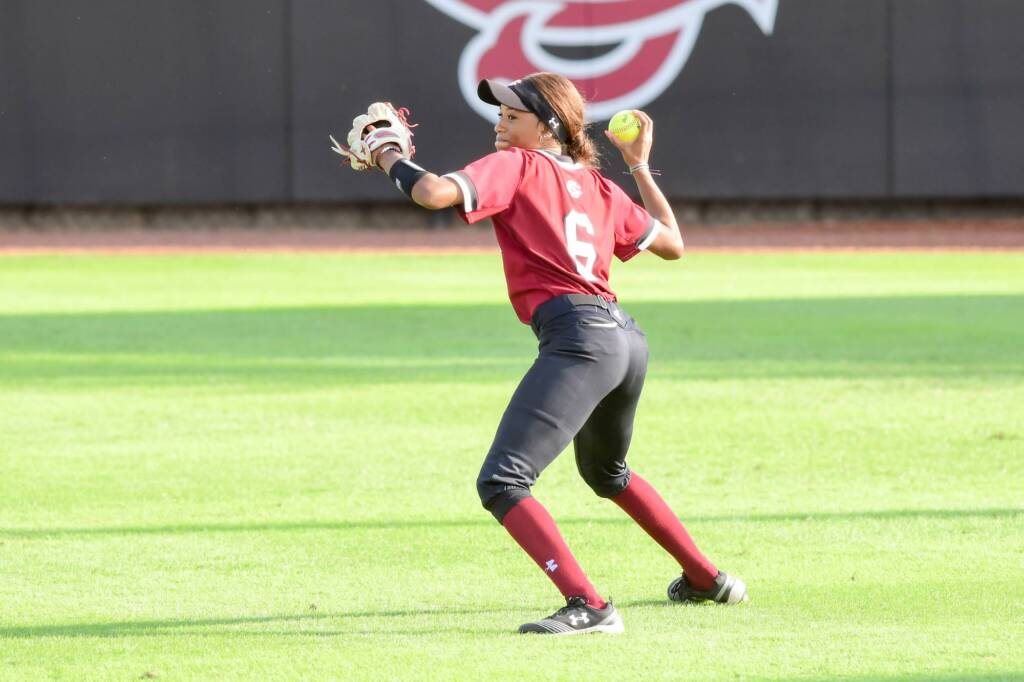 Aaliyah White
"Sophomores A.J. (Aaliyah) White (.304, 8 RBI, 10 SB) and Carlie Henderson (.262, 3 RBI) give us a lot of different options that make us really strong. It's going to be based on matchups with what pitchers were facing and if we can run on their catcher. A.J. White creates a lot of stress for defenses. She was very productive for us in the fall."
The Gamecocks also revamped their coaching staff with assistants Kevin Maguire and Katie Repole joining Smith and returning hitting coach Kaela Jackson.
"It's been a new energy for me," Smith said. "They've offered some new ideas at practice, and we've really stepped up the intensity with how we practice, and that has paid off with the effort and intensity we're seeing from the players. Our practices have been more efficient and challenging, which will prepare us for the season.
"I want the identity of this team to be that we play hard and smart softball. This year it's going to be very important that we play good defense. That's been a focus for us.  Because we don't have a lot of power in the lineup, we have to be smart and efficient when we have runners in scoring position.
"Nobody is talking about the Gamecocks in the preseason, and I'm fine with that. I think our team is really locked into what we're doing. They're trusting the process. I like the attitude that we're rolling into the 2022 season with. The disappointment with how last season ended has been motivation for this group. We understand that that is not the standard of what South Carolina softball is accustomed to."
South Carolina opens the season at home by hosting the Gamecock Invitational this Friday, Saturday, and Sunday.