From Spurs & Feathers
Two-way players in baseball aren't as common as they used to be, especially once you get past the high school level. South Carolina has a few such student-athletes.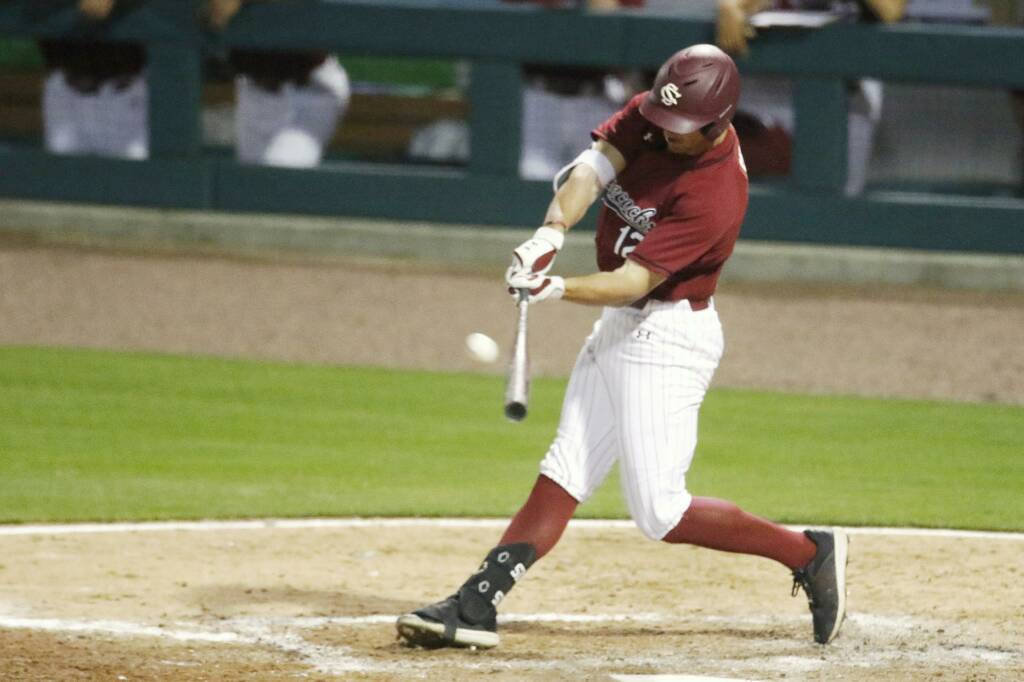 Josiah Sightler
"I consider myself more of a hitter," said senior Josiah Sightler, who pitched and played outfield last year. "I feel like I'm more of a hitter, but if I can help my team on the mound then I'll definitely do that. I originally committed under (former) Coach (Chad) Holbrook to pitch here. They saw me hit and wanted me to come in as a two-way guy. I got hurt my senior year of high school, so the pitching side of it had to come to a halt. Then when I got healthy again, I could go back to the two-way thing."
"It's always been pitching first for me," said junior Julian Bosnic, who currently only pitches, but enjoys swinging the bat as well. "Back in high school I would always hit when I pitched. I think I always focused more on pitching when I was younger. That's how I was recruited through high school. I played outfield and first base while also pitching. Having Tommy John surgery sort of cut it down, but I think I annoyed Coach (Mark) Kingston so much last year just to let me take BP, he finally caved in. I think it helped my pitching a little. It keeps me a little more in sync and a little looser. I don't know if he'll ever let me hit in a game. I'm hoping for at least one at bat!"
"I'm just a ball player!" said sophomore Jack Mahoney, who pitched last year and hit a few times, but due to an arm injury will play in the infield this year. "Last year, they just needed me on the mound. This year, with the injury, I can't really pitch, but I'll be helping the guys out in the field. I'm just a ball player."
Doing one thing at a high level isn't easy and trying to be a hitter and pitcher can be taxing, physically and mentally.
"I think it's a little of both," Mahoney said. "Last year, my days in the field were really long because you have your early work, which is pitching, then you have to hit and do all of your recovery stuff. It's a test physically and mentally."
"It's very physical," Sightler said. "You have to keep up with the arm health, everything that involves pitching, and doing the mechanic work. You have to do everything the pitchers do plus everything the position players do. It takes a toll mentally because your body is always tired from all the work you have to do."
"It makes you think, as a hitter, what pitch would I be looking for?"
– Julian Bosnic
The Gamecocks noted that the opportunity to pitch can help them in the batter's box and vice versa.
"The more I pitch, the more I'm prepared when I get an at bat," Sightler said. "It definitely helps me out, but the scouting reports we get help me out a lot, too."
"It definitely does. Sometimes when I'm pitching, I can pick up on little things that hitters want to see or what they think the next pitch will be if they look one way on the plate," Bosnic said. "It makes you think, as a hitter, what pitch would I be looking for?"
"It reflects itself," Mahoney said. "Sometimes when I'm in the box, I can think as a pitcher. I'll think he went here on 0-0, so is he going to come back with this if I'm up 1-0 or down 0-1. It helps in that aspect. Knowing the feeling of a low leverage count for a pitcher and knowing that feeling of, 'man I just have to come low in the zone and see if he can hit something,'  that helps on the mental side of things."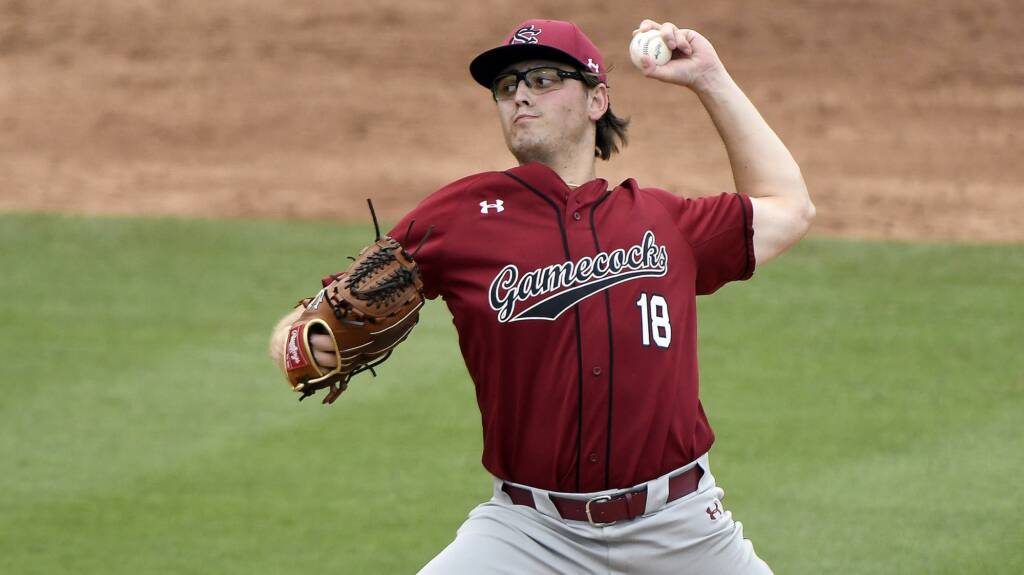 Julian Bosnic
With that being said, doing both at a high level isn't easy.
"As a hitter, the hardest pitch to hit is the lefty-on-lefty curve ball," Bosnic said. "It starts right at you, and if someone has a really big one, it's really hard to hit. As a pitcher, I think the hardest pitch to throw is that backdoor slider to a righty. That's a pitch that if you miss it, it will sit right over the plate."
"The toughest pitch to hit is a well-executed change up," Sightler said. "It comes out of the hand, and it looks just like a fastball but there's an eight to ten mile per hour difference. For me, the breaking ball is the toughest one I've been able to get down consistently. I've been primarily a fastball and changeup guy, so it's been tough to get my third pitch in consistently."
"I think it's the same pitch to throw and hit. I'm still learning how to throw a decent changeup," Mahoney said. "Hitting, it's stuff that runs away from me. So, it can be a change up."
Wherever they are on the field, each enjoys the opportunity to hit and pitch against the other.
"Sightler and I have faced off a lot, whether it's him pitching against me or me pitching against him," Mahoney said. "Sightler definitely got the best of me last year, but with spring coming up, we'll see what happens!"
"Definitely," Bosnic said. "Everybody views me as a pitcher-only. So, I just want to swing away to show everyone I still have power. I'd like to say I'm a gap-to-gap hitter, but in BP, I like to have fun, and I'm probably just a pull side hitter. Mahoney's a better hitter than me and puts in more work because that's what he's going to be doing this year.
"Sightler and I always go back and forth! Whenever I'm facing him, I'm telling him I'm going to strike him out every single time. Whenever he gets a hit off me, he'll look directly at me out there on the mound, and I'll just shake my head."
"Me and Bosnic came in here as freshmen, so we try to see who can be more like (Los Angeles Angels All-Star) Shohei Ohtani," Sightler said. "We go back and forth since his locker is right next to mine to see who can hit the ball further in batting practice each day. Pitching wise, he throws harder and has better off speed than me. I'll try to give him a run for his money on the mound, too."
Ultimately, Bosnic, Mahoney, and Sightler just want to do their part to help the team win and doing what they do best is what still makes a child's game fun.
"I just love blowing fastballs by people or make someone look silly on a curveball or slider," Bosnic said.
"If I give up a couple of runs, I have to go up to the plate knowing I can redeem myself right here," Sightler said. "It's a cool feeling knowing that if I have a bad inning on the mound, I can still help the team at the plate. It can go either way."
"At the end of the day, you're still playing baseball," Mahoney said.  "When you're on the mound at Founders Park and there are eight thousand screaming fans, that's not too bad!"