Read With the Gamecocks Book Drive Happening at CLA
Fans encouraged to bring new/lightly used books to hoops games this weekend
COLUMBIA, S.C. — For the 13th season of the Read With the Gamecocks program, South Carolina Athletics and EdVenture Children's Museum will be hosting a book drive outside Colonial Life Arena this weekend prior to the men's basketball game against LSU (Feb. 19) and women's basketball game against Tennessee (Feb. 20).
 
Fans are encouraged to bring new or lightly used books appropriate for ages K-12 to donate at tables located at the fountain outside Colonial Life Arena on Sunday. The EdVenture Book Bank will distribute the donated books to underserved areas throughout the Midlands. Those who wish to donate but cannot attend the game can bring books to EdVenture Children's Museum during normal operating hours or visit the museum's website for additional information.
 
EdVenture Children's Museum is proud to celebrate National Reading Month this March. Join EdVenture for a series of fun events all month long including their annual Storybook Ball event on Saturday, March 26.
 
In addition to this weekend's book drive, EdVenture will be collecting books on Saturday, March 19th. Bring five books for $5 admission. See what's happening this spring and plan your visit by visiting edventure.org.
 
Read With the Gamecocks is an incentive-based reading program to promote the importance of literacy in elementary and middle school aged students. For more information on the program, including forms to sign up your school or class, click here or contact Mo Brown (mb180@mailbox.sc.edu or 803-777-0231) in the Gamecock marketing department.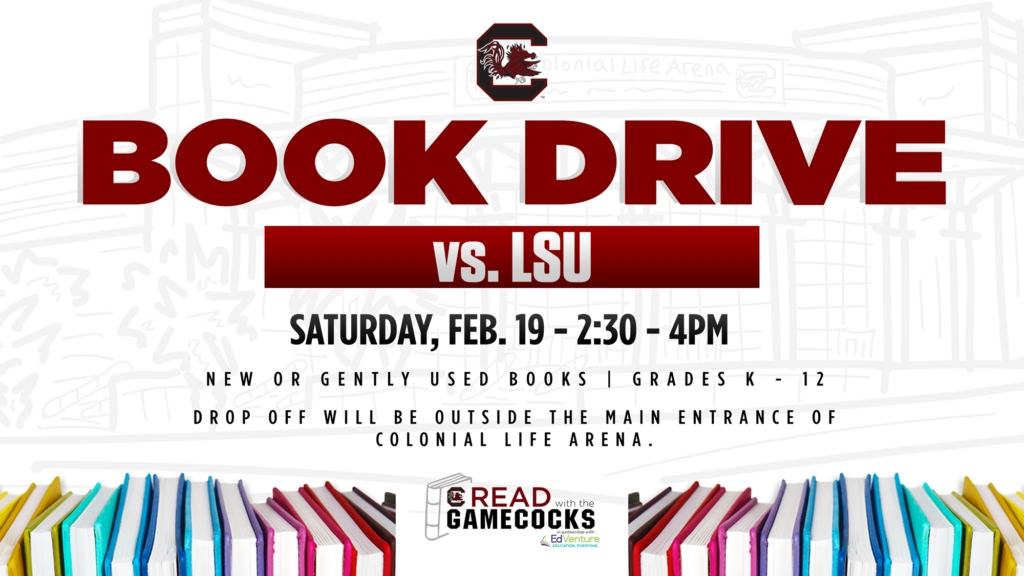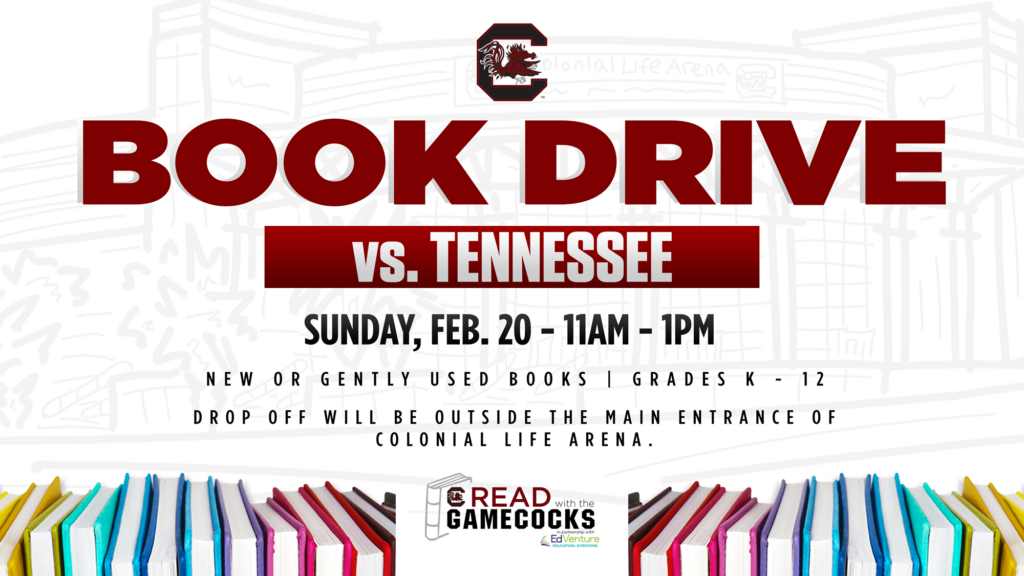 ###